Wahhabism: What is it and why does it matter?
The Islamic movement goes back over a millennium, yet has widespread modern significance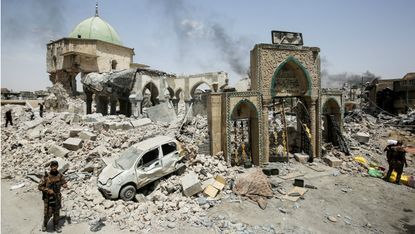 (Image credit: Ahmad Al-Rubaye/AFP/Getty Images)
It's been called a "deadly scripture", the inspiration for Islamic State and "the main source of global terrorism". But what exactly is Wahhabism and why is it so controversial?
A return to a "purer" form of Islam
Wahhabism is a conservative movement within Islam's Sunni branch. It's named after its founder, theologian Mohamed ibn Abdul Wahhab, who was born in the 18th century in what is now Saudi Arabia.
Subscribe to The Week
Escape your echo chamber. Get the facts behind the news, plus analysis from multiple perspectives.
SUBSCRIBE & SAVE
Sign up for The Week's Free Newsletters
From our morning news briefing to a weekly Good News Newsletter, get the best of The Week delivered directly to your inbox.
From our morning news briefing to a weekly Good News Newsletter, get the best of The Week delivered directly to your inbox.
Wahhab advocated a return to a "purer" form of Islam, focusing on its origins and the absolute sovereignty of God. That means banning the cult of saints and forbidding tobacco, alcohol and shaving. Their mosques are plain and public prayer attendance is strictly enforced.
Where is Wahhabism practised?
Wahhabism is extensively practised in Saudi Arabia, but has since spread. The term Wahhabism is often seen as derogatory – followers were first called it by their opponents. Many therefore prefer to call themselves salafis, in reference to the salaf – the first, second and third generation of people who lived at the time of the Prophet Muhammad. Others just call themselves Muslims, although, as The Independent says, this implies that "Muslims who do not share their particular interpretation of Islam are not proper Muslims at all". In 2015, Muslims in Britain estimated that 8.6 per cent of British mosques were Salafi.
How did it catch on?
Wahhabism ensured its modern-day survival largely through gaining the support of the Saudi royal family. The movement has a longstanding alliance with the family dating back to 1744 and helping to found the first Saudi State, the BBC reports.
Wahhabism found new life in the 20th century when Abdulaziz ibn Saud (who ruled from 1932 to ­'53) seized on it as a way of uniting the fractious tribes. In 1979 the family saw its tactical use as part of an anti-Soviet campaign in Afghanistan and encouraged young Muslim men to travel there to fight a jihad against the Russians. The Saudis began spending heavily on mosques, propaganda and teaching in order to spread the creed.
The US State Department estimates that over the past 40 years Riyadh has invested more than $10bn into charitable foundations as part of a programme to replace mainstream Sunni practices with a more extremist brand.
So what's the problem?
Wahhabism has become known as an intolerant and aggressive form of Islam, both by Muslims and outsiders. By calling it Salafism, some Muslims say followers have appropriated and misinterpreted what they perceive to be "pure" Islam.
The movement was associated with violence from the beginning: Wahhab himself was expelled from his home town for his attempts at puritanical reform and for attacking the tombs of early Muslims; jihad was declared against Muslims who refused to adopt the ways of the salaf. After Wahhab's death, his followers became more violent, murdering their way across the land and, in 1803, forcing Mecca to surrender.
In 2013, Strasbourg's European Parliament declared Salafism/Wahhabism to be the main source of global terrorism, with a report linking it to the Benghazi attacks and the war in Syria among other atrocities. According to the Daily Telegraph, some 15 to 20 per cent of the $10bn set aside by Saudi Arabia to promote its favoured form of Islam may have been diverted to al-Qaeda and other violent jihadists.
According to the New Statesman, Wahhabism has also been blamed for forming the root of Islamic State's ideology, which is why it has become such a headache for Western and Islamic leaders alike.
It's not just in the Middle East either. Last month, a report by the Henry Jackson Society claimed that Wahhabist Saudi funding was sponsoring extremism in the UK, having "primarily taken the form of endowments to mosques and Islamic educational institutions, which have in turn played host to extremist preachers and the distribution of extremist literature."
According to The Guardian, it added, "A number of Britain's most serious Islamist hate preachers sit within the Salafi-Wahhabi ideology and are linked to extremism sponsored from overseas, either by having studied in Saudi Arabia as part of scholarship programmes, or by having been provided with extreme literature and material within the UK itself."
What does the other side say?
The Grand Mufti of Saudi Arabia has declared that "the ideas of extremism, radicalism and terrorism do not belong to Islam in any way".
In an opinion piece for the New York Times last year, one observer said that Wahhabism had become a "boogeyman" in the West, and that blaming the movement for terrorism was a "dangerous red herring". For example, it said, most of the Taliban come from a different Islamist strain known as Deobandis and that al-Qaeda also follows a different creed.
What now?
IS has been put on the back foot of late, with the group losing Mosul to Iraqi forces. Still, the extremists remain a force to be reckoned with.
For the last six months, The Guardian reports, Theresa May's government has been sitting on its own report into the foreign funding of extremism. The delay, critics allege, is because it focuses on Saudi Arabia, a major trading partner.
Last month, a UK high court ruled that the government can continue selling arms to Saudi Arabia. Britain has been heavily criticised for selling billions of pounds' worth of arms to the country, which has been fighting a proxy war in Yemen against Iran and the Houthi rebels.

Continue reading for free
We hope you're enjoying The Week's refreshingly open-minded journalism.
Subscribed to The Week? Register your account with the same email as your subscription.