Is it safe to travel to Morocco?
Inquest hears that Briton died of rabies after misdiagnosis following cat bite in north African nation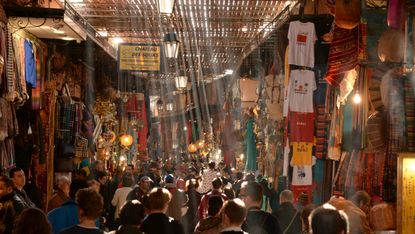 (Image credit: Getty Images)
A British man who died of rabies after holidaying in Morocco last year was reportedly misdiagnosed by doctors who then recommended the wrong treatment, an inquest was heard.
Full-time carer Omar Zouhri, 58, contracted the disease - which has a 100% fatality rate if left untreated - while on holiday in Morocco in August 2018. He was reportedly "one of several people bitten by a rabid cat in the street" in the northern city of Meknes, the Daily Mail reports.
The Times reports that Zouhri immediately went to a nearby hospital where he and his 12-year-old son were given tetanus injections, but the pair later went to a local police station to "complain that medics had not given him the proper treatment for rabies, which is most effective when given within 24 hours".
Subscribe to The Week
Escape your echo chamber. Get the facts behind the news, plus analysis from multiple perspectives.
SUBSCRIBE & SAVE
Sign up for The Week's Free Newsletters
From our morning news briefing to a weekly Good News Newsletter, get the best of The Week delivered directly to your inbox.
From our morning news briefing to a weekly Good News Newsletter, get the best of The Week delivered directly to your inbox.
Upon returning to the UK, Zouhri attended Stoke Mandeville hospital, but was not given treatment after a nurse failed to alert a microbiologist to his condition. Although he was later listed a high-risk case by Public Health England and given the only known treatment for rabies on 12 October, "by then the virus had entered his central nervous system, rendering any treatment ineffective", The Times reports. He died on 4 November.
The death of a British national at the hands of rabies - a disease which has been eradicated in the UK since 1902 - is likely to spark fears over the safety of Brits travelling to Morocco, and will come as another blow to Morocco's tourism sector, one of the few in the Arab world which has been on the mend in the wake of the Arab Spring in 2011.
While the tourist industries of neighbouring Libya, Tunisia, Algeria and Egypt have suffered badly in the wake of multiple revolutions and deadly terror attacks, the number of visitors to Morocco jumped last year to 11,349,347 - an all-time high.
Its beaches and dramatic mountains have made it a highly sought-after travel destination for those tired or priced out of classic Mediterranean holiday spots, but many are still wary of the potential dangers.
Is Morocco safe to visit?
Terrorism
The largest perceived threat in Morocco is that of extremism and terror attacks.
The Foreign and Commonwealth Office (FCO) warns that "terrorists are likely to try to carry out attacks in Morocco" and that visitors "should be vigilant at all times".
It adds that Moroccan authorities have warned of an "increased threat linked to the number of Moroccans sympathetic or belonging to Daesh [Isis] and other extremist groups, and regularly report the disruption of terrorist cells across the country, some of which have intended to carry out attacks in Morocco against government installations, public spaces and tourist sites".
The US State Department suggests visitors "adhere to prudent security practices such as avoiding predictable travel patterns and maintaining a low profile".
However, despite the warnings, Morocco has a relatively good record on terrorism, having experienced only two major attacks since 2000.
In 2011, groups of tourists were targeted in a suicide bombing that killed 17 people in Marrakesh, while in 2003, 33 people were killed in a series of coordinated suicide bombings in Casablanca.
Crime
Crime remains a "serious concern" in Morocco, the US State Department says.
"Aggressive panhandling, pick-pocketing, purse-snatching, theft from unoccupied vehicles, and harassment of women are the most frequently reported issues," the it says, adding that criminals "have used weapons, primarily knives, during some street robberies and burglaries".
"These have occurred at any time of day or night, not only in isolated places or areas less frequented by visitors, but in crowded areas as well."
The Foreign Office and Lonely Planet have both expressed concerns over the existence of numerous scams that tourist might encounter while in the big cities.
The FCO says "harassment of tourists by people posing as official tourist guides is common", and that visitors should "make sure any guide [they] use is operating with the agreement of the local tourist authorities, and displays an official badge".
Lonely Planet mentions a more sinister scam in which locals use the country's abundance of marijuana to "get you stoned, force you to buy a piece of hash the size of a brick and then threaten to turn you over to the police" if you refuse.
Violent crime in Morocco became headline news in December last year after the bodies of two female tourists were found in the high Atlas mountains, prompting a murder investigation.
After a highly publicised trial, in July of 2019 three suspects - believed to have pledged allegiance to the Islamic State (Isis) - were sentenced to death for the murders of Louisa Vesterager Jespersen, a 24-year-old from Denmark and Maren Ueland, and 28-year-old woman from Norway.
Natural disasters
Although extremely rare, earthquakes have occurred in Morocco, and they have been deadly.
In 2004, an earthquake hit Al Hoceima on the country's northern coast, killing at least 600 people and making around 15,000 homeless.
In 1960, an earthquake in Agadir levelled parts of the city and killed between 12,000 and 15,000 people.
Health
Morocco is a relatively disease-free country, and the NHS Fit For Travel website does not make any specific recommendations for vaccinations before entry.
However, news of Omar Zouhri's death as a result of rabies is likely to cause concern among travellers wishing to head to the north African country.
The Center for Disease Control warns that rabies can be found in dogs, bats, and other mammals in Morocco, with vaccines recommended for travellers involved in outdoor activities, people who will be working with or around animals, people taking long trips or moving to Morocco and children.
The NHS also mentions that Morocco contains areas with very high altitude - mostly in the Atlas Mountains - where altitude sickness is a real danger.
"Travellers who may go into areas of high altitude should take care to avoid ill effects of being at altitude including Acute Mountain Sickness, a potentially life-threatening condition," it says.
Realistically the most immediate threat to tourists in Morocco is dangerous driving. In 2016, 3,593 people were killed and approximately 100,000 injured in traffic accidents. This marks a notable decrease over the past decade, but the road fatality rate is still approximately nine times higher than in the UK.
Western Sahara
Western Saraha is a disputed region in North Africa, of which Morocco claims around two-thirds. However, no other member state of the United Nations has ever officially recognised Moroccan sovereignty over any part of it and its claims are contested by the Polisario Front liberation movement which controls the remaining third.
The territory is mostly administered by Morocco and can be visited from the country, but despite a ceasefire between Moroccan authorities and the Polisario Front in 1991, the area remains highly unstable.
The Foreign Office warns that terrorists are "very likely" to try to carry out attacks in Western Sahara, and that there is a high risk of unexploded mines in remote areas. It recommends against all but essential travel to the region, as there is no British consular or diplomatic presence there and emergency evacuation would be near impossible.

Continue reading for free
We hope you're enjoying The Week's refreshingly open-minded journalism.
Subscribed to The Week? Register your account with the same email as your subscription.