From the Red Sea to the Nile: Soma Bay review
With five first-rate hotels, Egypt's captivating east coast resort is leading the rebirth of the country's tourism sector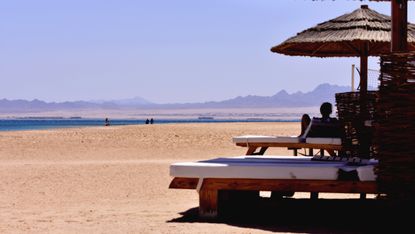 Sign up to our 10 Things You Need to Know Today newsletter
A free daily digest of the biggest news stories of the day - and the best features from our website
Thank you for signing up to TheWeek. You will receive a verification email shortly.
There was a problem. Please refresh the page and try again.
Egypt has had a difficult decade. From revolution to extremism and back again, the country has been shunted from one unflattering headline to the next.
It will take time before it finds its feet again, particularly from a tourism perspective. The people of Egypt are aware that when political turmoil comes knocking, just a few years of chaos can – to an outsider - undo thousands of years of prestige. In 2010, this vast and fascinating country attracted 14.7 million visitors; in 2016, just 5.4 million came.
There are few experiences as beguiling and unusual as setting foot on Egyptian soil at Hurghada airport. Stepping on to the tarmac, we were met by a wall of wind, dusty and thick with humidity, as the sun sank below the desert horizon. This felt like another world.
Subscribe to The Week
Escape your echo chamber. Get the facts behind the news, plus analysis from multiple perspectives.
SUBSCRIBE & SAVE
Sign up for The Week's Free Newsletters
From our morning news briefing to a weekly Good News Newsletter, get the best of The Week delivered directly to your inbox.
From our morning news briefing to a weekly Good News Newsletter, get the best of The Week delivered directly to your inbox.
Hurghada is a major airport in Egypt's "Eastern Desert", a long strip of land sandwiched between the Red Sea and the Nile. A far cry from the dauntingly barren Sahara Desert, it's rugged, rocky and dotted with angular peaks so dramatic that it's difficult to imagine how ancient civilisations were once able to conquer it.
Perhaps that's what makes Soma Bay, just an hour south of Hurghada by taxi, feel so special. In this hostile landscape, this lavish gated resort on the Red Sea feels like a beacon of touristic splendour; a ten million square metre community of bustling shopping areas, meandering fountain-flanked paths and pristine beachfronts.
Rising from this empty patch of sand in the mid to late 1990s, Soma Bay has made a name for itself as a holiday destination for beach lovers tired of Europe. Its position, perched on the tip of a small peninsula, offers guests calm, oceanic waters to swim in, and cool breezes inland if it all gets too hot.
But geography is not its only attraction. Designed to suit all budgets, Soma is a cluster of hotels rather than one single resort, each with varying degrees of luxury.
Hotels
For our trip, we were "assigned" to The Cascades, a five-star terracotta behemoth of a hotel perched on the highest peak of the peninsula. With stunning views over the resort – and across the water to the port city of Safaga – this 166-room spa hotel houses one of the largest saltwater "thalasso" spas in the world.
The hotel is a paradise for golfers. Unlike Soma's other four hotels, The Cascades has no beaches nearby, but what it does have is immediate access to an 18-hole, par-72 golf course designed by South African legend Gary Player. By way of thanks, eight of the hotel's suites are named after him.
Beach lovers can take a quick shuttle to the hotel's private beach, complete with umbrellas, showers and army of waiters. Once you've had your fill of sunshine and bathing, you're just a minute's walk from Seashell Restaurant, The Cascades' beachfront cafe, which serves some of the freshest grilled fish this side of the Nile.
Bedrooms are unpretentious and airy, with private balconies, waterfall showers and wide beds draped with Egyptian cotton sheets. Downstairs, the buffet options are seemingly limitless with meat, fish, salad, vegetables and desserts of all kinds, and a menu that changes daily.
One of the highlights of Soma is the ominously named Eagle's Nest bar, a roof terrace with panoramic views over the desert mountains. Guests can try intriguing Egyptian wines in a bar reminiscent of a New York speakeasy. The tame desert eagles that give this bar its name are never far off, often perching beside you as they look for prey in the sands below.
If luxury of an exotic kind is what you're after, the Kempinski, down on the beachfront, is your best bet. Each of its 241 rooms and nine suites is decked with Moorish-style oak archways designed to complement the deep reds of the bedding and furniture. Lighting from the rooms' faux oil lamps lends a cosy air.
The Kempinski has major wow factor. From its cavernous lobby filled with columns to its extraordinary landscaped water garden – a maze of tunnels, bridges and streams laid out over a plot half the size of a football pitch - the Kempinski is in a world of its own. With its tempting range of dining options – be sure to try the deep-fried ice cream at the on-site Bamboo Shoot restaurant – and activities, it ticks all the luxury boxes.
Next door, the five-star Sheraton hotel offers clean-cut, no-nonsense rooms and a comfortingly Western feel – with a dash of ostentatious design. The lobby and pool area, with its 50ft windows, is modelled on Luxor's Karnak Temple with its enormous hieroglyph-clad columns and stone-carved lotus flowers. Other Egyptian classics – think replica sphinxes and pyramids – are dotted about the hotel's vast grounds.
The Breakers hotel, perched on the far eastern tip of the resort, is perhaps the most appealing. In a region dominated by five-star hotels and superyachts, The Breakers prides itself on being the only "affordable" hotel that doesn't cater directly to older couples, say, or wealthy families.
Here, the homely rooms are basic without feeling too functional, while the bar area downstairs is a breezy hammocks-and-beanbags type affair with burgers and cheap beer. Guests can soak up the jovial, hostel-like vibe less than a stone's throw from the water. The hotel's enviable location facing due east also means guests are woken every morning by gorgeous sunrises over the Arabian peninsula.
The hotel is close to the resort's remarkable diving hotspots, with their dense coral formations and rich, colourful marine life. From The Breakers' outdoor bar area, guests can hop on to a golf cart and out on to a long jetty before plunging into the sea with a scuba instructor or going for a snorkel. The water teems with clownfish and other tropical creatures and lucky guests occasionally come within a few feet of a majestic eagle ray before it's swept into the sea's murky depths.
Tours
There's nothing at Soma Bay to suggest it's anything other than a spectacular holiday destination. Pull the lever and a morning of snorkelling can be followed by a day of sunbathing and a sensational fish dinner. Or a dose of sunrise yoga can be supplemented with a liquid lunch and a dip in an infinity pool at dusk. Whichever combination takes your fancy, Soma Bay probably has it.
But if you were to pick an Egyptian's brain on how to really experience this remarkable country, they would point you elsewhere.
The intense world beyond the manicured lawns and gated walls of Soma Bay is by no means for everyone, but for those with an intrepid streak – and a love of road trips – it's worth taking a private day trip to the fascinating city of Luxor, which we did with superb guides from Wings Tours.
Transfer to Luxor is no mean feat. Standing on the site of the ancient city of Thebes, the city is a four-and-a-half-hour drive from Soma Bay through desolate, remote stretches of desert, punctuated by the occasional military checkpoint.
Feeling frankly far more rested than we had any right to be, we stepped from the comforts of our air-conditioned minivan into the staggering heat of Luxor and headed to the entrance of Karnak, a temple dating back to the Middle Kingdom of Egypt some 4,000 years ago.
With a strong-willed suspension of disbelief, approaching the walls of Karnak recalls the processions that once passed through its cavernous halls and column-flanked alleys. Structured almost in the mould of a valley or tunnel, the temple spans around 300 metres from end to end with one major path through the middle, framed on either side by sandstone embossed with ancient text, and looming muscular sculptures so immaculate I had to ask my guide, Omar, if they were real.
Standing in the shade of one of countess chisel-jawed pharaoh sculptures, it's hard not to see this mesmerising place as a wary testament to mankind's historically destructive tendencies. In Europe, physical archaeological history – much of it barely half as old as Karnak – amounts to little more than, say, decrepit ruins, a floor plan or the odd mosaic. We have actively taken steps to destroy or build on top of the potential architectural wonders of those who came before us.
Here at Karnak, not only do the foundations, walls and columns tower in intimidatingly pristine condition, but even the primitive dye used to line the halls with hieroglyphics 4,000 years ago still looks as if it were painted yesterday. If you look closely, you can see that the left wall of the main gate still bears carved graffiti from the French troops who served in Napoleon's failed conquest of Egypt from 1798 to 1801.
After taking in our fill of this astonishing temple, Omar guided us down to the eastern bank of the Nile, where we stopped for a surprisingly English lunch of roast beef in the Sonesta St George Hotel. Scrambling to escape the 48-degree sunshine beating down on the city, we rushed to the hotel's pier and clambered into an open-air boat decked with cushions, traversing the majestic river in style amid a backdrop of beige mountains and rows of palm trees.
From here, we met up with our driver and made our way out of the city to the Valley of the Kings, the hallowed resting place of noblemen and pharaohs whose reigns spanned a total of almost 500 years from the 16th to the 11th century BC. Here, we ventured into a series of mercifully cool tomb complexes buried deep underground, decked from floor to ceiling with stunning, bright hieroglyphics.
Although many of the artefacts - and gold - from these tombs are long gone, having made their way to museums across the Western world, these deeply claustrophobic tunnels remain a sight to behold, an oasis of bursting vibrance and colour against a backdrop of lifeless desert.
Following a quick stop at Hatshepsut temple, a gargantuan terraced building carved into a cliff face on the outskirts of Luxor, we were back on the road to Soma Bay as dusk drew nearer. In just one day, we had covered 400 miles and 4,000 years of rich cultural history, but at no point had it felt rushed, and we arrived back at the entrace to The Cascades in time for another evening tipple at the Eagle's Nest.
But as the sun drifted lazily behind the Red Sea mountains, the dust devils on the far side of the bay casting a filter of deep amber across the vista, our tour guide turned to us and shook my hand to say goodbye. With a warm but wistful sincerity, he broke his stoic professionalism for the first time and said: "Please, tell your friends about our country. Egypt loves visitors. We need them."
Based on what I had seen during my time in this wonderful country, it's no less than they deserve.
Continue reading for free
We hope you're enjoying The Week's refreshingly open-minded journalism.
Subscribed to The Week? Register your account with the same email as your subscription.
Sign up to our 10 Things You Need to Know Today newsletter
A free daily digest of the biggest news stories of the day - and the best features from our website