The best places to visit in 2019
Whether you're looking for culture, nature or something a bit different, here are some of the hottest travel tips for the coming year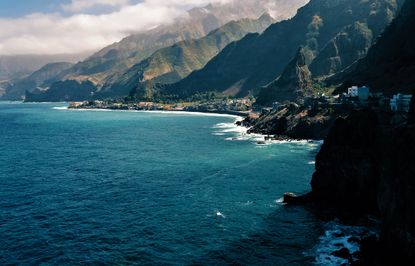 (Image credit: Copyright 2016 ticoutouc@gmail.com)
According to Reader's Digest, one of the most commonly cited New Year's resolutions around the world is a wish to travel more, whether it's to soak up the sun, hike up mountains or meet up with locals.
For those who want to travel more in the coming year but are lacking inspiration, here's a rundown of the biggest and most exciting destinations in global travel in 2019.
For summer: Norrbotten County, Sweden
Subscribe to The Week
Escape your echo chamber. Get the facts behind the news, plus analysis from multiple perspectives.
SUBSCRIBE & SAVE
Sign up for The Week's Free Newsletters
From our morning news briefing to a weekly Good News Newsletter, get the best of The Week delivered directly to your inbox.
From our morning news briefing to a weekly Good News Newsletter, get the best of The Week delivered directly to your inbox.
In summer, the northernmost county of Sweden is, in relative terms, pretty cold and, with just 250,000 people spread across an area around the same size as Belgium, pretty empty too. So what's so special about it?
Well for starters, the majority of Sweden's most amazing landscapes are up here. Far from the gently rolling hills and lakes of the south, Norrbotten County is home to Kebnekaise, the country's tallest mountain, and Abisko and Laponia, two of the most stunning national parks in northern Europe, all of which are easily accessible for hikers.
Expeditions into the great outdoors here can be anchored in the small town of Jukkasjarvi, famed for its astonishing ice hotel, or the capital Lulea, a pleasant town with a sizeable bar scene owing to the presence of a large university.
But for our money the biggest attraction in Norrbotten County is Treehotel near the town of Boden, which offers guests a selection of luxurious - and often rather bizarre - treehouses to stay in, including one with an exterior constructed entirely out of mirrors, and another shaped like a UFO.
"There's much to love here... treks through lush boreal forest, husky-drawn sled rides, rustic Nordic cuisine, and a possible peek at the Northern Lights," Mr and Mrs Smith says. "But really, what more could you want when you're staying in the world's coolest treetop dens?"
For winter: Cape Verde
Although a mere six hours away by plane, a trip to the African archipelagic nation of Cape Verde will feel worlds away from the drizzle of a British winter.
The islands, volcanic and angular, are home to some of the best beaches in the northern hemisphere, where tall sand dunes meet clear tropical seas, and even in January temperatures stay in the pleasant range of 21 to 26C.
Island hopping, sailing and just plain chilling out are the order of the day on this former Portuguese colony, but it's not exactly culturally void either. It is dotted with unique Afro-Portuguese architecture, offers heavenly fish-based cuisine and even has its own native musical genre, morna.
Cape Verde is, according to The Independent, "not a nation for people who expect to be served a dream holiday on a plate".
"It's for people who have a little bit of the adventurer in them, who are curious about people and place, who will lap up the oddities that island life might throw at them," it adds.
For travel off the beaten track: Uzbekistan
Recently described by The Daily Telegraph as "the most fascinating country you've never been to", the central Asian nation of Uzbekistan has seen an influx of intrepid tourists in recent years, eager to experience the iconic sights, sounds and smells made famous by the legendary Silk Road.
In particular, Khiva, Bukhara and Samarkand, all major former trading posts, have seen major renovations in recent years, with "glittering minarets, voluptuous domes and hypnotic mosaics" alongside fascinating Soviet-era design comprised of "blocky Brutalist buildings and statues of workers with bulging biceps", the Telegraph says.
For food and drink: Milan, Italy
A major city in Italy may seem an obvious choice for culinary bliss, but Milan is often overlooked by travellers looking for a slice of authentic, rustic Italian culture, Fox News says.
True, the city exudes an air of grandiose opulence, with fashion models frequently seen strutting up and down its vast viali; a far cry from the winding cobbled streets of Rome or Florence. But when it comes to culinary prowess, Milan packs a huge and varied punch, with charming family-run trattorias and chic ultra-modern Michelin star joints dotted across the city in equal measure.
For a taste of gorgeous home-cooked food, try Solferino in the city's Brera district, where delicate white-truffle-tinged pasta dishes complement the traditional veal cutlet "Milanese".
For the height of haute cuisine, walk just 10 minutes to Acanto at the Principe di Savoia hotel. Owned by the Dorchester chain, this is an atmospheric food-lover's heaven overseen by chef Alessandro Buffolino, who offers a menu of old-school Italian-style dishes with innovative modern twists. To experience a full arsenal of flavours, try the tasting menu, featuring a mango and green pepper foie gras, and supreme bresse chicken with ragusano, potatoes, black truffle and chanterelle mushrooms.
For romance: Kyoto, Japan
This one is for only the most intrepid of couples, but believe us when we say that Kyoto is a goldmine of untapped romantic potential. Far from the draining chaos of Tokyo, the ancient capital of Kyoto stands alone as a bastion of tasteful serenity in a country famed for the intensity of its cities.
Charming cobbled streets and ramen-ya restaurants are interspersed with landscaped parks and Shinto shrines, while every year the astonishing spectacle of the cherry blossoms draws couples from all over the world to bask in the romance of this ancient, exceptionally lovely city.
Nothing about the city feels rushed, so take a leaf out of Kyoto's book and treat yourself to a lazy stay in the Flower Room at the tiny Hotel Mume, one of the city's smallest and prettiest hotels.
For culture: Plovdiv, Bulgaria
Plovdiv, Bulgaria's second largest city, is not well-known by Western Europeans - even among those who love the thrilling sights and sounds of the former Eastern Bloc. But it appears that its time has come as this unassuming, pretty little place is set to become the first Bulgarian city named as a European Capital of Culture, a title it will hold in 2019.
A gorgeous old town dotted with Roman ruins nestles peacefully in the shadows of the city's iconic seven hills, which offer fantastic views over central Bulgaria. But at night this quaint, pedestrianised town morphs into party HQ, with plenty of excellent bars, pubs and clubs spread out along the length of the high street.
As The Independent puts it: "The mood is exuberant, prices are still low, and the crowds haven't yet arrived – it's the ideal time to explore picturesque Plovdiv."
For luxury: Cambodia
Cambodia, one of the poorest nations in Asia according to the CIA World Factbook, is more synonymous with backpacking, hitchhiking and roughing it than with jaw-dropping luxury. But the hospitality industry appears to have noticed a sizeable gap in the market and has poured money into this charming, beautiful nation.
City-breakers short on time should head to the extraordinary Rosewood hotel in the mad bustle of downtown Phnom Penh, which offers both day and night suites. Opened in February 2018, this spectacular hotel is located in a skyscraper that towers over the city, with views that stretch for miles from the floor-to-ceiling windows. Check out the hotel's superb bars and restaurants, including the highly recommended Iza Japanese eaterie, before kicking back in the establishment's sleek, spacious wood-panelled rooms.
But for the truly intrepid, look no further than Aqua Expeditions' remarkable Mekong cruises. A full-board boat trip offering three, four and seven-night stays, this is one of the most luxurious cruises on the market, with five-star accommodation complemented by fantastic food at the onboard restaurant, and excursions that will see you kayaking through floating villages, cycling to temples in the jungle and climbing palm trees.
For backpackers: Prizren, Kosovo
Another up-and-coming Eastern European pick - this time nestled in the southern Balkans - is the city of Prizren, Kosovo's second largest town.
Situated in a country torn apart by a brutal war in the 1990s and still recognised by only around 58% of UN member states, to say Prizren is a surprise would be an understatement. Tucked away among the remote Sharr Mountains, this is one of the most stunningly picturesque towns in southern Europe both from within and without.
Lazy mornings and afternoons can be spent meandering along its gorgeous cobbled streets and canals, sipping Turkish coffee and eating freshly made boreks, but when the sun goes down, hike up to the 11th-century Prizren Fortress for a remarkable view over the city, framed by a horizon of jagged mountains and complemented by the faint sound of the adhan, the Islamic call to prayer, ringing out.
"With its rich cultural heritage, cafe culture and mountain backdrop, Prizren is Kosovo's best kept secret," Wanderlust magazine says.
For city life: Montevideo, Uruguay
If the Argentine capital of Buenos Aires has a reputation for being crowded, sprawling and almost relentlessly exhilarating, then its Uruguayan counterpart Montevideo, just across the River Plate, is its laid-back little brother.
Montevideo exudes the essence of South American city life. On the surface it's vibrant and rich with culture - a place where pumping late-night music and chic designer shops pair up seamlessly with a mixture of ornate art deco and neoclassical architecture. But get to know the unwaveringly welcoming locals and they'll take you far beyond the superficial, and before you know it you'll be kicking back at a rooftop asado barbecue with a chivito in one hand and a mate in the other.
A trip to picturesque Ciudad Vieja and Barrio Sur neighbourhoods are essential, as is the Mercado del Puerto market, in what CNN calls "the world's most chilled-out capital".
Sure, Uruguay may be a long way to go for a city break, but believe us when we say that Montevideo is well worth it.
For hiking: Fiordland, New Zealand
Tucked away in the far southwest corner of New Zealand, Fiordland National Park is perhaps the world's most under-appreciated hiking destination, containing the Southern Alps' most impossibly steep peaks, along with the stark Darran Mountains and their surrounding hills.
The hiking opportunities here are varied enough in length and difficulty to please anyone who ventures into this astonishing hidden gem, despite how hostile this area may appear. Buried deep in this intimidating angular terrain - where giant granite cliffs and piles of jagged rocks separate glacier-capped peaks - are some of the finest hiking trails on the planet, traversing canyons, crossing rivers and cresting waterfalls.
Fiordland National Park is easily accessible by car from nearby Queenstown, which is connected by frequent flights to Auckland, New Zealand's largest city.

Continue reading for free
We hope you're enjoying The Week's refreshingly open-minded journalism.
Subscribed to The Week? Register your account with the same email as your subscription.