Hate speech vs. free speech: the UK laws
Swiss voters outlaw sexual-orientation discrimination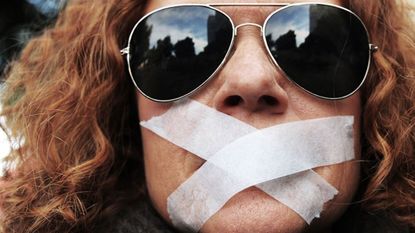 (Image credit: Cristina Quicler/AFP/Getty Images)
Swiss voters have backed a new law extending anti-racial discrimination legislation to cover sexual orientation.
The Swiss government passed a law that specifically protects LGBTQ+ people from discrimination or hate speech in December 2018, but an alliance of right-wing parties opposed the change and sought a referendum to prevent it.
That referendum was held on Sunday, with 63.1% of the public voting in favour of the new law. Opposition campaigners had sought to frame it as a "gagging law" that infringed on rights to free speech.
Subscribe to The Week
Escape your echo chamber. Get the facts behind the news, plus analysis from multiple perspectives.
SUBSCRIBE & SAVE
Sign up for The Week's Free Newsletters
From our morning news briefing to a weekly Good News Newsletter, get the best of The Week delivered directly to your inbox.
From our morning news briefing to a weekly Good News Newsletter, get the best of The Week delivered directly to your inbox.
Under the new legislation, those who "publicly degrade or discriminate" others on the basis of their sexual orientation could face a jail sentence of up to three years, although the law doesn't cover private conversations such as between friends and family.
So where do UK courts stand on the issue of free speech versus hate speech?
What is the law on free speech?
Under Article 10 of the Human Rights Act 1998, "everyone has the right to freedom of expression" in the UK. But the law states that this freedom "may be subject to formalities, conditions, restrictions or penalties as are prescribed by law and are necessary in a democratic society".
Those restrictions may be "in the interests of national security, territorial integrity or public safety, for the prevention of disorder or crime, for the protection of health or morals, for the protection of the reputation or rights of others, for preventing the disclosure of information received in confidence, or for maintaining the authority and impartiality of the judiciary".
What is the law on hate speech?
A number of different UK laws outlaw hate speech. Among them is Section 4 of the Public Order Act 1986 (POA), which makes it an offence for a person to use "threatening, abusive or insulting words or behaviour that causes, or is likely to cause, another person harassment, alarm or distress". This law has been revised over the years to include language that is deemed to incite "racial and religious hatred", as well as "hatred on the grounds of sexual orientation" and language that "encourages terrorism".
The Terrorism Act 2006 criminalises "encouragement of terrorism" which includes making statements that glorify terrorist acts.
Section 127 of the Communications Act 2003 makes it illegal to send a message via a public electronic communications network that is considered grossly offensive, or of an indecent, obscene or menacing character.
"This offence is incredibly broad and has been used to address jovial, albeit misjudged communications – it carries huge implications for freedom of expression," says justice and freedom campaign group Liberty.
In October 2018, the Law Commission announced that it would conduct a wide-ranging review into hate crime to explore how to make current legislation more effective and to consider if there should be additional protected characteristics such as misogyny and age. But 16 months later, the project is still in pre-consultation phase.
The move came after research revealed "overwhelming public support" for a two-year pilot scheme that saw Nottinghamshire Police become "the first force in the UK to record public harassment of women – such as groping, using explicit language, or taking unwanted photographs – as well as more serious offences, such as assault, as misogyny hate crimes", reports The Guardian.
But police chiefs insist the current law on hate speech is sufficient and does not need extending.
"In terms of misogyny, we have hate crime in legislation currently. We have aggravating factors, racially, or race hate. We have specific statutes and offences, we don't have those in relation to gender-related crime or misogyny and, in my view, we should be focusing on the things that the public tell me they care about most," Metropolitan Police commissioner Cressida Dick told BBC Radio 4's Today programme.
Why is the debate so controversial?
Criminalising the incitement of violence or threats "can be seen to be a justifiable limit on freedom of expression", says Liberty. What is controversial "is the criminalisation of language (or behaviour) which may be unpleasant, may cause offence but which is not inciting violence, criminality etc", the organisation adds.
Writing for Prospect magazine, Hugh Tomlinson QC argues that the problem lies with the lack of a UK constitution. "Free speech does not, historically, have the same primacy under English law [as the US]," he explains.
"A proper 'written' constitution sets limits on the powers of the institutions of government, but the loose and flexible set of rules that is described as Britain's unwritten constitution sets no such limits."
Writing in The Spectator, Lionel Shriver says the UK should follow the US playbook.
"Because the alternative is what the UK has now, and it will only get worse: government systematically legislating not just what we say but what we may believe."

Continue reading for free
We hope you're enjoying The Week's refreshingly open-minded journalism.
Subscribed to The Week? Register your account with the same email as your subscription.