The many faces of Santa
Goblins, witches, horned beasts — the gift-givers of Yuletide come in many different guises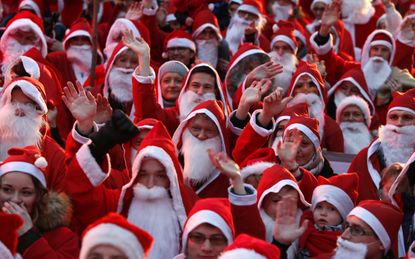 (Image credit: REUTERS/Michaela Rehle)
Goblins, witches, horned beasts — the gift-givers of Yuletide come in many different guises. Here's everything you need to know:
There are other Santas?
There sure are. Although Americans are accustomed to their gifts being delivered by the jolly, portly figure of Santa Claus, with his big white beard and red suit, Christmas celebrators around the world welcome a multitude of gift-giving visitors during the holiday season. These alternative Santas range from St. Nicholas himself, the original inspiration for Santa Claus, to goat-like demons that threaten to drag naughty children down to hell. One increasingly controversial figure even sports blackface. But they all have the same mission: to assess whether a child has been naughty or good — and to dole out the appropriate punishment or reward.
Subscribe to The Week
Escape your echo chamber. Get the facts behind the news, plus analysis from multiple perspectives.
SUBSCRIBE & SAVE
Sign up for The Week's Free Newsletters
From our morning news briefing to a weekly Good News Newsletter, get the best of The Week delivered directly to your inbox.
From our morning news briefing to a weekly Good News Newsletter, get the best of The Week delivered directly to your inbox.
Are they all men?
No. In Italy, presents are dispensed by a friendly witch called La Befana. In Italian folklore, Befana was asked to join the Three Wise Men in their journey to Bethlehem to welcome the baby Jesus. But Befana, a meticulous housekeeper, spent too long tidying her home and ended up missing the big event. Devastated, the witch now wanders the earth on her broomstick in search of Christ — leaving gifts and candy in the stockings of Italian children as she does so. Naughty children get bags of ashes. Another popular Christmas figure in Europe is St. Nicholas — one of the main inspirations for countless gift-givers, including Britain's Father Christmas and Santa Claus himself.
What is St. Nicholas' story?
St. Nicholas was an early Christian bishop born to wealthy parents in 270 A.D., in what is now Turkey. After he became bishop of Myra, Nicholas gave away his riches — in one case, tossing bags of gold through a poor family's window to save three daughters from prostitution. When Nicholas died on Dec. 6, 343, he was made a saint. Children across Europe still celebrate the anniversary of his death by leaving gifts for his white horse in exchange for sweets. In the Netherlands, Nicholas was called Sint Herr Nikolaas, later shortened to Sinterklaas. The Dutch settlers of New York took the tradition to America, where the figure eventually morphed into the chubby, red-cheeked Santa Claus we know today with the help of advertising artists. In the Netherlands, however, children continue to look out for Sinterklaas — along with his notorious sidekick, Zwarte Piet.
Why is Zwarte Piet controversial?
Zwarte Piet, or Black Pete, has serious racist overtones. The character dates back to the Spanish rule of the Netherlands, and arrives with Sinterklaas via steamboat in the run-up to St. Nicholas' feast day, on Dec. 6. Zwarte Piet was first depicted as St. Nick's swarthy slave in Moorish dress, and now acts as his assistant, doling out sweets to good children while threatening to stick naughty kids in a sack and take them back to Spain. Played by a man in blackface, Zwarte Piet is a regular attendee at Christmas parades in Holland and Belgium. But this tradition has run afoul of modern sensibilities and may be on the way out. A Dutch court recently ruled that Zwarte Piet represented "a negative stereotype of black people," and a Belgian minister for culture was denounced last week for posting a picture of himself as the character. "Now I'm an ordinary racist because I colored my face dark," responded Sven Gatz. "Come on. Love. Don't hate."
Are all Santas Christian?
No. Northern Europe is full of mythical creatures dating back to the pagan winter festival of Yule. The strangest might be Finland's Yule Goat, or Joulupukki, a goatskin-wearing figure who is said to live on Mount Ear — the country's version of the North Pole. Then there are the mischievous Yule Lads, or Jolasveinar — three naughty goblins with names like Door-slammer and Bowl-licker, who travel around Iceland handing out gifts and rotten potatoes. Icelandic children leave their shoes out for 13 nights running up to Jan. 6, and wake every morning to find small presents left by the Jolasveinar. As the festival and accompanying boozefest comes to an end, things get pretty wild — or so goes the myth. "People come out of their graves," explains Iceland native Hoffy Steingrimdottir. "Seals take on human form. And cows develop human speech."
Are there any bad Santas?
Yes, and they're increasingly popular. The best-known is the terrifying Krampus, found in Central Europe's Alpine region. This horned, long-tongued demon has its roots in Germanic pagan traditions and Norse mythology, though today he often serves as the evil enforcer to the benevolent St. Nick. On Krampusnacht, Dec. 5, adults dress as the furred beast and race through the streets of Austria, threatening to whip children with birch sticks or chuck them in a sack and drag them to their hellish lair. "The Krampus is the yin to St. Nick's yang," says Jeremy Seghers, organizer of the first Krampusnacht festival in Orlando. "It taps into a subconscious macabre desire people have that is the opposite of the saccharine Christmas a lot of us grew up with."
The Santa cold war
Russians have their own version of Santa, and he has been dragged into the ongoing hostilities between President Vladimir Putin and the West. In 2008, Kremlin official Boris Gryzlov declared Santa Claus an "illegal immigrant" in Russia; he claimed the tubby American character was being used to inculcate Western values at the expense of Russian ones. The Motherland has its own superior gift-giver, says the Kremlin: Ded Moroz, or Old Man Frost, a leaner, tougher alternative to the cookie-gobbling Santa. Originally a pagan Slavic winter wizard, Ded Moroz morphed under the influence of the Orthodox Church. Today, like Santa, he comes dressed with a white beard and big coat. But instead of frumpy Mrs. Claus, Moroz is accompanied by his beautiful granddaughter. Even his steeds are fiercer: Ded Moroz flies in a troika pulled by three prancing foals so fast, they've been known to race Soviet rockets into outer space. "No one will ever be able to take away Ded Moroz from Russia," said Gryzlov. "Not Santa Claus nor any other imposters."

Continue reading for free
We hope you're enjoying The Week's refreshingly open-minded journalism.
Subscribed to The Week? Register your account with the same email as your subscription.