Christmas meals around the world
Not everyone prepares a Christmas roast. Some countries tuck into fermented skate, caterpillars — and even KFC.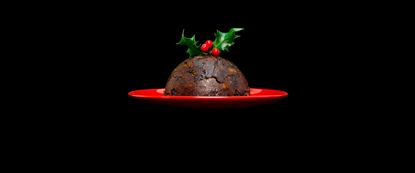 (Image credit: RTimages / Alamy Stock Photo)
Not everyone prepares a Christmas roast. Some countries tuck into fermented skate, caterpillars — and even KFC. Here's everything you didn't know about Christmas meals around the world:
Isn't turkey traditional?
It is for many Brits, Canadians, and Americans who haven't had their fill of the festive bird over Thanksgiving. But the ingredients of a "traditional" Christmas meal really depend on your ethnicity and nationality. In Eritrea, people slaughter a goat for the occasion; in the Philippines, they take a deboned chicken and stuff it with a mix of items that includes Spam, Edam cheese, and canned Vienna sausages. In the U.S., a country built on immigration, the food varies from home to home, and is often a tribute to the mother country — like the ambitious Italian-American Feast of the Seven Fishes, held on Christmas Eve. No matter what's on the menu, all traditions embrace the golden rule of Christmas dining: to get together with friends and family and eat until you can eat no more.
Subscribe to The Week
Escape your echo chamber. Get the facts behind the news, plus analysis from multiple perspectives.
SUBSCRIBE & SAVE
Sign up for The Week's Free Newsletters
From our morning news briefing to a weekly Good News Newsletter, get the best of The Week delivered directly to your inbox.
From our morning news briefing to a weekly Good News Newsletter, get the best of The Week delivered directly to your inbox.
What's the weirdest meal?
It's hard to top Greenland's kiviak. This unique dish is created by taking a bunch of seabirds known as little auks and stuffing them into a hollowed-out sealskin — beaks, feet, feathers, and all. That rubbery package is then sewn up and shoved under a rock, where it ferments and disintegrates for up to 18 months, before being dug up and served straight from the seal. The resulting mush is said to have the flavor of an extremely pungent Gorgonzola cheese. But kiviak has competition in the weird Christmas food stakes. Icelanders dine on puffin, and on fermented skate, which is so powerfully fishy that most people prefer to eat it at restaurants rather than stink out their own houses. And South Africans munch on mopane: caterpillars of the emperor moth, whose harvest lines up with the dates of Christmas. Thrown in the deep-fat fryer, these wriggly critters aren't just delicious, insists Keith Leggett of the Kalahari Conservation Society, but "an incredibly important source of protein in a period when there is very little other protein available."
How decadent can meals get?
Courses can run into the double digits. Polish people often host a Wigilia, or "Star Supper," on Christmas Eve: an extravagant 12-course banquet of dumplings, herring in wine sauce, and more. Many feasts are religiously themed. In the French region of Provence, cooks concoct 13 desserts representing Christ and his 12 apostles. And Italy's famous Festa dei Sette Pesci, or Feast of the Seven Fishes — eaten both in the old country and the U.S. — is enjoyed on Christmas Eve, as part of a meat-free fast to symbolize the wait for the arrival of the baby Jesus. The meal consists of seven fishes ranging from calamari to baccalà, or salted cod. Why seven? It could be because God took seven days to create the Earth, according to the Bible. Or each course might represent one of the seven sacraments.
Who in the world eats KFC?
The Japanese. Only 1 percent of Japanese people are Christian, but it has become a quirky custom for them to spend Dec. 25 reaching into a festive bucket of the Colonel's fried chicken. This tradition was created by an aggressive ad campaign, run by the company in 1974, that aimed to convince the Japanese that Americans love to tuck into a bucket for Christmas dinner. The slogan was Kurisumasu ni wa kentakkii! or "Kentucky for Christmas!" It worked: KFC is so popular in Japan on Christmas Day that the fast-food restaurant takes reservations months in advance — and some franchises even offer table service and alcohol.
Do some foods bring good luck?
That's the idea. In Slovakia, the oldest man in the house is supposed to take a spoon of loksa pudding, made from poppy seed and bread, and chuck it at the ceiling. The more that sticks, the luckier the family will supposedly be. On New Year's Eve in Spain, partygoers are supposed to eat 12 grapes at the stroke of midnight, one with each toll of the bell, to secure 12 months of good luck. In Bulgaria, families leave the remains of the Christmas Day feast on the table overnight so that ghosts can dig in, too. Then there's the classic British tradition of hiding a coin in the figgy pudding, bringing good luck to the diner who finds it.
Figgy pudding? What's that?
Also known as plum pudding or Christmas pud, it's a soccer ball–shaped steamed fruitcake dating back to medieval England that actually contains neither figs nor plums. In the 1650s, Oliver Cromwell and the ruling Puritans banned it, along with carol singing and Nativity scenes — arguing that all three too closely resembled the inappropriate decadence associated with the Catholic faith. When the English monarchy returned, it restored figgy pudding, though, and it has been a staunch Christmas tradition ever since. Doused in brandy and set on fire before serving, the dense dish isn't for everyone, says Debbie Waugh, a historic-house coordinator who has served figgy pudding at the Green Spring Gardens in Virginia. "It resembles something like a cannonball," says Waugh, "and it maybe feels a bit like a cannonball when it hits your stomach, but it's tradition and we love it."
Carp in the bath
In Slovakia and several other eastern European countries, the main course of the Christmas Eve feast is usually carp. But the digestive tracts of these bottom-feeders are often full of river mud, so families buy a live carp days before the meal, take it home in a plastic bag, and then drop it in the filled family bathtub — where it swims in circles for days, flushing the mud from its system. When it's time to eat, it's traditional for the father to take the fish and chop its head off. Some animal rights activists have tried to ban the ­practice — in recent years painting their faces like carp and holding protests outside grocery stores, chanting, "Free the carp!" Other Slovakians become very fond of their fishy friends over Christmas, even giving them a name. "In my childhood," one Bratislava resident told NPR​, "I remember thinking, 'Poor carp.'"

Continue reading for free
We hope you're enjoying The Week's refreshingly open-minded journalism.
Subscribed to The Week? Register your account with the same email as your subscription.