Visiting Russia in the age of Trump
A question, unspoken: Did you sabotage us? Did we sabotage you?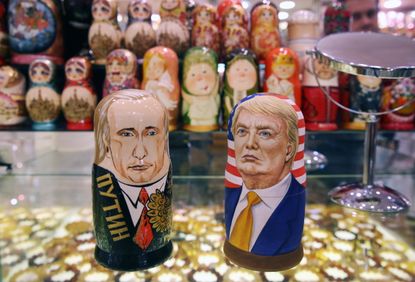 (Image credit: ITAR-TASS Photo Agency / Alamy Stock Photo)
Sign up to our 10 Things You Need to Know Today newsletter
A free daily digest of the biggest news stories of the day - and the best features from our website
Thank you for signing up to TheWeek. You will receive a verification email shortly.
There was a problem. Please refresh the page and try again.
We had never meant for our trip to Russia to be political, which was our mistake from the start. But when my boyfriend, Forrest, and I booked our tickets to Saint Petersburg and Moscow back in March 2016, it was easy to at least be fooled into thinking it was a simpler time, when decisions like vacationing in the former Soviet Union for 10 days could be chalked up to an intellectual or literary curiosity, not a political one.
How wrong we were. In the eight months between booking our tickets and actually stepping aboard an orange-upholstered Aeroflot plane, the world was irrevocably changed in ways that are still not quite clear.
Thirty-two days before the election, and 48 days before we were to depart for Saint Petersburg, the Department of Homeland Security and the Office of the Director of National Intelligence issued a joint statement expressing confidence that Russia was attempting to swing the 2016 race for Donald Trump. Today, the extent of Russia's interference is still a serious question, with Attorney General Jeff Sessions the latest Trump teammate to have apparently lied about meeting Russian Ambassador Sergey Kislyak before the inauguration. Before Sessions, former National Security Adviser Michael Flynn was brought into the White House, discovered to possibly be vulnerable to Kremlin blackmail, and sent packing. An unverifiable dossier written by a credible spy alleges that the Russian puppetry could reach even further — that perhaps the American president himself has something to fear from the Russian intelligence community and its leader, President Vladimir Putin.
Subscribe to The Week
Escape your echo chamber. Get the facts behind the news, plus analysis from multiple perspectives.
SUBSCRIBE & SAVE
Sign up for The Week's Free Newsletters
From our morning news briefing to a weekly Good News Newsletter, get the best of The Week delivered directly to your inbox.
From our morning news briefing to a weekly Good News Newsletter, get the best of The Week delivered directly to your inbox.
But in late November, most of this had yet to be revealed to the American public. Most people were still adjusting to the phrase "President-elect Donald Trump" on Thanksgiving, the day that Forrest and I sleeplessly navigated customs in Moscow and boarded a rickety puddle-jumper to Saint Petersburg. It was only when we were exchanging our U.S. dollars for a rainbow of rubles in the airport that I felt the first gnaw of un-American guilt, suddenly reminded of a story my father tells about visiting East Germany in 1973 and being forced to return all his East German marks at Checkpoint Charlie into a box marked "Vietnam."
Whatever second-guessing I experienced in the moment was quickly washed away as we drove through the early morning fog and into town. Saint Petersburg! It is a heart-stopping, jaw-dropping city, possessing an out-of-time regal splendor that is not quite European, its own unique spectacle. A light, cottony snow spiraled down over the twisting canals, a ceaseless dusting that continued for our entire visit. It felt like being in a snow globe, or a fairytale. Even the abandoned buildings and rundown 19th-century homes had an air of magic to them, and it was easy to believe they harbored frogs waiting to be turned into princes, ugly ducklings ready to step forward as swans.
Our American accents and barely passable Russian quickly became a kind of transformative magic too. Every "spasiba" or "privyet" we said indicated not only that were we tourists, but that we were visiting from America. We never seemed to run into other American tourists either, although I would strain my ears for the familiar accent whenever we were in a museum or visiting a monument or church.
Perhaps because of this, I felt especially representative of Americans as a whole. This led to a one-sided embarrassment in every interaction — from ordering coffee (sweetened, in the Soviet way, with heavy condensed milk) to greeting the doorman at our hotel. Eye-contact lurched me toward the question I didn't want to ask and didn't want to know if they were asking:
Did you sabotage us? Did we sabotage you?
On our first full day in Russia, Fidel Castro died. We used the excuse to go to the communism-themed Fidel bar, which sat around the corner from the like-minded "CCCP" bar, the Cyrillic acronym for U.S.S.R.
The bartender at Fidel didn't speak any English but understood our request for Cuba libres, made startlingly sweet using Coke with real sugar. We took a table next to another group of people our age doing boisterous toasts of "viva Cuba!" Like nearly everyone in the bar, Forrest and I were born in the early years after the collapse of the Soviet Union. Toasting a communist dictator alongside 20-something-year-old Russians, we were all comfortably removed from the first-hand experience of the Cold War, free to feel Soviet nostalgia without understanding the sharp edges that came with it.
A few nights later, over a meal of khachapuri and smuggled Georgian wine, our Russian friend Catherine explained that when she heard Donald Trump had been elected, she broke down in tears. Catherine and her friends aspire to be accepted by the American green card program, which allows 2,000 or so Russians every year, through a lottery, to permanently reside in the United States — an appealing prospect for young, educated, worldly people from Saint Petersburg, and one that could be put in jeopardy by Trump's policies.
Still, even Catherine and her friends admitted it was fun, if anxiety-inducing, to follow the U.S. election from afar. It was one of the first fiercely competitive elections they'd ever paid attention to. When Forrest asked when Russia's next election was, there was an awkward, unknowing pause. As it turns out, when your votes so blatantly don't count, you don't see the point in remembering details like the date of the next electoral charade. Putin is just a fact of life, the Russian equivalent of death and taxes.
Putin is nowhere and everywhere in Russia. When Forrest and I later took a night train to Moscow, we ended up staying at a hotel I eventually learned was frequented by the Trump children when they do business in the capital (we'd taken advantage of steep off-season rates). The opulent Hotel National sits directly across from the Kremlin and, braving temperatures that reached subzero with wind chill, we'd scurry across to the Red Square or watch the sun rise over it from the lobby, casting a rosy light on the frosty walls of the former fortress. Once, wandering past the Kremlin Palace, I wondered how close I might be to Putin at that moment. But really, is there anywhere in Russia over which Putin's presence doesn't loom?
On our final day in Russia, Catherine took us to a loft where we watched Dr. Strangelove on the wall of a coffee shop. Cradling a latte and straining to hear the English dialogue muted beneath Russian dubs, the irony of watching a film about an unhinged U.S. general, Jack D. Ripper, ordering a pre-emptive nuclear strike on the Soviet Union was not lost on me.
It was not until we were back in the Saint Petersburg airport, waiting to board our plane home to New York, that we finally met our first fellow American, a Chinese-language teacher from Massachusetts whose carry-on item was a fantastic accordion he'd found in an antique shop. "Did you talk to anyone about Donald Trump?" he eagerly asked us.
The teacher then explained that the cabbie who had driven him to the airport had been enthusiastic about Trump and eager to talk about the election. "I am happy," said the driver. "Maybe now we can be friends again."
Since returning to New York, I haven't been able to get Russia out of my head. "Spasiba" catches in my throat when someone holds a door for me. I am unforgiving of New York's trains, which seem slow and dirty compared to their Moscow equivalents. I ache for the easy intellectualism of Saint Petersburg and its habitually dark-humored and quick-witted inhabitants. And when asked about my trip, I feel like I can't possibly explain.
"Russia," people still prompt. "Now that's an interesting choice."
It's one I hope to make again, I usually say, eliciting even more surprise from whoever has found Russia to be "an interesting choice." Because although I did not realize it right away, that is the strange reality of travel: How we can condemn "the Russians" for their interference in our election, but when blinking across a cafe counter at the person serving us rich Soviet coffee, the question of their individual malicious intent suddenly seems as unhinged as General Jack D. Ripper.
Instead, there is only that question, voiced or unvoiced, shared in the universal language of smiles and curious eyes: Maybe now we can be friends again.
Continue reading for free
We hope you're enjoying The Week's refreshingly open-minded journalism.
Subscribed to The Week? Register your account with the same email as your subscription.
Sign up to our 10 Things You Need to Know Today newsletter
A free daily digest of the biggest news stories of the day - and the best features from our website
Jeva Lange was the executive editor at TheWeek.com. She formerly served as The Week's deputy editor and culture critic. She is also a contributor to Screen Slate, and her writing has appeared in The New York Daily News, The Awl, Vice, and Gothamist, among other publications. Jeva lives in New York City. Follow her on Twitter.