America can't save Syria. And it shouldn't try.
Syria has become a horrifying hellscape. That doesn't mean America should go to war.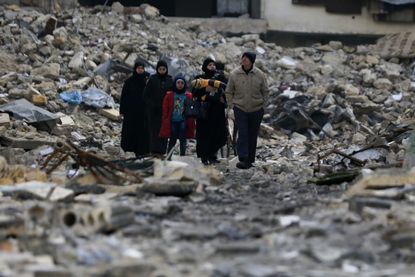 (Image credit: AP Photo/Hassan Ammar)
The Syrian civil war will largely be remembered for the sickening images of suffering it has produced. The drone-cameras that pan and sweep over the devastation of Homs are upsetting. But worse are the stomach-turning images of child victims.
In September 2015, we saw the image of Alan Kurdi, the boy refugee whose lifeless body was found on a beach in Turkey. That image capped a summer of European agonizing about accepting refugees, and led to Angela Merkel's big invite to hundreds of thousands of refugees, which has Europeans agonizing even more today.
In August of last year, we were stunned by the photo of 5-year-old Omran Daqneesh, the bloodstained boy covered in dust after an airstrike.
Subscribe to The Week
Escape your echo chamber. Get the facts behind the news, plus analysis from multiple perspectives.
SUBSCRIBE & SAVE
Sign up for The Week's Free Newsletters
From our morning news briefing to a weekly Good News Newsletter, get the best of The Week delivered directly to your inbox.
From our morning news briefing to a weekly Good News Newsletter, get the best of The Week delivered directly to your inbox.
And this week, we've seen ever more horrifying images and videos coming out of Syria, where a chemical weapons attack killed scores of people, including children. The shocking footage was, of course, followed swiftly by calls for President Trump to make good on former President Obama's red-line promise to depose Bashar al-Assad.
The question we should ask ourselves when contemplating these pictures is not simply "Must this be stopped?" We know the answer to that question: Of course it ought to be. But the real question is this: Should the emotion generated by these pictures elicit our consent for the United States military, under President Trump, to intervene even more aggressively on behalf of al Qaeda in Syria, under the legal authority of a 2001 act of Congress declaring war on al Qaeda?
Let us not mince words: That is what is being asked. Becoming al Qaeda's air force never made any moral or strategic sense for the United States at any time in the last four years, and it makes even less sense now.
Remember, too, that we know very little about what is actually happening in Syria. We are at the mercy of propagandists just to get basic information. As Patrick Cockburn, the brave Middle East correspondent observed, "The real reason that reporting of the Syrian conflict has been so inadequate is that Western news organizations have almost entirely outsourced their coverage to the rebel side."
You know the story they have told. In December of last year, social media filled with images and video from Aleppo, after Bashar al-Assad's government recaptured it. Those images and videos from Aleppo showed real devastation. And the political effect was achieved, just as intended. Elite Western policymakers, journalists, and the news junkies that follow them on social media spent days sharing the viral footage, and lamenting that in 2013, when given a chance to authorize greater intervention, Western lawmakers looked at public opinion running against aggressive intervention and instead let Obama continue his smaller covert operations.
And how did those go? Certainly they became a moral hazard that extended and worsened the Syrian civil war, by holding out the possibility of greater American involvement.
America's attempts to train and direct local rebels regularly turned into living satires where ginned-up "moderate" groups quickly surrendered their American-provided weapons to al Nusra. When America's interventions weren't comical fiascos of wasted money and bluster, they were simply horror shows come to life. We don't as much advertise the images produced by Nour al-Din al-Zenki, a U.S.-vetted and -supported Islamist faction that sent out a video of its men beheading a child and celebrating this as a victory over their enemies. Washington's hawkish intellectuals came up with long-shot scenarios under which the U.S. could remove Assad without empowering the Sunni beheaders and other fanatics. But even these plans seemed to shrug when tackling the bigger question: Who is fit and able to govern Syria after Assad?
It is idiotic to believe the rebels now broadcasting the enormities from Idlib would be accepted as just leaders by the Syrian people. Even though these same rebel groups effectively made their military cause synonymous with "the people of Aleppo," the truth is that when the people of Aleppo were allowed to evacuate from that battle last year, only about one third of them wanted to be taken to Idlib, under the protection of the rebels.
Western policymakers wish that the Syrian civil war could end in such a way that it deprives Iran of an ally in Damascus (Assad), does not allow the spread of ISIS, does not end in al Qaeda capturing the machinery of the Syrian state (however broken), and institutes a stable settlement that ends the refugee flow that contributed to Brexit and empowered populist nationalists across Europe. There has never been an on-the-ground ally in Syria capable of delivering this, unless Americans governed Syria like a colonial possession for the next five decades.
But whenever our policymakers and hawks see another horrifying image from rebel territory in Syria, they'll remind us about the great nobility of their intentions, and the stubbornness of the American and British publics that stood in their way.
Their self-regard is yet another propaganda image, and it should be discounted accordingly.

Continue reading for free
We hope you're enjoying The Week's refreshingly open-minded journalism.
Subscribed to The Week? Register your account with the same email as your subscription.