Why Trump will act wisely on North Korea
Don't freak out over North Korea. Everything will be fine.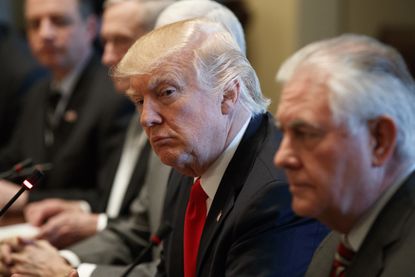 (Image credit: AP Photo/Evan Vucci, File)
When President Trump's administration decided to lob missiles at an airstrip controlled by Bashar al-Assad's government in Syria, the debate it generated in America was almost entirely ideological. Did the president have legal authority to do this? Was this a shift from his campaign's promise of an America First foreign policy? Would the president win the support of centrists who have lobbied for a more vigorous U.S. role in the Syrian civil war?
Even though the Syrian conflict puts the U.S. in the position of beating up a client of Russia, a rival nuclear superpower, little of the commentary seemed to take up the idea that the United States was sliding toward danger.
But now that the eyes of foreign policy experts are shifting toward the Korean peninsula, ideology is no longer top of mind. Safety is. Western mandarins fear that a miscalculation could mean catastrophe for U.S. allies like South Korea and Japan, or even the U.S. itself.
Subscribe to The Week
Escape your echo chamber. Get the facts behind the news, plus analysis from multiple perspectives.
SUBSCRIBE & SAVE
Sign up for The Week's Free Newsletters
From our morning news briefing to a weekly Good News Newsletter, get the best of The Week delivered directly to your inbox.
From our morning news briefing to a weekly Good News Newsletter, get the best of The Week delivered directly to your inbox.
President Trump has said that if China will not do the work of leashing North Korea from testing more weapons and making more threats on its neighbors, than he will do it. Former Ambassador Chris Hill, who worked on North Korean issues in the 1990s, said that Trump was "trying to out-North Korean the North Koreans." U.S. ships sped toward the Korean peninsula, and Vice President Mike Pence warned, "North Korea would do well not to test his resolve or the strength of the armed forces of the United States in this region." Pence added ominously that the "era of strategic patience is over." On the other side, leaders in Pyongyang are warning their people that nuclear war could break out "any moment." The whole tone is of jittery panic and brinksmanship.
Obviously, Donald Trump — or any president — is perfectly capable of doing something irresponsible. But there are strong reasons to believe the Korean situation will not spiral out of control, and that America's president will act wisely and responsibly.
The primary reason isn't about Trump himself, but the incredible restraint and caution of South Korea, which is unlikely to change. U.S. allies in Seoul have accepted incredible provocation from the North Korean government but have avoided war. In the 1960s, when North Korea concluded that it could not foment enough domestic dissent in the South to destroy the rival government, it attempted an assassination of South Korea's president. In 1987, a North Korean spy blew up a South Korean airplane in an attempt to destabilize the South Korean government ahead of the Seoul Olympics. Seoul has long shown remarkable resolve in avoiding a wider conflict with its neighbor.
This strategy of keeping peace even at a high cost has some long-term risks, but South Koreans have benefited from it for decades. Even if a U.S. president is feeling emboldened against North Korea's regime, he is unlikely to get approval and support from South Korea for doing so. And no one will advise the president to do something in the Korean peninsula against the wishes of an ally that otherwise shares some of the costs and burdens of U.S. policy.
In fact, no player in the region wants to see a major change from the status quo, even if it means putting up with obnoxious and provocative weapons tests, and hysterical rhetoric from the regime in Pyongyang. After all, the internal collapse of the North Korean government is the biggest danger to the region. Refugees from North Korea could quickly overwhelm South Korean society's ability to assimilate them. And the amount of disorder could quickly cause China to take a larger leading role in creating and maintaining a transitional government in Pyongyang. No one wants this.
The North Korean government's one real card is that it could potentially inflict massive damage on South Korea or Japan, even if the United States launched a quick and decisive attack meant to decapitate its government. But the explosive failure of its recent weapons test is a good reminder that North Korea's military capabilities are very difficult to judge and easy to exaggerate.
Trump may talk tough in the coming weeks, but the likeliest near-term result is not catastrophic war, or even a miscalculation that leads to crisis. At least not on the part of America and its regional allies. Japan, South Korea, China, and Trump's closest advisers will inform America's president of the limited upsides and substantial risks of a military engagement with Pyongyang. And the likeliest result of the rising tensions is the opening of new regional talks.
The world has been living with a brutal, hysterical regime in North Korea for decades. And it is resolving itself to continue living even if that regime has nuclear weapons.

Continue reading for free
We hope you're enjoying The Week's refreshingly open-minded journalism.
Subscribed to The Week? Register your account with the same email as your subscription.