How China could make Trump miserable
Trump now wants to get tough with China. But what if China gets tough back?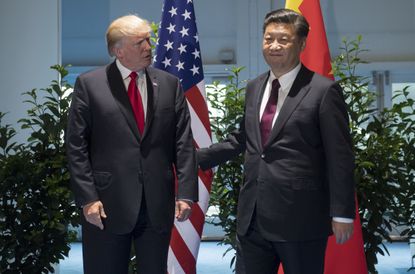 (Image credit: Saul Loeb/Pool Photo via AP)
Sign up to our 10 Things You Need to Know Today newsletter
A free daily digest of the biggest news stories of the day - and the best features from our website
Thank you for signing up to TheWeek. You will receive a verification email shortly.
There was a problem. Please refresh the page and try again.
At long last, the Trump administration looks like it's strongly considering a tougher line when it comes to China's support of North Korea. It certainly looks like an incremental approach — at least that's the way I interpreted the latest report from Reuters — but the writing on the wall is clear: If Beijing won't act, Washington will take the gloves off — at least slowly, one finger at a time.
Can I get an amen?
To be fair, anyone who is an Asia watcher should have seen this coming. The reasons are obvious.
Subscribe to The Week
Escape your echo chamber. Get the facts behind the news, plus analysis from multiple perspectives.
SUBSCRIBE & SAVE
Sign up for The Week's Free Newsletters
From our morning news briefing to a weekly Good News Newsletter, get the best of The Week delivered directly to your inbox.
From our morning news briefing to a weekly Good News Newsletter, get the best of The Week delivered directly to your inbox.
Team Trump has declared Kim Jong Un public enemy number one. And with Pyongyang's recent successful test launch of an intercontinental missile that can hit parts of the U.S. homeland — some are now saying the West Coast is under threat, depending on how you break down the technical data — Washington now views North Korea as its greatest international security challenge. And considering the challenges the Trump administration faces on the world stage — ISIS, the never-ending Syria Civil War, all things Russia — that says a lot.
For now, it looks like the president is considering more targeted, or what is usually referred to as secondary, sanctions on smaller Chinese banks and firms if it doesn't change its tune. But should China stand firm, Trump has many options to make Beijing really feel the heat — and we are talking way beyond banks.
From putting pressure on China in the South China Sea to helping Taiwan aggressively gain what it refers to as "international space" and Japan assert its sovereignty in the East China Sea to trade matters, Team Trump has considerable pathways to ensure Beijing understands the consequences of not helping "solve" the North Korea issue — or at least help in some meaningful way.
Like all things, though, there is a catch: Beware of what China will do in response.
To be clear, while I am fully supportive of pushing back against China's lack of assistance when it comes to Kim Jong Un — who wouldn't when North Korea has by some estimates 200,000 people in prison camps and Chinese food and fuel aid keep Kim in power? — we need to stop and think through the possible ramifications. This is especially true if Team Trump dumps what looks like an incremental pressure campaign and decides to go all out. That would be a big mistake.
So, for example, let's say Washington decides in the coming months to step up the pressure dramatically and dump the slower approach, and maybe allow Taiwan access to U.S. submarine technology in a bid to develop its own domestically crafted sub program — something Taipei is now pursuing. How would China respond?
First of all, we need to recognize that Taiwan is what China calls a "core interest" — code for "redline" in Chinese international politics speak. Beijing would likely view such a move as highly destabilizing and would push back aggressively. For example, China could start challenging America's freedom of navigation operations in a much more assertive manner, potentially leading to an all-out crisis if things were to go wrong or people were hurt or killed.
Then there are other American actions that could elicit other Chinese counterreactions. Let's say Trump wanted to punish Chinese inaction on North Korea by attacking Beijing on what the administration feels are its unfair trade practices, slapping heavy tariffs on Chinese steel manufacturers. China of course could respond in kind, attacking U.S. businesses in China, or decide to take the gloves off in Asia, by, say, declaring an Air Defense Identification Zone, commonly known as an ADIZ, in the South China Sea.
These two examples, simplistic in nature when one considers the menu of options available to both sides, show where this game of move, counter move can go.
Now, before I go any further, I must make one thing clear: None of this is an argument against pushing China on what is ultimately the shared problem of North Korea. This is, however, a plea to remember that in the great game that is global politics, we must always look at the moves the other side can make before we make our own. That is the most common sense way to make the best choices.
Over the long run, the best long-term strategy is for Washington to place more emphasis on Asia in its foreign policy portfolio — ensuring that America First means Asia First. This means the bulk of Team Trump's diplomatic and economic outreach must be aimed at this part of the world, going way beyond bumper sticker foreign policy slogans like a "pivot." And more importantly, more U.S. military muscle is needed in the Asia-Pacific region to counter not only North Korea's growing military might but China's — something that keeps getting forgotten when we consider the growing strategic threats Washington faces in this most vital of regions.
My advice to Team Trump is simply this: Dial up the pressure on Beijing over North Korea step by step. President Xi and company will get the message loud and clear. Do that, and you might get some critical assistance.
Take those gloves off slowly, Mr. President. Just don't slap China with them — at least not yet.
Continue reading for free
We hope you're enjoying The Week's refreshingly open-minded journalism.
Subscribed to The Week? Register your account with the same email as your subscription.
Sign up to our 10 Things You Need to Know Today newsletter
A free daily digest of the biggest news stories of the day - and the best features from our website
Harry J. Kazianis is director of defense studies at the Center for the National Interest, founded by former U.S. President Richard M. Nixon.