Trump needs to keep his filthy mitts off Venezuela
The president is once again pondering a Venezuela invasion. Holy smokes.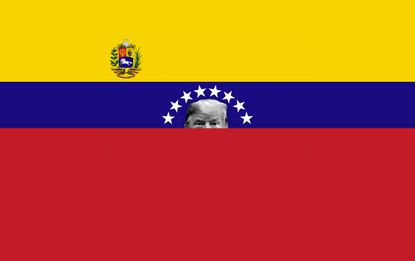 (Image credit: Illustrated | Alex Edelman- Pool/Getty Images, Wikimedia commons)
Sign up to our 10 Things You Need to Know Today newsletter
A free daily digest of the biggest news stories of the day - and the best features from our website
Thank you for signing up to TheWeek. You will receive a verification email shortly.
There was a problem. Please refresh the page and try again.
Poor Venezuela. The country has been suffering the worst economic crisis in its history for the last several years. Mass unemployment and hyperinflation are laying waste to the population. Adults, children, and beloved family pets are going hungry or even starving to death. Some 1.6 million Venezuelans have emigrated since 2015. Crime has exploded, with the murder rate soaring to 90 per 100,000. And there is no end in sight.
This has led to various calls from "The Blob" — an Obama White House official's name for the bomb-happy foreign policy establishment — for military intervention. Marco Rubio suggested this in early September, while the Trump administration reportedly met with right-wing Venezuelan military officers to discuss a potential coup d'etat, after bringing up a "military option" last year. Richard Haass, the president of the Council on Foreign Relations, endorsed an Iraq invasion-style "coalition of the willing" to overthrow the government.
These are monstrous suggestions. The United States cannot possibly do anything but make it all worse. Above all, any military led by President Trump must be kept as far away from Venezuela as possible.
Subscribe to The Week
Escape your echo chamber. Get the facts behind the news, plus analysis from multiple perspectives.
SUBSCRIBE & SAVE
Sign up for The Week's Free Newsletters
From our morning news briefing to a weekly Good News Newsletter, get the best of The Week delivered directly to your inbox.
From our morning news briefing to a weekly Good News Newsletter, get the best of The Week delivered directly to your inbox.
So what is going on in Venezuela? The crisis is extremely complicated, but observers generally argue it is rooted in two major developments: epic corruption and authoritarianism within the government, and the post-2014 collapse in the price of oil. Venezuela has the largest proven oil reserves in the world, and has long been heavily dependent on oil export earnings for basic economic stability.
The immediate political background starts with Hugo Chavez, who was elected president of Venezuela in 1998 on a left-wing populist platform. He undeniably had a wide caudillo streak, was more than a little corrupt, and had a bad habit of nationalizing industries on a whim without careful planning or management. But on the other hand he did plow a great deal of the oil revenue into welfare programs that drastically cut the Venezuelan poverty rate, and was thus enormously popular.
So when Chavez died in 2013, his successor Nicolas Maduro inherited an economy with some fairly sizable structural problems. But instead of reform, Maduro and a small clique of allies engaged in an epic binge of looting. Chavez's former finance minister Jorge Giordani and former cabinet official Hector Navarro (no right-wingers, they) estimate that Maduro and company sucked an eye-popping $300 billion out of the Chavez-era exchange control mechanism. Chris Carlson explains:
Everything was worsened with the oil price collapse starting around 2014, in which prices fell from over $100 to less than $40, drastically cutting the amount of currency flowing into the country. With a severe shortage of foreign coin, imports dried up. When the government tried to print money to make up the gap, hyperinflation took hold. Even salaried workers are now getting by on the equivalent of a few dollars per month. When that sparked massive unrest, Maduro shored up his position with naked authoritarianism, rigging elections, suppressing dissent, and undermining the constitution.
In a world in which the United States was not the national equivalent of some guy running naked and screaming across the Brooklyn Bridge, driven out of his gourd by bath salts and PCP, one might imagine the U.S. government providing some meaningful assistance to starving Venezuelans or putting diplomatic pressure on Maduro to step down or at least stop being so authoritarian and corrupt.
But we do not live in that world. On the contrary, rumors of a U.S. coup have already bolstered Maduro's position, because of the gruesome history of American intervention in the region in general and the blood-drenched history of recent right-wing American presidents in particular. In Latin America, the words "United States" immediately conjure up the United Fruit Company and its banana republic governments backed up by American guns, the Guatemalan Civil War started and fueled by the CIA, the Reagan-armed Contra death squads, the Bay of Pigs, and on and on. A modern Republican president speculating about military action, meanwhile, instantly conjures up the Iraq catastrophe, and the attempted U.S.-backed coup against Chavez in 2002.
On reports that Trump had considered a coup, Maduro's foreign minister immediately took to Twitter. "We denounce before the world the United States government plans of intervention and support for military conspiracies against Venezuela," he wrote. This kind of talk both bolsters Maduro's government in the popular mind and gives him a convenient scapegoat for his own mistakes.
What's more, according to the United Nations charter (to which both the United States and Venezuela are signatories), it is illegal to invade another country without U.N. approval. It's long since time the United States — especially the learned elites of The Blob — stopped contemptuously dismissing international law.
And on the actual proposed idea, it absolutely beggars belief to think that the Trump administration could possibly do anything in Venezuela but get thousands of people killed making everything worse. The reactionary military officers Trump was talking to are just as corrupt as Maduro, if not worse. JFK and LBJ were at least in possession of functioning brains and their occupation of Vietnam still turned into a bloody quagmire. Trump is a guy who can't pronounce "anonymous" despite two heroic efforts. I would bet good money he could not locate Venezuela on a map without help.
It is a terrible situation in Venezuela, make no mistake. But the American state — and especially the American military — is simply not equipped to help.
Continue reading for free
We hope you're enjoying The Week's refreshingly open-minded journalism.
Subscribed to The Week? Register your account with the same email as your subscription.
Sign up to our 10 Things You Need to Know Today newsletter
A free daily digest of the biggest news stories of the day - and the best features from our website
Ryan Cooper is a national correspondent at TheWeek.com. His work has appeared in the Washington Monthly, The New Republic, and the Washington Post.