How the new American center sees the world
It's long past time for a new foreign policy consensus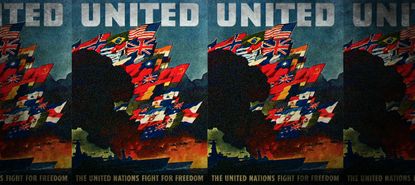 (Image credit: Illustrated | mooziic / Alamy Stock Photo, jessicahyde/iStock)
Sign up to our 10 Things You Need to Know Today newsletter
A free daily digest of the biggest news stories of the day - and the best features from our website
Thank you for signing up to TheWeek. You will receive a verification email shortly.
There was a problem. Please refresh the page and try again.
Writing in 1949, in the aftermath of a cataclysmic world war against fascism and confronting another totalitarian challenge in the form of Soviet communism, Arthur Schlesinger Jr. proposed that a new "vital center" of American politics could be forged out of the effort to foster freedom at home and abroad. On the domestic side, this meant expanding on the liberalism of the New Deal. When it came to foreign policy, it meant using American military, economic, and diplomatic power to build and defend a liberal international order that could stand up to and push back against the imperial and ideological ambitions of Stalinism around the world.
To an astonishing degree, Schlesinger's outlook still describes how leading members of today's center-right and center-left view America's role in the world — though it's long past feeling vital.
Aside from a brief period in the 1970s when the country began questioning its assumptions after suffering military defeat in Vietnam, those who formulate America's foreign policy have consistently affirmed a series of propositions: The U.S. is an indispensable nation, the linchpin in the liberal international order. It is our role to enforce this order alone or in concert with other nations. During the Cold War, this meant flighting or fueling selective proxy wars against the Soviets. Afterward (from 1991 to 2001), it meant enforcing UN resolutions by punishing transgressors with ground troops, sanctions, and air power. After the 9/11 attacks, it meant waging a series of wars (invading and occupying territory, pummeling terrorists and insurgents from the air and on the ground, implementing counterinsurgency strategies to win over hearts and minds, nation building) in countries scattered across the globe — in the Middle East, in Africa, in South Asia, and beyond.
Subscribe to The Week
Escape your echo chamber. Get the facts behind the news, plus analysis from multiple perspectives.
SUBSCRIBE & SAVE
Sign up for The Week's Free Newsletters
From our morning news briefing to a weekly Good News Newsletter, get the best of The Week delivered directly to your inbox.
From our morning news briefing to a weekly Good News Newsletter, get the best of The Week delivered directly to your inbox.
These tasks were added to responsibilities lingering from the long-concluded clash with the Soviet Union: decisive contributions to European security through NATO; the protection of Taiwan from China; the defense of South Korea against the still-Stalinist North; preventing Russia's influence over politics in the Middle East through its longstanding client states (Iran and Syria).
Underlying it all has been the ideology of American primacy — the view that the United States should seek not only to be militarily powerful enough to protect itself and its vital interests abroad but to be far and away the most powerful nation on Earth. It's this ideology that has led us to spend more on our military than the next seven most powerful countries combined. And to maintain "nearly 800 military bases in more than 70 countries and territories abroad." And to wage war (as of a year ago) in seven countries at once — Afghanistan, Iraq, Syria, Libya, Yemen, Somalia, and Niger — while also issuing threats to several more (Iran, Venezuela, North Korea).
The ideology of American primacy is also what leads a bipartisan coalition of foreign policy experts to the astonishing conclusion that the biggest danger facing the United States today is that we aren't nearly powerful enough.
That is what the American center believes — at least the center in and around Washington, D.C. What's believed by members of the real American center — the one constituted by the public opinion of the voters at large — is far less obvious.
It's hardly surprising that 17 years into combat operations in Afghanistan, plenty of Americans believe that our foreign policy is on the wrong track, that many of our military interventions abroad in recent years have been wasteful and futile, that our actions have failed to make us safer, and that pulling (most of) our troops out of Afghanistan and Syria is the sensible thing to do. It's also understandable that significant numbers of younger voters, raised at a time of intractable, interminable wars, would be more inclined than older cohorts to rethink America's role and actions in the world.
This doesn't mean that a political center that took more cues from the preferences of voters than from members of the foreign policy establishment (sometimes aptly if tendentiously labeled "the blob") would choose to withdraw from the world. It's primarily members of this establishment who caricature the views of anyone who disagrees with them as "isolationists." There's no evidence that a plurality of Americans want to pull back from all or even many of our international obligations. No one is protesting in the street in favor of pulling out of NATO.
But do Americans support expanding NATO, including an extension of its security guarantees to North Macedonia? Or Georgia, a tiny country in Russia's near-abroad and longstanding sphere of influence? Are Americans willing to send their sons and daughters to fight and die for its defense? How about Ukraine? Or Estonia? Or Lithuania? Do they favor using military force to topple the government of Venezuela, an act that would deeply implicate us in whatever follows the departure or death of President Nicolás Maduro?
Do they think it make senses to repeatedly threaten foreign governments with "regime change" instead of trying to defuse tensions and find areas of common interest? Would they agree with Max Boot's suggestion that American safety and security requires the indefinite military occupation of countries on the other side of the planet? If they were given the option, would Americans opt to continue spending over $700 billion a year of our national treasure on the maintenance, not of our safety and security, but of our primacy?
I suspect they would not. Which may be one reason why those who favor these policies don't want to open up the matter for debate. They think they know better. The only problem is that the consequences of their actions — on Sept. 11, in Afghanistan, in Iraq, in Libya — don't support that supposition. At all. The blob keeps holding on to power. But it can't do so forever. The evidence of its failures, 70 years after Schlesigner gave it its marching orders, is simply too expansive and consistent too ignore.
President Trump's selective and inconsistent rejection of key elements of the old center's views on foreign policy has already ignited a more productive debate about our role in the world than we've seen in decades. Bernie Sanders' presidential campaign looks likely to push things even further. That should be applauded and encouraged.
Once a new center coalesces on domestic affairs, a new foreign policy consensus will begin to form along with it. With any luck, it will favor not systematic withdrawal, but realism, restraint, and wisdom about American interests and the limits of any single nation's power to control and dominate the world.
This is the fourth article in a four-part series on the political center. Part three can be found here, two can be found here, and one can be found here.
Continue reading for free
We hope you're enjoying The Week's refreshingly open-minded journalism.
Subscribed to The Week? Register your account with the same email as your subscription.
Sign up to our 10 Things You Need to Know Today newsletter
A free daily digest of the biggest news stories of the day - and the best features from our website
Damon Linker is a senior correspondent at TheWeek.com. He is also a former contributing editor at The New Republic and the author of The Theocons and The Religious Test.