Trump might embroil American troops in a disastrous war to help a murderer
A war with Iran would be one of the most senseless disasters of the 21st century. Here's why.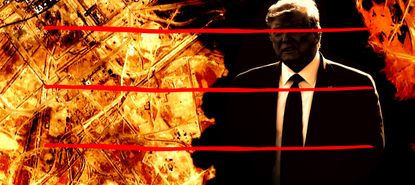 (Image credit: Illustrated | Planet Labs Inc via AP, Mark Wilson/Getty Images, str33tcat/iStock)
Is President Trump about to start a war with Iran? It appears disturbingly possible, with Saudi Arabia blaming a recent attack on an oil installation on that country, and Trump behaving like a paid Saudi lobbyist. He recently announced yet further sanctions on Iran and mused about doing more "dastardly things" in retaliation. Secretary of State Mike Pompeo flat-out declared the attacks were an "act of war."
The whole conflict with Iran is just one of many ongoing atrocities caused by American imperialism — and if it breaks out into all-out war, might well be the worst one of the whole 21st century.
The Iran battle is considerably more senseless than the average modern U.S. conflict, and that is saying something. For one thing, it should go without saying that the Saudi regime is about the least trustworthy source of information on planet Earth. It is a merciless, repressive dictatorship whose leader, Mohammad bin Salman, reportedly personally arranged the torture and murder of a Washington Post columnist (who was also a permanent U.S. resident), and for his body to be chopped into bits.
Subscribe to The Week
Escape your echo chamber. Get the facts behind the news, plus analysis from multiple perspectives.
SUBSCRIBE & SAVE
Sign up for The Week's Free Newsletters
From our morning news briefing to a weekly Good News Newsletter, get the best of The Week delivered directly to your inbox.
From our morning news briefing to a weekly Good News Newsletter, get the best of The Week delivered directly to your inbox.
What's more, the Saudi regime — with full American backing — has also deliberately caused the worst humanitarian crisis in the world in Yemen. Tens of thousands of people have died, and millions more are going without food and medicine. Saudi forces are paying and arming Al Qaeda as part of their war strategy.
Iran denies that it carried out the recent attack, while Houthi forces in Yemen have claimed responsibility. If anything, the Saudis are the least credible voice of the three. Any sensible U.S. leader would therefore want at a minimum a detailed investigation conducted by a respected third party before making any decisions. I absolutely would not put it past the Saudi regime to present fake evidence, or carry out a false flag operation. (Notably, in a Wednesday presentation, the Saudi military accused Iran of being responsible for the attack, but not carrying it out themselves.)
But let's suppose for the sake of argument that Iran did make the attack — which did not kill a single person — happen. That does not remotely mean the U.S. should jump into the fight on behalf of Saudi Arabia. For one thing, Saudi Arabia started it — indeed half the point of their grotesque butchery in Yemen is to stick it to Iranian proxies. If they insist on destabilizing the entire region to fight Iran in a quest for regional dominance, let them do it on their own.
Of course, the years-long failure to win the Yemen conflict, and the resort to war crimes to win by attrition, demonstrates what the real objective is here. The Saudi military is notoriously disorganized and failure-prone; they would almost certainly lose a straight fight with Iran. Thus these continual efforts to bait the U.S. into fighting for them or bribe enough DC lobbyists to get U.S. leaders into starting it themselves.
And such a fight would almost certainly be a catastrophe. As I have argued before, Iran is enormously more formidable than Saddam-era Iraq and, contrary to the glib pronouncements of The New York Times' Bret Stephens, could well sink a lot of U.S. ships if it comes to a naval battle. If Iran did carry out or enable this most recent attack, it could be a threatening signal — a way of saying that if Saudi Arabia doesn't back off, then they will instantly destroy their refining capacity, wreck the Saudi economy, throw global oil markets into chaos, and perhaps trigger a recession. It wouldn't be hard!
Given the balance of power, the sensible option here is to avoid open war. If the U.S. wasn't run by a doddering lunatic, it might even have a positive role to play brokering a peace between the two sides. Instead it has inflamed the conflict by taking the Saudi side at every turn, even while they were carving up an American resident like Thanksgiving turkey. Trump has backed the Saudi war in Yemen (following in President Obama's footsteps, it should be noted), then abrogated the Iran nuclear deal for no reason, then ratcheted up sanctions on the country for no reason, then erupted in rage when Iran announced it would no longer abide by the terms of the agreement Trump had already torn up. And now Trump is poised to make things worse still.
Given Congress' reluctance to assert its power over foreign policy, it will be hard to stop Trump from doing whatever he wants. But it remains true that a war with Iran has quagmire written all over it. If it can possibly be stopped, it must be. Leave those people alone, for God's sake.
Want more essential commentary and analysis like this delivered straight to your inbox? Sign up for The Week's "Today's best articles" newsletter here.

Continue reading for free
We hope you're enjoying The Week's refreshingly open-minded journalism.
Subscribed to The Week? Register your account with the same email as your subscription.