Tata Steel strikes £550m deal to solve pensions riddle
Agreement will clear path for company to merge UK assets with ThyssenKrupp of Germany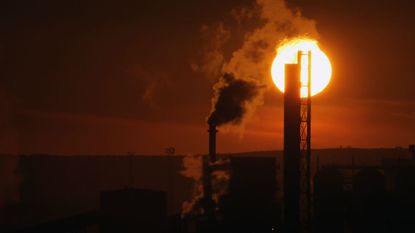 (Image credit: Christopher Furlong/Getty Images)
Sign up to our 10 Things You Need to Know Today newsletter
A free daily digest of the biggest news stories of the day - and the best features from our website
Thank you for signing up to TheWeek. You will receive a verification email shortly.
There was a problem. Please refresh the page and try again.
Cameron urged to re-nationalise British steel as Tata sell-off looms
05 April
The First Minister of Wales is urging David Cameron to take Tata Steel's Welsh plants into public ownership, after the Indian-owned firm said it is looking into selling off all its UK steelworks.
Carwyn Jones will meet the Prime Minister in London this morning, along with the Welsh Secretary, Alun Cairns, and the Chancellor, George Osborne, says the BBC.
Subscribe to The Week
Escape your echo chamber. Get the facts behind the news, plus analysis from multiple perspectives.
SUBSCRIBE & SAVE
Sign up for The Week's Free Newsletters
From our morning news briefing to a weekly Good News Newsletter, get the best of The Week delivered directly to your inbox.
From our morning news briefing to a weekly Good News Newsletter, get the best of The Week delivered directly to your inbox.
With thousands of jobs at risk, the First Minister will urge Cameron to take Port Talbot and Tata's other Welsh facilities into public ownership until a buyer can be found. The Prime Minister has already said that nationalisation is "not the answer" to the crisis.
In a statement, Cameron said: "At this morning's meeting, Carwyn Jones and I will look at how London and Cardiff can work together to make sure that the Port Talbot plant has a solid future and end the uncertainty for workers and their families.
"We remain fully focused on finding a buyer to run the steelworks and today's meeting is an opportunity to discuss what needs to be done to make this prospect as attractive as possible to investors."
Jones said: "The Welsh government has put forward over £60m towards securing a new buyer for Tata's operations in Wales. I now look forward to seeing what the UK government is going to put on the table."
Also attending the meeting is Sajid Javid, the Business Secretary, who was criticised last week for taking his daughter with him on an official trip to Australia while Tata's board held a meeting in Mumbai to decide the fate of its UK steelworks.
Accused of doing too little, Javid is certainly having a busy day today. As well as the conference with Cameron, he will meet union representatives and a potential buyer for the Port Talbot steel plant before flying to India for talks with Tata, says Sky News.
The potential buyer is Sanjeev Gupta, the Indian-born owner of multinational Liberty House, who emerged as a frontrunner to buy Port Talbot at the weekend, The Independent reported, and is now said to be interested in Tata's other plants as well.
Gupta has said these are "early days" in the sale process but he believes the business can be turned around - even though it is thought to be losing £1m a day at Port Talbot alone. His "objective" would be to avoid redundancies.
Steel crisis: £2bn bailout could clear path for 'British Steel' buyout
04 April
Sajid Javid has hinted the government could take on up to £2bn in pension liabilities along with a range of other measures to support a rescue of Tata Steel's UK operations.
Speaking on the BBC's Andrew Marr Show on Sunday, the Business Secretary said potential buyers were "going to want to look at plants, they're going to want to look at pensions and they're going to want to look at power supply".
Saying these are "the kind of things we've already thought of", he added: "What I hope is that you will have the offer document from Tata. Overlay on top of that the help the British government can provide and then you have the makings of a successful deal."
Pensions expert John Ralfe told the Daily Telegraph the deficit in Tata's UK steel businesses could cost taxpayers "at least" £2bn if it were taken over wholly by the state.
However, it has emerged that a white-knight bid for Tata's Scunthorpe plant might come from turnaround investors Marc and Nathaniel Meyohas, potentially leading to a similar buyout of the steelworks at Port Talbot in South Wales.
A deal could see the revival of the British Steel brand that was abandoned when the company merged with Koninklijke Hoogovens to form Corus 17 years ago. Tata acquired the rights to the brand when it bought Corus for £6.2bn in 2007.
Around half of the £400m price tag for the Scunthorpe plant would come from the Meyohas's investment fund, Greybull, which has previously bought Monarch airline and Morrisons's convenience store estate, with the remainder from bank and even government loans.
The government has been under pressure over its response to the steel crisis, not least over its apparent blocking of tougher tariffs on cheap Chinese steel.
In an embarrassing development over the weekend, it emerged that China has slapped import duties of 46 per cent on certain steel products, including those made but not currently exported from Port Talbot.
BBC business's Joe Lynam said that while the move would not have much of an effect in the short term, it is "a warning shot across the bows from the Chinese to the Europeans".
Steel crisis: Is the government to blame for industry's plight?
01 April
It's another day of bad headlines for a Conservative government that has been through the wringer in recent weeks.
At the moment it's the crisis in the steel sector that's causing consternation. David Cameron's administration faces accusations it is prioritising relations with China over tens of thousands of steel workers at home. Critics say the government is ideologically reluctant to step in to bailout a blue collar sector whose downfall is assured because it lacks the money and influence of the big banks that were rescued by the taxpayer.
What does China have to do with it?
UK steel producers – along with those in other European countries – say the main pressure they face is from the deluge of heavily subsidised Chinese steel that is "dumped" here at uncompetitive prices. For UK firms this and the high costs of their operations has made for a toxic combination.
Can't the EU do something to help?
It already has by belatedly imposing trade tariffs of around 16 per cent, says The Guardian. Campaigners say this is not enough and point to the US, where Chinese steel faces a fixed import duty of 266 per cent. Some say this strengthens the case for Britain voting to leave the EU – but several member states and lobby groups say the UK government itself has blocked tougher measures.
And has it?
Yes, but it's not quite as simple as that. The specific piece of legislation that has been blocked by a minority of states, of which the European Steel Association says the UK is the "ringleader", is the "lesser duty rule", which limits the level of import tariffs to an assumed cost of production plus a "reasonable" profit margin.
If the ban on increased tariffs was lifted the EU would be free to set much higher import duties, which campaigners say would be fair as these would counter the subsidies Chinese producers enjoy.
What does the government say in its defence?
That lifting the rule is protectionist and would raise prices for our own steel producers – and could potentially be applied to negative effect in other sectors. The government also says there is no reason a higher cost of production could not be assumed to increase the level of tariffs and that it has gone further than previous governments in calling for action on dumping, according to the Financial Times.
What do commentators say?
Most are critical, with front pages in both the FT and The Times accusing the government of protecting its relationship with China over the livelihoods of UK steel workers. The Times even notes that Cameron and George Osborne have "promised to help China to achieve so-called market economy status by the end of the year… [which would] ensure that Beijing was protected from the highest EU trade barriers".
Should the government nationalise Tata Steel?
That is the other big question that is doing the rounds since Tata put 15,000 jobs at risk by announcing it would pull out of its loss-making UK operations. The government in particular is under pressure amid claims that steel workers and their communities are being left to their inevitable demise while rich bankers were bailed out with taxpayers' money.
Again, the argument's a bit simplistic and ignores the fundamentally uncompetitive nature of a business that is losing £1m a day. Cameron has said that the government will work hard to find a buyer but that nationalisation is "not the answer", seemingly ruling out even a temporary time in public hands.
What else can the government do to save the industry?
It can try to broker a deal to sell the business and could offer temporary financial support in order to buy some extra time to find a buyer, or to assist with a takeover. Elsewhere it could convince a buyer that the business has a future by promising to buy UK steel for huge railway infrastructure projects that are coming up, or help to fill a huge pension black hole that is certain to be off-putting to any white knight bidder.
Steel crisis: Nationalisation is not the answer, says Cameron
31 March
David Cameron has seemingly ruled out taking the stricken Tata Steel works in Port Talbot and at several other sites across the country into public ownership.
Following a meeting with ministers on the steel crisis this morning, The Guardian reports the Prime Minister refused to formally rule out any option, but did state that "nationalisation is not the answer". He insisted "teams of ministers" are working with Tata Steel and have already managed to ensure a proper sales process takes place, rather than the plants simply being closed, with the loss of up to 15,000 jobs.
His remarks follow those of Business Secretary Sajid Javid, who told the BBC yesterday he did not "think that nationalisation is going to be the solution".
He added: "I think everyone would want a long-term viable solution, and if you look around Europe and elsewhere, I think nationalisation is rarely the answer, particularly if you take into account the big challenges the industry faces."
Javid is flying back to the UK from Australia to face the crisis, cutting short his three-day trade visit.
Business minister Anna Soubry told BBC Radio 4's Today programme yesterday morning that the government was considering "all of the options", including potentially a temporary nationalisation while a permanent private sector buyer was sought.
This would mirror action taken by the Scottish government last year, when it took on two mills in Dalzell and Clydebridge to bridge the gap between Tata's departure and a rescue buyout by Liberty House, which already has some other activities in the UK.
Liberty may also be interested in some, but not all, of the other UK assets at risk, the Guardian reports. Importantly, though, "Liberty is apparently not interested in Tata's blast furnaces at Port Talbot and Scunthorpe, in the current economic climate". The South Wales plant alone employs more than a third of Tata's UK workforce and is seen as critical to the local economy.
What should the government do?
Labour has called for the government to "intervene immediately" and set out a four-point plan, which includes an up-front nationalisation of the UK's steel industry. It has also called for Cameron to recall parliament to debate the issue.
Writing in The Herald, Iain Macwhirter says that while it is not clear what the deal in Scotland has cost taxpayers, it is "generally agreed" the Holyrood administration "played a blinder" in rescuing the two mills. He advocates a full nationalisation of strategic industrial sectors such as steel to prevent the UK becoming "the plaything of international markets".
A bailout is tricky, though, counters Hamish McRae in The Independent. Unlike poorly overseen banks, Tata Steel "has been broadly well-managed" and is still losing £1m a day in an uncompetitive sector that is having to deal with cheap imports from China, which will soon become the world's pre-eminent economic superpower.
He argues the government could take a "transitional" role, potentially akin to the arrangement in Scotland, but that more crucially it should "help communities manage their way through what will inevitably be a wrenching change".
Steel crisis: Government could nationalise Tata's UK operations
30 March
"All options", including temporary nationalisation, are being considered by the government to secure up to 15,000 jobs in the ailing UK steel sector, after Tata Steel confirmed it is likely to sell its entire loss-making UK operation.
Tata directors unanimously agreed at a meeting in Mumbai that a turnaround proposal to keep its Port Talbot facility open was "unaffordable", it said. Sources told The Times that the company "no longer wanted to invest hundreds of millions of pounds in the UK industry".
"Port Talbot is Britain's biggest steelworks and employs 4,000 people," says The Guardian. "However, it is losing £1m a day, making the prospect of finding a buyer difficult."
Plants in South Yorkshire, County Durham and Northamptonshire will also be put on the market and Tata has said it is looking both a wholesale or piecemeal disposal.
The decision to sell was based on a number of factors, including cheap imports of Chinese steel, which have made its UK operation financially unviable.
"Tata said that trading conditions had 'rapidly deteriorated' in the UK and Europe due to a global oversupply of steel, imports into Europe, high costs and currency volatility," the BBC reports.
The announcement came as a "hammer blow" to the industry, says the Daily Telegraph, and has prompted calls for better protection for manufacturing throughout the UK.
Shadow business secretary Angela Eagle has called on the government to consider part-nationalising the steelworks to "shelter the assets until the storm has passed", The Guardian says.
Business minister Anna Soubry hinted that the Tory administration may seek to do just that. Speaking on BBC Radio 4's Today programme this morning, she said that "all options, and I mean all options", are open for the operations, including temporary nationalisation while a buyer is found.
This would mirror the action taken by the Scottish government last week to buy Tata's plants in Clydebridge and Dalzell before selling them on to international metals group Liberty International, which already has a presence in the UK market.
Soubry added, however, that the government must remain within the confines of European Union state aid rules, which may constrain the level of support it can offer. It is also considering taking a role in supporting a management buyout of the UK business.
Steel Crisis: Tata in talks to save UK steel industry
29 March
Union leaders and officials have held talks with Tata Steel in India in a last-ditch effort to save thousands of jobs in the UK.
In January, Tata said it planned to cut more than a thousand jobs at its UK plants, 750 of them at Port Talbot, in south Wales. Unless the company's board meeting in Mumbai today reverses this decision, union officials fear the plant at Port Talbot could face closure.
A spokesman for the Community union said the meeting was open and constructive.
"The European delegates made the case for Tata to continue to support the UK business. Tata Steel representatives outlined the context of commitment to the UK business to date, financial performance and the challenging global conditions of the steel sector," they added.
Alan Coombs, the chairman of the Port Talbot multi-union committee, who also travelled to India, told The Guardian: "Our town was built on the steel industry. It has given us more than just jobs, it has shaped our lives and communities. On behalf of my town, my workmates and my industry, I will be asking Tata to back Port Talbot and the plan to save our steelworks."
The UK's steel industry has been vastly affected by a series of factors that mean it is less competitive on a global scale than in the past. Relatively high energy prices, the extra cost of climate change policies and competition from China have all caused the downturn, says the BBC.
Business minister Anna Soubry told BBC Radio 4's Today programme that the government was prepared for the worst in regards to Tata's board meeting.
"We are looking at all manner of options that may or may not be available to us as a government, all options," she said. "It starts from a base of making sure that we continue to make steel in Port Talbot.
Continue reading for free
We hope you're enjoying The Week's refreshingly open-minded journalism.
Subscribed to The Week? Register your account with the same email as your subscription.
Sign up to our 10 Things You Need to Know Today newsletter
A free daily digest of the biggest news stories of the day - and the best features from our website