Tata Steel strikes £550m deal to solve pensions riddle
Agreement will clear path for company to merge UK assets with ThyssenKrupp of Germany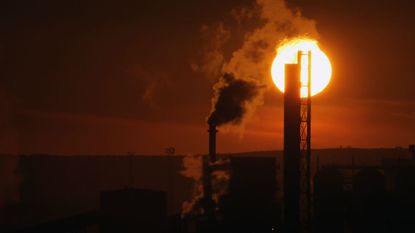 (Image credit: Christopher Furlong/Getty Images)
Sign up to our 10 Things You Need to Know Today newsletter
A free daily digest of the biggest news stories of the day - and the best features from our website
Thank you for signing up to TheWeek. You will receive a verification email shortly.
There was a problem. Please refresh the page and try again.
Tata Steel close to deal, but industry remains 'in hell'
14 January
Prospects for a deal to save hundreds of jobs across Tata Steel plants in Scunthorpe and Lanarkshire could be close, the BBC reports.
Back in December, it was reported that a letter of intent had been signed between the Indian-owned firm and turnaround investor Greybull Capital. This was thought to include all parts of Tata's European long products arm, which supplies steel for the construction and rail sectors, among others, and employs a total of 4,700 people across sites in northern England, Scotland and northern France.
Subscribe to The Week
Escape your echo chamber. Get the facts behind the news, plus analysis from multiple perspectives.
SUBSCRIBE & SAVE
Sign up for The Week's Free Newsletters
From our morning news briefing to a weekly Good News Newsletter, get the best of The Week delivered directly to your inbox.
From our morning news briefing to a weekly Good News Newsletter, get the best of The Week delivered directly to your inbox.
The deal would not stop the 1,200 jobs cuts already announced at the plants in Scunthorpe and Dalzell and Clydebridge in Lanarkshire, but would prevent further losses.
Rumours suggest an agreement with Greybull is now close, but steelworkers' union Community reckons the business plan presented so far does not include the Scottish sites.
BBC Scotland political correspondent Glenn Campbell said that today a separate offer to buy the Scottish plants only has been tabled by sector rival Liberty Steel - and that Greybull would be "willing for that to happen".
In October, Liberty, which operates steelworks in the UK, re-opened a mothballed site in Newport.
If the plants are sold in separate deals, the two plants north of the border would probably be supplied by steel acquired on the international market rather than Scunthorpe.
The news comes as a lengthy note from brokerage Jefferies indicated that the crisis facing the UK sector, caused by high costs, weakening demand amid slowing economic growth and cheap exports flooding the market from China, is not abating. The government has in particular offered to refund expensive green subsidies on factories' energy bills.
"Dante wrote, 'The path to paradise begins in hell' but we must determine which level of hell we are at to judge how close we are to the end," Jeffries said. "With Chinese demand contracting, trade policy providing limited salvation and 'bull case' restructuring bringing years of volatility, we have far to go before reaching the ninth circle."
Steel crisis: Tata in talks over sale to save Scunthorpe plant
23 December
The Indian-owned conglomerate Tata could be closing in on a sale of its loss-making European arm, which would secure the future of its works in Scunthorpe, North Lincolnshire, and save thousands of jobs.
The firm put the long products business, which supplies steel for the construction and rail sectors among others, up for sale last year, the Financial Times notes. It said the business had no place in its portfolio after the end of this financial year, announcing in October that 1,200 jobs would go by "curbing production at Scunthorpe and mothballing two mills in Scotland".
Now Tata has announced it has signed a "letter of intent" with the turnaround investor Greybull Capital regarding a sale. Negotiations are set to "begin in earnest after the Christmas period… [and] expected to take about three months", says the BBC.
Greybull is best known for its buyout of struggling Monarch airlines, into which it pumped £125m when it acquired the business last year. Since then it has cut costs by agreeing 700 redundancies and a 30 per cent pay cut with staff that helped return the firm to profit this year. It also acquired the struggling convenience store estate of the big four supermarket group Morrisons earlier this year.
As Greybull invests the personal fortunes of Marc and Nathaniel Meyohas, it has a longer-term time investment strategy than typical private equity funds. The FT says in this case it would seek to execute "a turnaround plan drawn up by the unit's management that would involve annual investment of tens of millions of pounds, focused largely on upgrades and maintenance". The 1,200 jobs already announced would go ahead, but "further jobs are not likely to be threatened in the near term".
Tata's long products business operates the major works at Scunthorpe and other sites in northern England, Scotland and northern France. It employs a total of 4,700 people.
UK steel operators are struggling to compete in the face of high energy bills, a strong pound and cheap Chinese and Russian imports. The new buyer may have been encouraged by recent steps to address these issues, including a rebate on renewable energy subsidies and an EU demand to register cheap imports, a possible precursor to levies being imposed to level the playing field.
Steel crisis: will EU concessions save UK industry?
18 December
Britain's embattled steel industry is finally to receive promised support from lawmakers, after the EU signed off on a pledge over energy rebates.
In order to alleviate a key concern of domestic producers that their energy costs make them uncompetitive with overseas competitors, David Cameron promised back in October to rebate the 'green levies' added to energy bills for steel firms and other manufacturers. But this technically constitutes 'state aid' for an industry and so under European Union rules needed sign off in Brussels.
The Daily Telegraph says this permission has now been granted, according to a written statement submitted to parliament yesterday. "The state aid is expected to cover between 60 and 70 per cent of the industry's green taxes, cutting the sector's overall power bill by about £3.9m a month."
It's being welcomed as a significant win for the sector, but not a panacea. "Although today's announcement is a positive development, the European steel market remains under intense pressure from factors such as unfairly traded Chinese imports," said Karl Koehler, chief executive of Tata Steel Europe, which cut 1,200 jobs in the UK earlier this year.
There is some good news here, too, with the European Commission having issued the second demand for 'registration' of steel imports. Reuters notes that from 19 December all imports from Russia and China of steel used to reinforce concrete will need to be registered with officials, adding to a separate ruling earlier this week on rolled flat steel.
If the commission decides the price at which the imports are sold into the European market constitutes 'dumping', it can apply levies that will be backdated to the point the registrations began. The European steel trade association reckons exports from the countries are priced 20 per cent below the normal market rate, which it terms the "dumping margin".
The commission could apply provisional measures in January and apply definitive duties lasting five years in July.
Steelmakers at home still want more support to ensure there are not more job losses to add to the 5,000 or so that have taken place this year. Gareth Stace, director of industry association at UK Steel, has called for registrations of imports to be extended to all steel products – and producers are calling on the UK government to reform business rates to make investing in equipment cheaper.
Steel crisis: hundreds of jobs saved after Caparo buyout
30 November
Union bosses have welcomed a "sliver of good news" for the UK steel industry, after the latest buyout of part of the stricken Caparo Industries empire saved hundreds of jobs.
Administrators at PricewaterhouseCoopers announced on Saturday that Caparo Tubular Solutions, part of the conglomerate founded and built by former Labour peer Lord Paul, has been acquired by metals group Liberty House. The deal saves all 333 jobs across two sites in the West Midlands and Blaenau Gwent in Wales - and brings to 409 the number of jobs rescued since Caparo's collapse in October, the BBC reports.
Some 452 jobs were already lost after the administrators closed five sites at the end of last month, The Guardian says, leaving around 850 roles still at risk of redundancy. The ongoing process is the latest chapter in a crisis engulfing the steel sector, which has seen thousands of job losses this year.
Russell Farrington, regional organiser for the GMB union, said: "This is a sliver of good news for workers in the steel industry. GMB warmly welcome this for the Caparo workers we represent in the West Midlands. We have made progress on the energy prices front for the UK steel industry. We now need action on dumping."
Unions have criticised the government for failing to act sooner or more decisively. So far the government has pledged to reduce fuel bills by reducing the environmental levies on high energy users, and has said it will ensure public infrastructure contracts use British steel to prop up demand. Business secretary Sajid Javid has held discussions with European Union counterparts over China's mass exports of cheap steel that undercut local producers, but this has so far not led to measures to stem the flow.
Liberty already sells products to Caparo and the business is seen as a complement to its hot-rolled coil production business, based in Newport, Wales, the Daily Telegraph reports. The Newport plant was itself re-opened last month as Liberty's owner Sanjeev Gupta asserted there is a future for British steel if it can "develop more efficient business models".
Should Britain bail out the steel industry?
16 November
Struggling companies in the steel industry should be treated in the same way as the big banks during the financial crisis and be bailed out by the government, according to Jeremy Corbyn.
The Labour leader was to give a speech at a regional Labour conference in Hertfordshire on Saturday, which had been trailed in the national press and, The Guardian reports, was set to call for the government to take a "strategic stake" to protect the steel industry.
The speech, which the Huffington Post notes also contained a passage pledging to "tear up" the UK's foreign policy and criticise its activities in the Middle East, was ultimately postponed in the wake of the Paris terror attacks on Friday.
But his position on steel is one vigorously supported by many in the industry, who argue the government should act to prevent more job losses on top of the thousands of redundancies already made in recent months.
The Scottish government has already hinted it could take a stricken steel plant in Motherwell into public ownership.
"We need Cameron and Osborne to act as decisively in 2015 as Gordon Brown did in 2008, when Labour part-nationalised RBS and Lloyds to prevent economic collapse," Corbyn was set to say.
He would have added: "If the Italian government can take a public stake to maintain their steel industry, so can we.
"That's why Labour will be pressing Cameron to use the powers we have to intervene and, if necessary, take a strategic stake in steel – to save jobs and restructure the industry."
What else could the government do?
Wolfgang Eder, head of the World Steel Association, told the Daily Telegraph that offering unaffordable 1980s-style subsidies for steel was not a sustainable solution to overcapacity and that the industry in Europe needs to shrink by half to be viable long-term.
Other industry stakeholders, such as trade association UK Steel, have said politicians at UK and European level could protect the steel industry by acting to prevent 'dumping' of cheap imports from places like China.
Since the financial crisis, steel from China which is much cheaper than European alternatives has flooded the market.
The crisis affecting the industry could get even worse in the coming months. Tata Steel, which recently cut 1,200 jobs across sites in England and Scotland, is seeking a buyer for its main UK plant in Scunthorpe and could even close the 'long-products' of which it is the core, the Sunday Times reports.
Talks are ongoing with several buyers and the government is seeking to sweeten any deal with the offer of long-term supply contracts with Network Rail and the HS2 north-south rail link.
It is thought any deal that could save Scunthorpe's two blast furnaces is unlikely.
Continue reading for free
We hope you're enjoying The Week's refreshingly open-minded journalism.
Subscribed to The Week? Register your account with the same email as your subscription.
Sign up to our 10 Things You Need to Know Today newsletter
A free daily digest of the biggest news stories of the day - and the best features from our website