Tata Steel strikes £550m deal to solve pensions riddle
Agreement will clear path for company to merge UK assets with ThyssenKrupp of Germany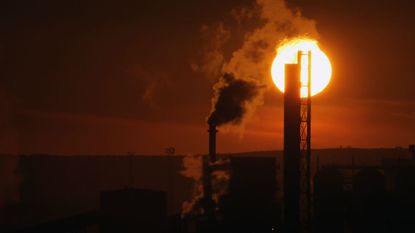 (Image credit: Christopher Furlong/Getty Images)
Sign up to our 10 Things You Need to Know Today newsletter
A free daily digest of the biggest news stories of the day - and the best features from our website
Thank you for signing up to TheWeek. You will receive a verification email shortly.
There was a problem. Please refresh the page and try again.
Steel crisis: US slaps 522% anti-dumping levy on Chinese imports
18 May
After concluding that Chinese producers were dumping steel at below market prices, regulators have raised import duties to unprecedented levels, setting the tax at an eye-watering 522 per cent.
Much to the chagrin of campaigners in the UK, this has happened not in Europe but in the US. America's Department of Commerce has upped import taxes on Chinese-made cold-rolled flat steel used in car manufacturing, shipping containers and construction by more than five-fold, the BBC reports.
Subscribe to The Week
Escape your echo chamber. Get the facts behind the news, plus analysis from multiple perspectives.
SUBSCRIBE & SAVE
Sign up for The Week's Free Newsletters
From our morning news briefing to a weekly Good News Newsletter, get the best of The Week delivered directly to your inbox.
From our morning news briefing to a weekly Good News Newsletter, get the best of The Week delivered directly to your inbox.
So-called "anti-dumping levies" of 71 per cent have also been slapped on imports from Japan.
US producers reckon that around 12,000 workers have been laid off in the past year as a result of anti-competitive action by rivals in China. Alleged dumping by heavily-subsidised Chinese companies is central to the complaints of industry on this side of the Atlantic too, where around 5,000 jobs have been lost in the past year.
In particular there have been calls for Europe to ramp up the import duties on Chinese steel – and criticism of the UK government for blocking the repeal of the EU 'lesser duty rule' that some say prevents higher charges being applied.
The government has countered that the rule is a protectionist measure that could be applied to any industry if removed – and that the European Commission could apply higher duties simply by assuming a higher cost of production in Europe. At home it has taken action to limit energy expenses and is heavily involved in talks to broker a rescue deal for the stricken UK operations of Tata Steel.
A sales process for the Tata assets is now well advanced, with seven prospective bidders now confirmed. India's CNBC-TV 18 reports that three will be short-listed by the end of this month or early next. It adds that all bidders have received assurances they will not bear liabilities relating to the £15bn British Steel pension schemes, which will be at least partly covered by taxpayers.
There has been controversy over one rumoured plan for the schemes, which would see them hived off into a new company and payouts 're-indexed' to a lower level of inflation in order to reduce liabilities by £2.5bn. One pension expert said the plan was "illegal" under European law and would "drive a coach and horses" through the principles of pension saving in the UK.
A deadline for the sale's completion is expected to be set shortly after the EU referendum on 23 June.
Steel crisis: Tata pension plan 'is illegal', expert claims
13 May
The debate over how to deal with Tata Steel's pension scheme deficit is laying bare just how difficult it will be to secure a rescue takeover.
Earlier this week, it was reported that Sajid Javid, the Business Secretary, was negotiating a plan that could see the £15bn British Steel retirement funds hived off into a separate company and future liabilities reduced by £2.5bn by changing the inflation measure used to uprate new payouts from RPI to CPI.
But yesterday, the man advising the government inquiry into the pension problems unfolding at BHS, John Ralfe, warned such a plan could be "illegal under European law".
According to the Daily Telegraph, Ralfe wrote to the work and pensions select committee to say that a legal challenge would be based on the principle that government intervention would amount to "interfering with a private contract".
He is also more generally concerned at the principle it would represent for thousands of other UK firms with pension deficits amounting to more than £300bn.
"It would drive a coach and horses through the fundamental principle that pension benefits, once earned, cannot then be reduced," he said.
The plans would require the government to change the law. According to the Financial Times, "the 1995 Pensions Act says trustees cannot change pensioners' uplift from RPI to CPI without an actuary certifying 'equivalence' between the old and new terms".
This would evidently not be applicable in this case, which the Daily Mail says would amount to a cut of 15 per cent in future pension payouts.
However, if a sale is to be agreed that will save the 11,000 remaining jobs at Tata, something will need to be done with the pension schemes. The Mail notes that at present, the schemes have a £485m black hole and a buyer would need to "pay off the debt and make regular contributions, which will jump from £35m to £60m next year".
"Such large sums make a rescue of the loss-making business financially impossible," the paper adds.
It is for this reason that unions find themselves in the unusual position of seemingly defending the move to cut their members' future pensions, while warning others against using it as a precedent.
"We would warn rogue employers against using this unique set of circumstances as an opportunity to dodge their pension responsibilities and leave their own employees in the lurch," a spokesman for Unite said.
The FT says one option would be to split the schemes into separate funds for existing benefits and future contributions, meaning terms would not change for the savings so far made. Experts told the paper there was a precedent for this in the privatisation of Royal Mail in 2012.
Tata Steel: Javid eyes law change to solve pension riddle
12 May
Sajid Javid is considering changes to existing pension rules that would cut the future payout to Tata Steel employees by £2.5bn.
The Financial Times reports that the Business Secretary is in talks on a plan that would see the £15bn British Steel pension fund, seen as a key barrier to a sale of the business, hived off from Tata and re-indexed to the lower inflation benchmark the Consumer Price Index (CPI). This would cut future liabilities by around £2.5bn.
It is an essential step in the plan to ringfence the pension and keep it outside of the industry rescue scheme, the Pension Protection Fund.
To avoid this, it must have "enough assets to purchase benefits with an insurance company at PPF compensation levels". This is only possible if future payouts are limited – and in any case, moving into the PPF would see pension accruals shifted to CPI anyway.
Such a move could mean those who have taken early retirement having their ongoing pension income cut by ten per cent.
Under the plans, the schemes could be ultimately backed by the government and would likely be placed into a separate holding company. Tata Steel would make a one-off payment of "hundreds of millions of pounds" to help to fill the deficit.
The changes would require changes to the 1995 Pensions Act, the FT adds: "At present, sections 67 and 68 of that legislation prevents trustees from changing the annual raise in retirement income."
There are, however, concerns in the Department of Works and Pensions that the move could set a worrying precedent for more than 4,800 pension schemes across the country that are in deficit to the collective tune of £309bn.
Javid has previously told a panel of MPs a number of potential rescue bidders for Tata Steel "have said they will not have much interest if they have to take over the current pension plan as it is… It is expensive". He said the government was seeking to find a solution to the pension riddle "in any way we can".
Unions are understood to have been constructively involved in talks. This is in stark difference to the position after the government similarly re-indexed public sector pensions back in 2010, which saw unions launch ultimately unsuccessful court action.
Steel Crisis: Tata puts forward seven rescue bids
10 May
Seven bidders lining up a rescue offer for the whole of Tata Steel's UK operations have been fast-tracked into a second stage of the sale process and given deeper access to company financial information.
Tata's Indian parent company said it had "immediately taken forward" seven prospective bids and rejected a number of others that The Guardian says wanted to "cherrypick" specific parts of the business rather than acquire it wholesale.
The company added that it is "clarifying outstanding points with a number of other parties who have submitted an expression of interest".
Among the approved bidders are a management buyout vehicle going under the name Excalibur and Sanjeev Gupta's Liberty House, which wants to transform Tata's Port Talbot works into an electric arc furnace processing UK scrap steel.
The Financial Times reports that one of Tata's main Indian rivals, JSW, has emerged as a "last-minute bidder" and that a Chinese company is also in the second round – an inclusion that will raise eyebrows, given that China's alleged "dumping" of steel in Europe is seen as one of the key problems facing the UK sector.
US steel producer Nucor, ThyssenKrupp of Germany and investment firm Greybull Capital, which recently bought Tata's long products business, including its Scunthorpe operation, are also understood to be among the interested parties.
Tata said it had reached its decision in consultation with the UK government. After intense lobbying and pressure at home – and criticism of an apparently sluggish initial response to the crisis – the government has said it could take a stake of up to 25 per cent in the company as part of a rescue deal and also offer additional financing on "commercial terms".
It is also expected to give pledges on procurement for infrastructure projects and could yet put forward further assistance in the form of guarantees for suppliers and a bailout of the pension schemes seen as one of the key barriers to any sale.
The FT says Tata has now pushed back the deadline for securing a buyer until after the EU referendum on 23 June.
Tata collapse may cost 'hundreds of thousands of jobs across Britain'
9 May
The collapse of Tata Steel and the loss of British steel production could cost ten times more jobs than feared, it has been claimed.
Nick Reilly, the former president of US car giant General Motors' European operations and now an industry consultant, told The Times there is "a high risk that maybe one of the manufacturers — maybe Vauxhall, maybe Toyota, maybe Nissan — will move out of the country if they cannot source steel locally".
He added: "It is not inconceivable and that has to be recognised. What we are then talking about is not the 30,000 to 40,000 jobs at risk in the steel industry, but hundreds of thousands of jobs across British industry. That has to be very concerning."
The automotive market accounts for £500m of Tata UK's £2bn annual turnover. The company's biggest car customer is Sunderland-based Nissan, which produces around 500,000 vehicles a year, or nearly one-third of total British car production.
Bidding for Tata's UK businesses is now entering its next phase, after the deadline for declarations of interest passed last week. Two frontrunners have emerged in the form of Sanjeev Gupta's Liberty House, which recently acquired two Tata mills in Scotland, and a management buyout team going under the name Excalibur.
One major issue could be the fate of jobs, as Liberty has pledged not to make redundancies despite plans to transform the Port Talbot blast furnace into an electric Arc furnace that would process scrap steel the UK currently exports.
In contrast, the South Wales Argus says Excalibur has vowed to maintain Port Talbot and protect its 4,000 jobs, but has admitted it could cut "up to 1,000" jobs across sister plants at Llanwern, Caerphilly and elsewhere by moving "towards leaner autonomous sub-business units".
The Daily Telegraph believes there are as many as 20 bidders for the businesses. Key concerns that could see a number fail to put forward firm offers include pension liabilities of almost £500m in the £15bn British Steel pension schemes and fears that credit insurers will pull cover for Tata's suppliers.
According to the paper, one insurer has already done this – and if others follow suit, suppliers could stop providing the materials needed to keep the plants running. It could prove prohibitively costly to re-start production if stopped, so there are calls for the government to step in to "act as a guarantor on contracts and outstanding payments".
Continue reading for free
We hope you're enjoying The Week's refreshingly open-minded journalism.
Subscribed to The Week? Register your account with the same email as your subscription.
Sign up to our 10 Things You Need to Know Today newsletter
A free daily digest of the biggest news stories of the day - and the best features from our website