Tata Steel strikes £550m deal to solve pensions riddle
Agreement will clear path for company to merge UK assets with ThyssenKrupp of Germany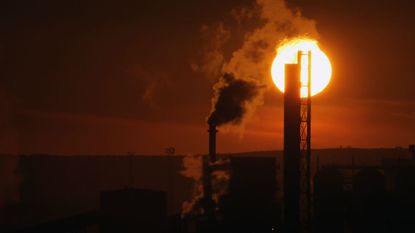 (Image credit: Christopher Furlong/Getty Images)
Sign up to our 10 Things You Need to Know Today newsletter
A free daily digest of the biggest news stories of the day - and the best features from our website
Thank you for signing up to TheWeek. You will receive a verification email shortly.
There was a problem. Please refresh the page and try again.
Tata Steel could close Port Talbot furnace
30 November
Tata Steel and the German conglomerate ThyssenKrupp could close one of two blast furnaces at the UK's largest steelworks at Port Talbot following their proposed merger, Reuters reports.
The agency cites two "industry sources", one of whom is "close to ThyssenKrupp's board", as saying the companies expect "the struggling plant to be downsized" if the tie-up goes ahead.
Subscribe to The Week
Escape your echo chamber. Get the facts behind the news, plus analysis from multiple perspectives.
SUBSCRIBE & SAVE
Sign up for The Week's Free Newsletters
From our morning news briefing to a weekly Good News Newsletter, get the best of The Week delivered directly to your inbox.
From our morning news briefing to a weekly Good News Newsletter, get the best of The Week delivered directly to your inbox.
Port Talbot accounts for around 4,000 steel workers. That's almost half of the 9,000 or so that will still be employed by Tata in the UK after the sale of its speciality and pipes unit, which was announced yesterday.
Reuters cited an email sent by two senior officials at the Community steel union that says that Tata has only pledged to keep the two blast furnaces at Port Talbot running for three years.
A union source said: "Three years is nowhere near enough. Our line in the sand has always been keeping two blast furnaces running. We want guarantees and besides, they've given us guarantees before that haven't materialised."
Separately, Wilhelm Segerath, who represents the works council on ThyssenKrupp's supervisory board, said in an interview this week that "workers would resist shutting down capacity in any merger", says CNBC.
Segerath added: "We have capacities that are worth preserving, and we will fight for that. I don't see any strengthening through a merger with Tata."
Commitments to retaining staff at Port Talbot could be part of any government-back rescue deal. Plans to include concessions on energy costs and cheap loans were mooted earlier this year.
Critically, the government is involved in talks to resolve an impasse relating to Tata's £15bn pension scheme, which is said to be £700m in deficit. ThyssenKrupp has said it does not want to take on the pension scheme in its current form.
Richard Farr, managing director at Lincoln Pensions, said: "There has to be some sort of compromise over the [pension] deficit. They [Tata] are doing their bit, now it's the government's turn."
Tata announced on Monday that it would invest £85m in its UK operations, "but the plan did not include any investment in Port Talbot, other than funds for an environmental scheme for its power plants", says Reuters.
Tata to sell Yorkshire steel plants in £100m deal
29 November
Indian conglomerate Tata has finally struck a £100m deal to sell its speciality and pipes business, safeguarding the future of hundreds of its employees. The business currently employs some 1,700 workers across several plants in Yorkshire.
The unit, which produces steel for the automotive, aerospace and oil and gas sectors, was put up for sale in the summer, after being separated from Tata's wider UK steel portfolio, which was at the time being sold as a combined entity.
A transaction was thought to be imminent in September, but nothing was forthcoming.
Now Tata has signed a "letter of intent" to sell the business to Liberty House, a buyer of distressed industrial assets that has already acquired a number of plants in Scotland and Wales from the Indian firm.
The steel union Community says it welcomes news of the negotiations following "months of unnecessary stress and concern".
The BBC adds: "The union said it would be seeking urgent talks with Liberty House… and would be asking what their plans were for investment, protecting jobs and providing decent pensions for members in retirement."
Tata has already split off another of its UK businesses, the long products division that supplies the construction industry. The division, which is based at the firm's plant in Scunthorpe, was sold to the turnaround investor Greybull in April.
Tata's remaining UK assets are the subject of merger talks involving its broader European operations and the German conglomerate ThyssenKrupp.
Crucial to those talks, and to the fate of the major Port Talbot works in South Wales, is the company pension scheme. Earlier this year it was £500m in deficit.
Ministers had hoped to change the law to allow future pension payouts to be capped and for the scheme to be hived off into a standalone company, but those plans were "shelved" earlier this year.
According to the Daily Telegraph, pressures on the UK business have eased because global steel prices have risen, while "moves in the market" mean the size of the pension scheme "funding hole has been reduced considerably".
Tata Steel pension reform plans 'shelved' by ministers
14 September
A controversial plan to reform Tata Steel's pension scheme and cut around £2.5bn from future payouts has been "shelved" by ministers, according to insiders briefed on the ongoing talks.
The revelation adds to questions over a proposed rescue of the bulk of Tata's UK steel operations, which it hopes to merge with its German rival Thyssenkrupp.
Like previous would-be suitors for Tata's assets, it is known that Thyssenkrupp is not willing to combine the businesses if they remain liable for a £15bn scheme that is billions of pounds in deficit, says the Financial Times.
A consultation on proposals to hive off the scheme and cut the rate at which future pension payouts are increased each year to the lowest level of inflation closed in June.
There has since been no formal word from the government. The post-Brexit departure of former business minister Sajid Javid (he is now communities secretary) means the reforms have lost their biggest supporter.
A number of other ministers and opposition MPs are also against the plans, not least because cutting payout rates would involve a change in the law that would be seen as setting a dangerous precedent.
Some sources believe Tata and Thyssenkrupp are already reconciled to losing the argument on the reforms and are "considering alternatives".
One such plan could involve pension scheme members being given the choice of joining a new scheme on the revised terms, or remaining in the existing scheme that would be placed in the Pension Protection Fund (PPF).
As joining the PPF would involve a 10 per cent cut to payouts, this would actually leave many worse off. Many pension scheme members could therefore opt to leave, achieving the intended outcome without requiring a legal change.
But, according to City AM, the trustees of the scheme appear to continue to favour the reform plans that were put to consultation.
Allan Johnston, chairman of the trustee board of the British Steel Pension Scheme, said: "The disapplication of Section 67 continues to be our preferred option and we expect to have further discussions with government before any decision is taken on the consultation outcome."
Tata Steel could agree rescue deal to save 2,000 jobs this week
13 September
Tata Steel could finally agree a sale of its speciality and pipes business this week, in the process saving around 2,000 jobs across sites in Rotherham, Stocksbridge and Hartlepool.
The business was placed up for sale earlier in the summer, having been separated from a plan to sell all of Indian-owned Tata's UK steel assets.
Having initially been adamant that any rescue buyout would have to be for the whole UK operation, the firm later backtracked by splitting its speciality unit from its main business.
Tata subsequently abandoned the sale of its remaining assets, instead including them in ongoing talks with the German conglomerate ThyssenKrupp over a merger of the companies' pan-European businesses.
That process is ongoing and remains dependent on talks with the government over Tata's £15bn British Steel pension scheme. The scheme has a huge funding shortfall that the company is keen to offload.
Tata's executive director Koushik Chatterjee told The Guardian: "We need more time – there is the complication of pensions. All bidders come with a univocal approach – that pensions have to be separated from the business."
As for the speciality unit, the Daily Telegraph says the "frontrunner" to acquire it is global commodities group Liberty House, which had been interested in making a bid for the whole UK operation.
Liberty House is expected to pay a "realistic" price of less than £100m, according to sources.
A sale earlier this year of the long products unit, which employs 4,000 staff and is based at a plant in Scunthorpe, was revealed by Tata yesterday to have swung the whole group to a net loss for the third quarter.
Greybull Capital paid a nominal £1 for the business, crystallising a £370m write-down and triggering a £350m loss for the three months.
On a cheerier note, the remaining UK assets, including the massive plants at Port Talbot in Wales, turned previous losses into a £90m gain for the quarter, with the weak pound helping to boost exports.
Chatterjee added: "Today we see a more depreciated pound, which is where exporting competitiveness has improved. That provides a lever [for the UK business] to sustain itself ... but that's very fickle."
Pension lifeboat tightens 'dumping' rules ahead of Tata Steel rescue
22 August
A prospective rescue of Tata Steel's UK business, which would save primary steelmaking in the UK and with it, tens of thousands of jobs, still has to get over the significant hurdle of its huge pension deficit.
Now the industry's pension lifeboat has laid down the gauntlet in the form of toughened rules to prevent employers "dumping" their pension schemes to free up costs.
The Pension Protection Fund (PPF), which looks after £23bn in assets, has changed its regulations to put more of the cost of a bailout onto the offloading firms.
Companies will have to pay "all legal, financial and redundancy costs", says the Daily Telegraph. Bank fees charged to facilitate a restructuring will have to be deemed "reasonable".
The PPF mainly rescues pension plans whose sponsoring employer has gone bust. Members of bailed-out schemes face having their payouts cut by ten per cent.
However, on 24 occasions in the past eight years, the fund has agreed to take on plans from employers as part of a restructuring to allow them to stay in business. In these cases, it has also taken stakes in the surviving company of up to 33 per cent to secure a funding stream.
These conditions would form a blueprint for any rescue of the Tata Steel-underwritten £14bn British Steel pension scheme. It has a funding shortfall of around £300m, rising to at least £700m if it has to be bought in the private sector.
The huge burden has been a major obstacle to a sale of Tata Steel's UK unit, which was put up for sale in March.
It remains a potential blocker even to a revised rescue plan from Tata Steel's Indian parent company, which would see the UK arm bundled in with the wider European operations in a merger with German conglomerate ThyssenKrupp.
Pension trustees believe they can keep the scheme out of the PPF if it is hived off into a separate plan, as long as they can reduce obligations by cutting the rate at which payouts increase over time.
That might yet prove too politically sensitive, however, as it requires a change in the law. The PPF has also said that if it goes through, the scheme should be made ineligible for a future rescue.
Continue reading for free
We hope you're enjoying The Week's refreshingly open-minded journalism.
Subscribed to The Week? Register your account with the same email as your subscription.
Sign up to our 10 Things You Need to Know Today newsletter
A free daily digest of the biggest news stories of the day - and the best features from our website