EU referendum debate: Who won at Wembley?
Scottish Conservative leader Ruth Davidson emerges as star of 'tetchy' but inconclusive debate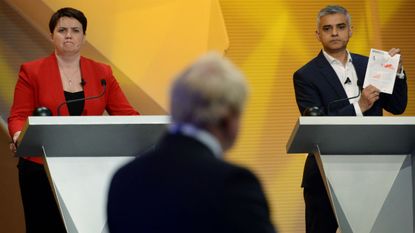 (Image credit: Stefan Rousseau-WPA Pool/Getty Images)
Labour's Mayor of London Sadiq Khan and Scottish Conservatives leader Ruth Davidson became unlikely bedfellows last night to lead the Remain charge against Boris Johnson during the latest TV debate on the EU referendum.
A six-strong line up – Khan, Davidson and Johnson were joined by Labour MP Gisela Stuart, energy minister Andrea Leadsom and TUC general secretary Frances O'Grady - argued the issues in front of 6,000 people at Wembley Arena, the biggest televised debate on the subject so far.
With less than 36 hours to go before polling opens, the atmosphere was "tetchy", says The Guardian, and there was no shortage of raised voices.
Subscribe to The Week
Escape your echo chamber. Get the facts behind the news, plus analysis from multiple perspectives.
SUBSCRIBE & SAVE
Sign up for The Week's Free Newsletters
From our morning news briefing to a weekly Good News Newsletter, get the best of The Week delivered directly to your inbox.
From our morning news briefing to a weekly Good News Newsletter, get the best of The Week delivered directly to your inbox.
As feared by some in the Remain camp, Johnson seized upon Labour leader's Jeremy Corbyn's recent candid comments on immigration limits.
"Jeremy Corbyn – he's the leader – he said there was no way of controlling immigration in the EU," said the former London mayor, to laughter and applause.
The In faction wasn't alone in being haunted by a careless misstep, however. Khan got the line of the night by flipping Leave's repeated dismissal of the Remain argument as "Project Fear" to create his own buzzword.
"Your campaign hasn't been Project Fear, it's been Project Hate as far as immigration is concerned," he declared, to applause. Out came the now infamous Vote Leave posters, one of which warned voters of an imminent Turkish accession to the EU, which Khan decried as a "big fat lie".
Davidson was quick off the mark to attack another Vote Leave talking point. Johnson and his colleagues had urged UK voters to "take back control", she said, adding: "You lose control by losing your seat at the table."
A rising star in Scottish politics, Davidson's performance "attracted praise from Remain supporters across the political spectrum, and even from within the Leave campaign", adds the Guardian.
Despite their lack of TV polish alongside veteran spotlight-stealer Johnson, says John Rentoul in The Independent, Davidson and Khan came off best.
However, the substance of the debate itself was unlikely to change many minds.
"The principals mainly traded soundbites to enthusiastic cheers and applause from their side's supporters, while the other side heckled and tried to interrupt," he writes.
So great was their enthusiasm, the Wembley Arena audience threatened to drown out the debate with "whooping, cheering and groaning", says Michael Deacon in the Daily Telegraph. "By the end, every halfway coherent answer was being met with deafening acclaim."
EU referendum debates: David Cameron admits voters may be confused
10 June
Just days before the EU referendum, David Cameron has admitted that many voters have been left confused by the campaigns.
Speaking to a live studio audience on BBC's Question Time last night, the Prime Minister said he wanted to "do better" at getting across his argument to stay in the European Union.
With polls showing support for both sides to be neck and neck, he also acknowledged that people have been finding the debate "perhaps quite confusing".
The Prime Minister faced tough questions from the audience during the 45-minute session, at one point being accused of being a "21st-century Neville Chamberlain, waving a piece of paper in the air, saying to the public: 'This is what I have, I have this prize, but a dictatorship in Europe can overrule it.'"
Cameron appeared "shaken and emotional" as he replied, says The Guardian. Referencing Chamberlain's wartime successor, Winston Churchill, he declared: "Britain doesn't quit, we fight and that is how we win."
The PM also dismissed as "completely untrue" warnings from the Leave campaign about an EU army, the prospect of Turkey joining the bloc and the cost of the UK's membership.
"The Prime Minister strode to the stage with what looked like a single sheet of notes - perhaps because the message he wanted to get across was succinct," says Tom Bateman, the BBC's political correspondent."It could be summed up as 'listen to the experts' because a vote to leave would be 'irreversible'."
Nevertheless, Cameron was "repeatedly challenged by a probing and at times incredulous audience", he adds.
Meanwhile, Baroness Warsi, the former communities minister who co-chaired the Conservative Party, has announced she is abandoning Brexit in protest at its "hate and xenophobia".
Ukip leader Nigel Farage has dismissed the defection as a "typical No 10 put-up job", claiming she never wanted to leave the EU in the first place.The BBC's final and biggest debate will take place tomorrow night on BBC One at 8pm. Boris Johnson, Gisela Stuart and Andrea Leadsom will represent Leave, with Ruth Davidson, Sadiq Khan and Frances O'Grady arguing for the Remain camp.
EU referendum debates: Michael Gove to appear on Question Time
15 June
Justice Secretary Michael Gove and Prime Minister David Cameron will make their case on the EU referendum in front of a BBC audience this week – but not at the same time.
The two men will both face a grilling from a Question Time studio audience. But those holding out for a head-to-head clash between the Justice Secretary, a leading Brexiter, and his pro-EU party leader will be disappointed - the debate will follow a similar format to the ITV broadcast on 7 June, which saw Cameron appear separately from the anti-EU Nigel Farage.
Gove appears first, facing questions from a studio audience in a live broadcast from Nottingham tonight, while Cameron will take his turn in Milton Keynes on Sunday. Both programmes will be shown on BBC One at 6.45pm.
The Prime Minister is determined to avoid "blue-on-blue" public conflict at all costs, saying it risked turning the debate into a "Tory psychodrama".
He may not be the only one with a personal motive guiding his approach. Asa Bennett in the Daily Telegraph suggests Gove's appearance could be the opening salvo in a campaign to become Tory leader himself if Britain votes for Brexit.
While fellow Conservative Boris Johnson tends to dominate the public limelight, party insiders are said to be impressed with Gove's energy and charisma. In a poll conducted by Conservative Home, grassroots supporters named him their preferred successor to Cameron and put him eight points ahead of Johnson.
Gove "would never admit to being interested in personal advancement", writes Bennett.
However, he adds, the Justice Secretary is "too polite to ignore his colleagues if they had thoughts to share with him on the party's future".
EU referendum: When are the next Brexit debates?
14 June
With just nine days to go until Britain votes in the EU referendum, broadcasters are lining up some of the biggest names from the Leave and Remain camps to debate live on television.
Recent polls suggest it will be a very close race, which has "rattled" In campaigner David Cameron, who has refused to debate live on television with Tory rivals, says the Daily Mirror.
The Prime Minister has demanded solo slots to avoid further "blue-on-blue" attacks, but there remains a high-profile cast for the other discussions.
Here are the major dates for your diary:
Wednesday 15 June: Question Time EU Special: The Case for Leave (BBC One, 6.45pm). David Dimbleby moderates a special edition of the BBC debate show in which pro-Brexit Justice Secretary Michael Gove takes questions from a studio audience in Nottingham.
Friday 17 June: The Andrew Neil Interviews: Leave or Remain (BBC One, 8.30pm). In the last of his TV grillings, journalist Andrew Neil interviews the Leave campaign's Iain Duncan Smith.
Sunday 19 June: Question Time EU Special: The Case for Remain (BBC One, 6.45pm). The Prime Minister is in the hot seat this time, answering questions from the audience at Milton Keynes.
Monday 20 June: EU: In or Out (Sky News, 6pm) Labour leader Jeremy Corbyn makes his only live TV appearance of the referendum, facing questions from a studio audience made up of young people. Sky political editor Faisal Islam acts as chair.
Tuesday 21 June: EU Referendum: The Great Debate (BBC One, 8pm). Hailed as the "big one", the BBC's set-piece live debate is hosted by David Dimbleby, Emily Maitlis and Mishal Husain at the 12,500-seater Wembley Arena. London Mayor Sadiq Khan, in the Remain camp, goes up against his predecessor Boris Johnson. Labour MP Gisela Stuart and Wetherspoons chief Tim Martin are expected to represent Leave, while Defence Secretary Michael Fallon and Labour In for Britain chairman Alan Johnson will argue for Remain.
Wednesday 22 June: Europe: The Final Debate with Jeremy Paxman (Channel 4, 9pm). The famed broadcaster and journalist is joined by politicians, celebrities and high-profile personalities from areas such as business, science, sport, defence and security as he presents the final debate on the EU referendum.
EU referendum debate: Will Remain's 'nasty' approach backfire?
10 June
Last night's ITV EU referendum debate took a "nasty" turn as Conservative MPs Boris Johnson and Amber Rudd competed against one another.
Representing the pro-EU campaign, Rudd joined shadow business secretary Angela Eagle and Scotland's First Minister Nicola Sturgeon to accuse the Leave campaign of spreading inaccurate figures about the cost of the EU.
And the Energy Secretary pulled no punches. "I fear that the only number Boris is interested in is No 10," she said at one point, referring to the former London mayor's alleged ambition to be prime minister.
Rudd's most personal attack came in her closing statement, when she described Johnson as "the life and soul of the party - but he's not the man you want to drive you home at the end of the evening".
The Daily Mail described it as an "extraordinary jibe" in the "nastiest TV referendum debate yet".
However, George Eaton at the New Statesman believes the "ruthless assault on Boris could backfire".
Neither side emerged triumphant, but Leave "had the edge" and "having spared no ammunition against Johnson, Remain risks only enhancing his aura of invincibility", he argues.
"By attacking Johnson so starkly, Remain unambiguously put him on the ballot. But it is a tactic that risks backfiring. Though his stock has fallen among the media, Johnson remains the country's most popular politician."
Johnson has a "Teflon quality", says Tim Stanley at the Daily Telegraph, and he came off looking like a "future prime minister".
Nevertheless, he did not necessary win the night. Johnson's fellow Leave panellists, Labour backbencher Gisela Stuart and fellow Tory Andrea Leadsom, have been widely praised for their performances.
The trio accused Remain of having "no plan" to control immigration or the "unelected super-state" that the EU has become.
Stuart was Leave's "most effective spokesperson", speaking with "reason rather than faux-passion", says Stanley, who praises all of the panellists – except for Labour's Eagle, who he says "was the pits".
However, Paul Mason at The Guardian thought Rudd and Sturgeon showed more "prime ministerial class" than Johnson.
"But if you read the body language you came away with one image: Leave are relaxed, Remain worried," he says. "And they are right to be."
EU referendum debates: Boris Johnson faces all-female panel
09 June
Boris Johnson and Nicola Sturgeon are among the line-up of six senior politicians taking part in one of the biggest debate shows of the EU referendum campaign.
The two-hour ITV debate will be broadcast live from London from 8pm tonight. Here's what we can expect:
Who will appear?
On team Remain, shadow business secretary Angela Eagle and Energy Secretary Amber Rudd will represent Britain Stronger In Europe, alongside Scotland's First Minister Nicola Sturgeon. Representing Vote Leave are Tory MPs Boris Johnson and Andrea Leadsom and Labour's Gisela Stuart.
"The Remain campaign's decision to field an all-female line-up follows warnings from a string of female MPs that the EU referendum campaign has become too male," says the Daily Telegraph. Former deputy Labour leader Harriet Harman says this is putting off female voters, many of whom are undecided about how they will vote on 23 June.
Johnson and Rudd's clash will be a "high-profile moment of Tory division", says the Financial Times. David Cameron has been accused of running scared after refusing to face Johnson, saying he did not want be seen to directly attack Conservatives colleagues in the Brexit camp.
What is the format?
Each politician will make a short opening and closing statement. In between, they will individually answer questions from the studio audience before the floor opens up to free-flowing debate. This is markedly different from Tuesday night's "debate", when Cameron and Ukip leader Nigel Farage did not interact with one another. ITV News's Julie Etchingham will moderate.
EU referendum debate: Did Farage beat Cameron?
08 June
Nigel Farage and David Cameron faced "tough" questions on the EU referendum from a live studio audience last night.
Each man was interrogated on the economy, immigration, security and patriotism for the referendum special on ITV.
Pushing for a Remain vote, Cameron worked hard to reclaim the mantle of patriotism from the Leave campaigners. "We're fighters, not quitters," he announced, while chiding Farage's "little England" vision. However, he was accused of losing control of justice and immigration.
Ukip leader and Brexiter Farage came under fire for his claims, which he said had been conflated, about immigration leading to sex attacks on women.
But he was praised for his response to threats that the UK would be punished by the European Union for leaving. "We're better than that. We won't be bullied," he declared.
In the end, Farage was not the "swivel-eyed humiliation" the Leave campaign had feared he might be, says Fraser Nelson at The Spectator. "If anything, Farage looked a bit too sober, even sad: [he] has left his pint glass and fag at home tonight. And the Leave campaign should be grateful for that."
Farage will "go to bed with a grin on his face", agrees James Kirkup at the Daily Telegraph. He had a "tough time" at the hands of the studio audience but will be happier than Cameron because his real audience was the Leave campaign's loyal core voters watching at home.
But for George Eaton at the New Statesman, the Ukip boss failed to "offer the reassurance that a Brexit-sceptic public craves", an achievement that might have helped swing the vote in Leave's favour.
"If there were no dramatic gaffes from Farage tonight, his performance confirmed his profound limitations," says the journalist. "The Ukip base will have lapped it up but centrist voters will have been unimpressed. Farage again showed why he is a 15 per cent politician, not a 50 per cent one."
Cameron, on the other hand, delivered "one of his best performances of the campaign", says Eaton, "reaching out to the unpersuaded".
For the Daily Mail's Quentin Letts, it was once again the studio audience that won the debate.
"Something odd has happened to the studio audiences in TV political debate shows. They've gone super-tonto!" he says.
"Polite but determined, they come back with supplementary questions, complete with figures and new lines of attack and a nicely sustained scepticism. It's like facing a hall full of Andrew Neils."
EU referendum debate: What to expect from Cameron v Farage
07 June
David Cameron and Nigel Farage are preparing to appear in the latest televised debate on the European Union referendum.
The ITV show won't be a head-to-head debate, but will instead see the politicians quizzed separately by journalist Julie Etchingham and members of a studio audience.
Immigration is expected to feature heavily in the debate, with Farage planning to raise concerns about Turkey's possible accession to the EU. Speaking to the Daily Telegraph, the Ukip leader also said he would call the Prime Minister's patriotism and integrity into question.
Farage, often photographed with a pint in hand, said he hadn't had a drink in a week in order to focus on preparing for the debate. "It will be a big pitch against the establishment and I shall be saying to people 'if ever there was a vote in your life that could make a difference, this is it,'" he said.
The event has been marred by a row among Brexiters, with some threatening to take legal action against ITV for inviting Farage, who is not a member of the official Vote Leave campaign. The broadcaster rejected claims of a "stitch up", while the Ukip leader said his rivals should "put their egos aside".
"Why might they be so jittery about who speaks for Leave this evening?" asks Asa Bennett at the Telegraph. "Farage is a bomb who could blow up in the Leave campaign's face."
With the polls relatively unmoved since the campaign begun, both sides are pitching to the undecided. "This requires them to be appealing without annoying as many people as they excite – something which isn't part of Nigel Farage's brand," says Bennett.
The Prime Minister, meanwhile, has been criticised for refusing to appear alongside fellow Tory and Brexit heavyweight Boris Johnson.
Number 10 believes the Prime Minister will at least have the advantage tonight by appearing last.
Asked at an event in London today if he was worried he was losing the campaign, he responded: "Not at all. What I'm worried about is that people are being told things that aren't correct."
Cameron and Farage Live: The EU Referendum airs on ITV tonight at 9pm
EU referendum debates: Cameron mauled by TV audience
03 June
David Cameron faced sharp questions from a hostile audience during his first live TV debate of the EU referendum campaign last night.
He appeared alone on stage, having refused to appear opposite fellow Conservatives who back the Leave campaign.
But the audience provided more than enough opposition, says the Financial Times. "Their hostility was the defining feature of the Sky News debate, the first of 11 televised encounters ahead of the EU referendum on 23 June," the paper says.
The Prime Minister faced sustained questioning on immigration and refused to say when he would meet his election pledge to bring it down to 100,000 per year. Last year, net migration reached 333,000.
"There are good ways of controlling migration and there are bad ways," he said. "It would be madness to try to do that by trashing our economy and pulling out of the single market."
One audience member accused him of dodging the question. "I'm an English literature student," she said. "I know waffling when I see it."
Others accused him of scaremongering and hypocrisy.
"What comes first? World War Three or the global Brexit recession?" asked Sky's Faisal Islam.
In response, Cameron said he was "genuinely worried" about leaving the single market.
"He was lucid, he had stats and facts," says Hugh Muir in The Guardian. "But through it all, he was the fugitive, hassled, harassed and cornered."
John McTernan in the Daily Telegraph agrees. "All in all, it was a difficult night for the PM," he says. "He will not have swayed many floating voters – and he knew it. You could see his discomfort – as you always can – by the way his face flushed red."
Tonight is the turn of Michael Gove, the chairman of the Vote Leave campaign, to face the Sky News audience.
EU referendum debate: Who came out on top?
27 May
Politicians and audience members went head-to-head in the first major debate of the European Union referendum campaign last night.
Hosted by the BBC's Victoria Derbyshire, the Glasgow event was aimed at younger voters, with those aged 18-29 invited to put their questions to the four panellists.
On the Remain side were former SNP leader Alex Salmond and Labour MP Alan Johnson, while Ukip MEP Diane James and Conservative MP Liam Fox put forward their case for Brexit.
"It was lively. It was feisty. And that was just the audience," says the BBC's political correspondent Iain Watson.
Immigration, freedom of movement and housing featured heavily in the debate. James and Fox both argued that leaving the EU was the only way to reduce the number of people coming into the UK, and alleviate the pressure on public services and housing.
But when asked by an audience member whether visas would be required for European travel if Britain votes to leave, the Ukip MEP said: "We just don't know."
The concern about the ability of students and young people to travel post-Brexit is "a strong one" and "could impact upon the youth vote", says the Daily Telegraph's Tim Stanley.
Salmond was later challenged by a Brexit supporter who said her mother couldn't get a council house because immigrants are "bumped up" the list. "I wouldn't make that connection," he responded. "If we have a housing crisis we should build more housing."
Salmond went on to warn that a vote to leave the EU could trigger another referendum on Scottish independence within the next two years.
The NHS once again loomed in the referendum debate, says The Guardian. "Johnson said that the health service would suffer if the UK left the EU and caused the British economy to shrink."
The verdict
"There were no winners or losers," says Stanley. "That's partly because the BBC beautifully stage-managed it to ensure no appearance of bias." He does, however, suspect that the Remain campaign came out on top due to fears among young people that that they'll lose access to travel and jobs overseas.
Overall, the debate was a "fairly boisterous one, perhaps even bad-tempered" at times, says the Guardian.
On social media, much of the attention was focused on the audience members, who repeatedly clashed with each other and the politicians on stage.
But BBC Scotland's Philip Sim is convinced there was only one real winner:
EU referendum TV debates: What's happening and who will take part?
12 May
A series of televised debates are planned for the final days of the EU referendum campaign, with both sides going head-to-head.
On 23 June, Britons will head to the voting booth to make the biggest political decision in a generation and according to ongoing opinion polls, they are evenly split on whether or not to leave the European Union.
But a row has broken out over who will be taking part in the TV debates on the issue, with David Cameron facing criticism after ruling himself out of some of the events.
Leave campaigners are also threatening legal action against ITV after the broadcaster invited Ukip leader Nigel Farage to take part in one of its special events.
What is happening and when?
The BBC will stage three separate debates featuring key campaigners from both camps in front of live studio audiences.
The first event, hosted by Victoria Derbyshire, will be held in Glasgow on 19 May and target younger voters who are "traditionally alienated by conventional political coverage", says the broadcaster.
One week before the referendum, David Dimbleby will host an edition of Question Time featuring one high-profile candidate from each campaign on 15 June, and then a major event will take place in front of an audience of thousands at Wembley Arena two days before polls open.
Dimbleby will be joined by Mishal Husain and Emily Maitlis and an expected two politicians and a business person from Leave and Remain camps.
Sky News, meanwhile, will air a special programme on 2 June, when the Prime Minister will be interviewed by political editor Faisal Islam before facing questions from a live audience, moderated by presenter Kay Burley. The following day, Justice Secretary Michael Gove, who is campaigning to leave the EU, will be in the hot seat.
ITV has also announced that it will broadcast two live events in June. Cameron and Farage will be quizzed separately on the first, while details of the second event remain unclear.
Why is there a row?
"In an echo of what happened last year in the run-up to the general election, Cameron has rolled the dice first – privately ruling out appearing in a debate," says The Guardian.
Downing Street has made it clear the Prime Minister will not debate against senior Tories campaigning for Brexit, such as Gove and Boris Johnson.
Former work and pensions secretary and prominent Brexiter Iain Duncan Smith has previously accused Cameron of "running away" from the televised debate.
But Chancellor George Osborne defended the Prime Minister's decision, telling ITV: "I know everyone wants to turn [the debate] into a Tory soap opera, but it is more important than that."
Cameron has also banned blue-on-blue debates, "but this neutering of the real passion is unworkable", Polly Toynbee writes in The Guardian. "Insults can be hurled, but they can never challenge one another's claims and myths?"
The journalist is among those calling for the PM to go head-to-head with Johnson: "Cameron would probably make mincemeat of Johnson, who, off script, is always vague on facts."
Asked if he would take on Cameron, the former London mayor told The Spectator: "Put it this way, I think I'd look a bit of a wimp if I said no. For me to recuse myself from the debates would be wet."
Meanwhile, the Vote Leave campaign has accused ITV of "effectively becoming part of the 'in' campaign" after the broadcaster invited Farage, who is not part of the official group, to take part in its programme.
It has threatened to take legal action against the broadcaster and warned of "consequences for its future". Farage responded by saying the group should "put their egos aside".
The row "highlights once again the central dispute amongst those wanting the UK to leave the EU: is Nigel Farage an asset or a liability to their cause?" says the BBC's Chris Mason.
What can we expect?
"It won't be some simple 90-minute debate between Out and Remain," Peter Preston writes for The Guardian. "This is no general election."
Toynbee describes the Wembley debate in particular as a "perilous" event.
"The fear is that, however balanced, it will be a bear pit of heckling and yelling: three main speakers from each side, with panels of five commentators and a spin room for yet more commenting behind the scenes – far too large a cast for any serious testing of the arguments," she says.

Continue reading for free
We hope you're enjoying The Week's refreshingly open-minded journalism.
Subscribed to The Week? Register your account with the same email as your subscription.