Budget 2015: Osborne 'shoots Labour foxes' ahead of election
Ed Miliband no longer has an economic narrative after Osborne's Budget speech, say commentators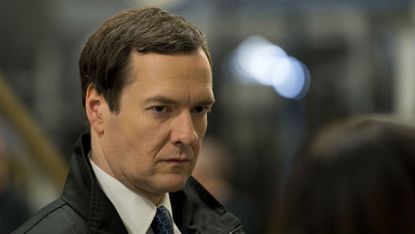 (Image credit: Matthew Horwood, Getty Images News)
Sign up to our 10 Things You Need to Know Today newsletter
A free daily digest of the biggest news stories of the day - and the best features from our website
Thank you for signing up to TheWeek. You will receive a verification email shortly.
There was a problem. Please refresh the page and try again.
George Osborne "shot foxes instead of summoning rabbits" in yesterday's Budget, damaging Labour's economic narrative ahead of the election, say political commentators.
One key Budget announcement featuring in today's newspapers is Osborne's plan to ease the squeeze on public finances at the end of next parliament. The £23bn surplus previously forecast for 2019/20 has been reduced to £7bn, while state spending as a share of national income is expected to be higher than previously planned.
The move is seen as an attempt to neutralise Labour's attacks on the Conservative party's strict austerity measures.
Subscribe to The Week
Escape your echo chamber. Get the facts behind the news, plus analysis from multiple perspectives.
SUBSCRIBE & SAVE
Sign up for The Week's Free Newsletters
From our morning news briefing to a weekly Good News Newsletter, get the best of The Week delivered directly to your inbox.
From our morning news briefing to a weekly Good News Newsletter, get the best of The Week delivered directly to your inbox.
"Broadly speaking, [Osborne] has halved the difference between his plan and Labour's plan," says John Rentoul at The Independent.
"The level of public spending as a share of the economy will not go back to that last seen in the 1930s but to 2000. Labour cannot accuse Osborne any longer of wanting children to go to school without shoes in the sepia-tinted years before the NHS."
More coverage of the Budget 2015
Allister Heath at the Daily Telegraph says yesterday's Budget also means that Labour will struggle to refer to the cost-of-living crisis or "fear-monger" about double-dip recessions.
"Politically speaking, it was brilliant stuff, a case study in triangulation and putting electioneering ahead of any other consideration," says Heath. "Devastatingly, seven weeks before the general election, Ed Balls and Ed Miliband no longer have an economic narrative; they will now be forced to resort to vague, conspirational claims about secret cuts to the NHS."
Today's Times leader notes that Osborne had promised a budget without giveaways. "Considering the electoral temptation to give something to everyone, he kept his promise," it says. "Instead of giveaways he gambled that voters will thank him for his fiscal discipline and back him for three more years of it."
Janan Ganesh at the Financial Times describes it as a "plausible" strategy. "In the zoological idiom of these events, Osborne shot foxes instead of summoning rabbits," says Ganesh.
The Budget tacitly acknowledged that short-term interventions almost never change politics in any lasting way, he adds. "The Tory campaign was settled almost two years ago and – although the party is cooking up some promising ideas for its manifesto – it will not change in the last 50 or so days. This Budget crystallised that campaign; it did not seek to amend it."
Polly Toynbee at The Guardian, however, was not won over. There was a gimmick "in every breath", she said, from a penny off a pint to "another disastrous help-to-buy boost". But she says that "essentially nothing much changed" despite Osborne's "Wizard of Oz performance".
She points to comments from the Office for Budget Responsibility, which has warned that Britain still faces a much "sharper squeeze" on real spending between 2016 and 2018 than anything seen over the past five years, with "rollercoaster" public service spending over the next parliament.
Osborne's long-term plan "stays in the saddle", says Toynbee, with "low pay, harsh benefit cuts and a permanently shrinking state".
The Budget 2015 summary: highlights of Osborne's speech
18 March
George Osborne has taken to the despatch box in the House of Commons to deliver what could be his final Budget.
He was under pressure from his Conservative colleagues to push the polls decisively in the party's favour, while Labour's Ed Balls has already dismissed its contents as a "cover-up" of his "terrible record as chancellor".
Budget 2015 summary: George Osborne's plans for 2015/16:
The personal income tax allowance will rise to £10,800 in April 2016 and £11,000 in 2017.
The minimum wage will rise to £6.70 this autumn.
Five million pensioners will be given access to their annuities.
Isas will become more flexible, enabling people to take out their savings and pay them in again without losing the tax-free benefits.
Help to Buy ISAs will be introduced to help first-time buyers save for a deposit. For every £200 they save, the government will top it up with £50.
From April next year, the first £1,000 of interest earned on savings will be tax-free for standard-rate taxpayers. Higher rate taxpayers will get a £500 allowance.
The annual tax return to be abolished altogether, with information uploaded digitally throughout the year. "This spells the death of the annual tax return," says Osborne.
No changes to tobacco or gaming duties. Duty on spirits and cider cut by 2 per cent, wine duty frozen.
Fuel duty increase scheduled for September has been cancelled, marking the longest duty freeze in over twenty years.
Osborne confirms the design of the "tails" side of the new 12-sided pound coin.
New measures against tax avoidance and evasion will raise £3.1 billion over the forecast period.
From next year, the Lifetime Allowance for pensions will be reduced from £1.25m to £1m. This will save around £600 million a year, says Osborne.
Farmers will be able to average their incomes for tax purposes over five years.
There will be a "major expansion" in mental health services, with £1.25bn spent on mental health services for children and new mums.
Charities will be able to claim automatic Gift Aid on the first £8,000 of small donations, up from £5,000.
A string of measures will be introduced to build the "Northern powerhouse" and devolve powers, including some regions retaining 100 per cent of business rates raised
New loans announced for postgraduate students.
Corporation tax will fall to 20 per cent in April 2015, a fall of 8 per cent since 2010.
North Sea oil industry to get tax cuts worth £1.3bn.
Budget 2015 summary: George Osborne on the UK economy
The Office for Budget Responsibility (OBR) has revised UK's GDP growth forecast up 2.5 per cent this year, 2.3 per cent next year and for the following two years, before reaching 2.4 per cent in 2019.
Trade deficit figures are "the best for 15 years".
At 2.6 per cent, Britain "grew faster than any other major advanced economy in the world last year".
A record number of people are in work, with the unemployment claimant rate at its lowest since the 1970s.
OBR expects unemployment to fall to 5.3 per cent, down 3 per cent from the rate inherited from the previous Labour government.
The deficit as a share of GDP will have halved between 2009/10 and 2014/15.
The Treasury's borrowing goal has dropped from £21bn surplus to £5.2bn surplus by 2019/20.
Welfare payments are £3bn lower than forecast at the time of the autumn statement. These savings, and the income from the sale of £13bn of mortgage assets from Northern Rock and Bradford and Bingley, will be used to continue paying off the national debt.
2.00pm: Labour leader Ed Miliband has described the Budget as something that "people won't believe from a government that is not on their side". He accused Osborne of failing working families and warned of the "extreme" austerity ahead.
"He had an extreme spending plan yesterday, and he has an extreme spending plan today," said Miliband of the Chancellor. He also highlighted what he claimed were the "inconvenient truths" of low wages, a housing crisis and a soaring number of zero-hour contracts. "Never has the gap between the Chancellor's rhetoric and the reality of people's lives been bigger," he said.
Anoosh Chakelian at the New Statesman said the Labour leader managed to avoid being rattled or thrown off course by Osborne's "deft policy-snatching and attack-neutralising", but said the only problem was that his rebuttal was overwhelmingly negative.
"While Osborne bounced out of his seat and talked about the 'sun shining' and a 'come-back country', Miliband was all doom," said Chakelian.
1.00pm: Osborne claims that satisfaction with the NHS is increasing, while crime is down. But he says national debt will only continue to fall if the UK commits to the fiscal path set out in this Budget. Any reversal would be a "tragedy", he says. "Britain is on the right track. We must not turn back."
12.55pm: He claims the rich are making the biggest contribution to reducing national debt. "I said we would all be in this together, and this is the proof," he says. Osborne claims inequality is down, child poverty is down, youth unemployment is down and the gender pay gap has never been smaller.
12.50pm: Osborne takes a swipe at Labour, saying he has repaid debt issued by figures such as Gladstone and Goschen. "The debt created by Gordon Brown will take longer to pay off," he adds.
12.45pm: Osborne claims more people in UK have jobs than ever before and living standards will be higher than five years ago. "We set out a plan. That plan is working and Britain is walking tall again," he says. He hints that the Budget will do more to "back business" and "make work pay". He outlines the strategies the government has chosen – "we choose aspiration... we choose family" – in a passage reminiscent of his "Choose life" speech at last year's Conservative Party Conference.
Continue reading for free
We hope you're enjoying The Week's refreshingly open-minded journalism.
Subscribed to The Week? Register your account with the same email as your subscription.
Sign up to our 10 Things You Need to Know Today newsletter
A free daily digest of the biggest news stories of the day - and the best features from our website