Fact Check: how bad is America's opioid crisis?
Drugmaker Johnson & Johnson hit with $572m fine for its part in opioid crisis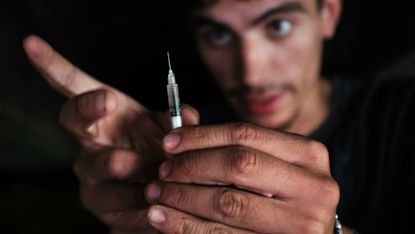 (Image credit: Spencer Platt/Getty Images)
Sign up to our 10 Things You Need to Know Today newsletter
A free daily digest of the biggest news stories of the day - and the best features from our website
Thank you for signing up to TheWeek. You will receive a verification email shortly.
There was a problem. Please refresh the page and try again.
Drug manufacturer Johnson & Johnson has been hit with a $572m (£468m) fine for helping fuel Oklahoma's opioid crisis.
The landmark case is the first of thousands of lawsuits against the makers and distributors of opioid drugs to go to trial, says the BBC.
State lawyers argued that Johnson & Johnson's years-long marketing campaign minimised the risk of opioid painkillers while promoting their benefits, leading to over-prescription by doctors and a surge in overdose deaths.
Subscribe to The Week
Escape your echo chamber. Get the facts behind the news, plus analysis from multiple perspectives.
SUBSCRIBE & SAVE
Sign up for The Week's Free Newsletters
From our morning news briefing to a weekly Good News Newsletter, get the best of The Week delivered directly to your inbox.
From our morning news briefing to a weekly Good News Newsletter, get the best of The Week delivered directly to your inbox.
The prosecution said that the opioid crisis has claimed 6,000 lives in the state since 2000.
During the trial it was revealed that Johnson & Johnson hired the consultants McKinsey to help push sales. Among a list of "opportunities" to increase sales was a proposal to "target high abuse-risk patients", says The Guardian.
A judge ruled that Johnson & Johnson had contributed to a "public nuisance" through its marketing campaign and promotion of highly addictive prescription drugs.
"Those actions compromised the health and safety of thousands of Oklahomans. The opioid crisis is an imminent danger and menace to Oklahomans," said Judge Thad Balkman, of Cleveland County District Court.
The payment from the lawsuit would go towards care and treatment for those addicted to opioids, he said.
Between 1999 and 2017, opioids were behind almost 400,000 US deaths, according to the US Centers for Disease Control and Prevention.
Johnson & Johnson's share price went up following the ruling, because investors had been expecting a bigger fine, says the BBC.
Jared Holz, healthcare strategist at financial services firm Jefferies, said: "The expectation was this was going to be a $1.5bn to $2bn fine, and $572m is a much lower number than had been feared."
Nonetheless, the company said it would appeal against the ruling.
The deadly opioid epidemic in the US was officially declared a national emergency in October 2017, a designation that gave states and federal agencies more resources to combat the crisis.
Donald Trump is depicting the escalating public health crisis as a law and order issue, arguing that tougher border controls coupled with harsher jail sentences will solve the problem. Is he right?
How bad is the situation?
Every day, more than 130 Americans die from an opioid overdose, according to the National Institute on Drug Abuse.
The total number of lethal opioid overdoses rose from 3,442 in 1999 to 17,029 in 2017."Nobody is safe from this epidemic," President Trump said in August 2017. "It is a problem the likes of which we have not seen."
When discussing America's social ills, Trump has a tendency to exaggerate, says The Economist. "But on the subject of drugs, his characteristically dark and apocalyptic tone may well have been warranted."
The opioid epidemic has been called the worst drug crisis in American history, with overdoses now killing more people than gun homicides and car accidents combined. Heroin and prescription painkillers like oxycodone are fuelling the crisis, as is fentanyl, an extremely potent synthetic opiate.
Looking ahead, the crisis is only expected to worsen. A recent forecast by health experts at STAT concluded that as many as 650,000 people could die over the next ten years from opioid abuse.
Where do the drugs come from and who's to blame?
The crisis can be traced back to the 1990s when doctors began prescribing potent painkillers in large amounts after pharmaceutical firms claimed they carried minimal risk of addiction.
In 1991, 76 million prescriptions were written. Two decades later, the number had almost tripled to 219 million, according to a report by the NIDA (National Institute on Drug Abuse). Enough opioids were prescribed in 2015 for every American to be medicated around the clock for three weeks.
"We have an enormous problem that is often not beginning on street corners; it is starting in doctor's offices and hospitals," said an interim report from the government's opioid commission.
Ohio, where the crisis has been so severe that some coroners were running out of space to store bodies, according to CNN, is among several states taking legal action against drug companies for allegedly abetting the epidemic.
As tougher rules on prescription painkillers begin to take effect, drug users have started turning to heroin and fentanyl, which are often easier to obtain. "Not all painkiller users went this way, and not all opioid users started with painkillers," Vox reports. "But statistics suggest many did."
The overwhelming majority of America's illegal narcotics are smuggled across the US-Mexico border. William Brownfield, head of counter-narcotics at the State Department estimated in 2017 that as much as 94% of the heroin entering the US comes from Mexico, along with most of the fentanyl.
What's the government doing about it?
"We're going to spend a lot of time, a lot of effort, and a lot of money on the opioid crisis," Trump in 2017.
But the President refused to specify where the emergency funding would go and has yet to propose specific legislation to combat the epidemic.
So far, his administration's focus appears to be purely on law enforcement. In 2017, the then Attorney General Jeff Sessions ordered federal prosecutors to seek the maximum punishment for drug offences, reversing an Obama-era policy aimed at easing penalties for non-violent offenders.
The move proved unpopular with health experts and even some members of the Republican Party who spoke out against it. "We should treat our nation's drug epidemic as a health crisis and less as a 'lock 'em up' and throw away the key problem," said Senator Rand Paul, who is also a doctor.
The President has also said his proposal to build a wall on the US-Mexico border would stem the tide of illegal drugs entering the country, but security analysts disagree. "A wall alone cannot stop the flow of drugs into the US," said Christopher Wilson, deputy director of the Mexico Institute at the Wilson Center. He argues that drug traffickers will simply shift their supply routes around the barrier. The move would also do nothing to tackle the problem with legally obtained prescription pills.
Instead, health experts are calling on the government to channel more resources into prevention, treatment and rehabilitation programmes. "If you want to understand how we got here, there's one simple explanation: It's much easier in America to get high than it is to get help," says Vox.
According to the most recent National Survey on Drug Use and Health, only 10% of the 21 million drug users received treatment for their addiction. The government's own opioid commission recently presented a list of recommendations, much of it focused on improving access to treatment.
So who's right?
President Trump hasn't been exaggerating the scale of the opioid epidemic and was right to declare it a national emergency. But tougher border controls and penalties alone seem unlikely to solve a complex crisis that has been decades in the making.
And a report from the Government Accountability Office (GAO) found little came out from Trump's declaration, according to Vox. It describes Trump's response as a "good idea that's not enough".
Democratic presidential candidate Elizabeth Warren said: "I've asked this administration time and time again to show what actions they are taking to meaningfully address this crisis. No response.
"To me, it looks like empty words and broken promises. Hand-waving about faster paperwork and speeding up a few grants is not enough — the Trump Administration needs to do far more to stop the opioid epidemic."
Continue reading for free
We hope you're enjoying The Week's refreshingly open-minded journalism.
Subscribed to The Week? Register your account with the same email as your subscription.
Sign up to our 10 Things You Need to Know Today newsletter
A free daily digest of the biggest news stories of the day - and the best features from our website