'Worst day in Israeli history': why didn't anyone see it coming?
Serious intelligence failings compared to 9/11, Pearl Harbor and 1973 Yom Kippur War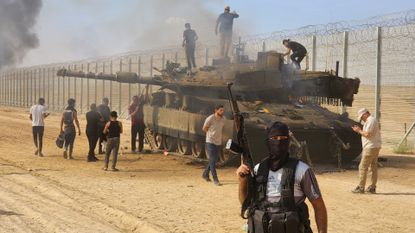 (Image credit: Hani Alshaer/Anadolu Agency via Getty Images)
Israel's famed intelligence agencies and defence forces face serious questions over how they failed to spot an unprecedented assault by Hamas from the Gaza Strip that has shaken the region to its core.
While the number of casualties on both sides is hard to quantify, Israeli media has put the death toll of its civilians and soldiers at around 700, making it "by far the worst day in Israeli history", said Lieutenant Colonel Jonathan Conricus, spokesperson for the Israel Defense Forces (IDF).
Hamas's surprise attack on Saturday "truly was Israel's 9/11", said David Ignatius in The Washington Post, "not simply in the anguished demand for revenge that has followed the attack but also in the strange blindness that preceded it".
Subscribe to The Week
Escape your echo chamber. Get the facts behind the news, plus analysis from multiple perspectives.
SUBSCRIBE & SAVE
Sign up for The Week's Free Newsletters
From our morning news briefing to a weekly Good News Newsletter, get the best of The Week delivered directly to your inbox.
From our morning news briefing to a weekly Good News Newsletter, get the best of The Week delivered directly to your inbox.
What did the papers say?
"Though Israel is no stranger to terrorist attacks, Saturday's assault was unprecedented," said Joshua Berlinger for CNN, "not least because of the lack of warning." Despite decades in which the country became a "technology powerhouse that boasts one of the world's most impressive armed forces and a premier intelligence agency", Israel's military found itself caught completely "off-guard", he wrote.
Failure to foresee the coordinated attack by air, sea and land has drawn several historical parallels, from 9/11 to the Tet Offensive that turned the tide of the Vietnam War to Pearl Harbor.
Perhaps the most stinging is the comparison to the intelligence fiasco that preceded the Yom Kippur War in 1973, when Egypt and Syria launched a joint offensive that caught Israel's intelligence services by surprise. Hamas chose to launch its breakout from Gaza – one of the most monitored and controlled areas on Earth – on the 50th anniversary of the start of the war.
"Israel has arguably the most extensive and well-funded intelligence services in the Middle East," said BBC security correspondent Frank Gardner. Considering it boasts "the combined efforts of Shin Bet, Israeli domestic intelligence, Mossad, its external spy agency and all the assets of the Israel Defense Forces, it is frankly astounding that nobody saw this coming", he said. "Or if they did, they failed to act on it."
A series of "urgent" questions now face Israeli intelligence chiefs, said The New York Times. These include how the country's Iron Dome missile defence system was overwhelmed by a barrage of inexpensive homemade missiles; how Hamas managed to amass such a large stockpile of rockets over several months without detection; whether Israel was too focused on threats from Hezbollah in Lebanon and the West Bank; and why so many Israeli forces were on leave or away from the southern border, allowing Hamas to overrun Israeli military bases near Gaza.
Clearly, said the paper, the answers to these questions "could affect the reputation of Israel's military and intelligence agencies, and the political future of Prime Minister Benjamin Netanyahu".
Other factors may also have been at play, said Ignatius in the Washington Post. Israel may have fatally underestimated the "creativity and competence of their adversaries" as well as "Hamas's and its allies' ability to keep secrets". Rivalries between Israel's various intelligence arms could have prevented them from seeing what, "in retrospect, was staring them in the face".
Finally, the "domestic political nightmare" of the past few months, which has seen the security establishment actively oppose Netanyahu's constitutional reforms, may have distracted them from the threat posed by Hamas.
What next?
Whatever the cause of these intelligence failings, the images of thousands of rockets being fired into Israel as Hamas assault teams swarmed kibbutzim and fired on passing cars, will "leave a traumatic legacy likely to shape Israeli politics for decades to come", said Politico. As in 1973, "there's likely to be a political and intelligence reckoning once the guns fall silent".
The Yom Kippur War "shook Israeli's faith in their leaders, sparking a protest movement accusing [the then prime minister Golda] Meir's Labor government of mismanagement" that "ultimately led to her departure from politics when her coalition lost seats and was unable to form a majority".
For now, Israel's opposition parties have rowed in behind the government and IDF, urging unity in a joint statement which added that "in days like these there is no opposition and no coalition in Israel". We "are united in the face of terrorism" and the need to strike with "a strong and determined fist", the statement said, calling for retribution against Hamas and all terrorist organisations that cooperate with it.
There is "still much to learn about what precisely Israeli intelligence knew, and what warning signs were missed", said The New York Times. The "same question can be asked about Egypt and other Arab governments that have no love for Hamas, and often quietly share intelligence with Israel".
Whether blame ultimately rests with the intelligence services, the IDF or Netanyahu's government will likely depend on how the next few weeks and months play out and, crucially, if any details emerge about failures to act on intelligence that an attack was imminent.

Continue reading for free
We hope you're enjoying The Week's refreshingly open-minded journalism.
Subscribed to The Week? Register your account with the same email as your subscription.