2022's extreme weather
Another record-breaking year on planet Earth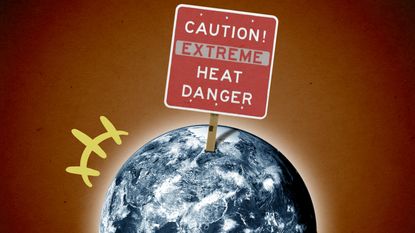 (Image credit: Illustrated | Getty Images)
Sign up to our 10 Things You Need to Know Today newsletter
A free daily digest of the biggest news stories of the day - and the best features from our website
Thank you for signing up to TheWeek. You will receive a verification email shortly.
There was a problem. Please refresh the page and try again.
This has been a year of wild — and sometimes unpredictable — weather, with extreme events hitting all corners of the world.
A ferocious winter storm slammed much of the United States over Christmas weekend, with parts of Western New York under blizzard conditions for several days. The "bomb cyclone" storm stretched from the Great Lakes to the Rio Grande, bringing with it snow, high winds, and frigid temperatures. On Dec. 23, nearly 1 million people in the South, Midwest, and East Coast were without power, and about two-thirds of the U.S. population was under a winter weather warning or advisory.
At least 64 people died in 12 states because of the storm, including 28 in Buffalo, New York, which saw 49.2 inches of snow in three days. Officials said some people died while shoveling snow, while others died of medical emergencies when the dangerous weather conditions prevented first responders from getting to them in time. Some people were found dead inside their stranded vehicles, and Buffalo's police commissioner, Joseph Gramaglia, said he expects that more bodies will be discovered once the snow is plowed and starts to melt.
Subscribe to The Week
Escape your echo chamber. Get the facts behind the news, plus analysis from multiple perspectives.
SUBSCRIBE & SAVE
Sign up for The Week's Free Newsletters
From our morning news briefing to a weekly Good News Newsletter, get the best of The Week delivered directly to your inbox.
From our morning news briefing to a weekly Good News Newsletter, get the best of The Week delivered directly to your inbox.
Buffalo is used to heavy snow in the winter, but this was a whopper, with Erie County Executive Mark Poloncarz saying the blizzard is "the worst storm probably in our lifetime." Because of the treacherous conditions, people were asked to not drive on the roads, for their safety and to make it easier for emergency crews to get where they needed to go. There are concerns that once all of the snow in Buffalo starts to melt, it will cause flooding.
The storm caused flight delays and cancelations during the busy holiday travel season, with Southwest Airlines canceling more than 70 percent of its flights on Dec. 26 and more than 60 percent on Dec. 27. This was a much higher rate than other airlines, and the Department of Transportation said because of "Southwest's unacceptable rate of cancellations," it will investigate "if Southwest is complying with its customer service plan."
Earlier in December, another powerful winter storm hit the United States Plains and Upper Midwest, affecting more than a dozen states. Bitterly cold temperatures, heavy snow, strong winds, and freezing rain was reported in northern Utah, Colorado, Nebraska, South Dakota, and Wyoming, and the storm system spawned tornadoes in Oklahoma and Texas, with one touching down near Dallas-Fort Worth International Airport. The tornadoes damaged dozens of homes and businesses, and several people were reported injured. Local authorities in Colorado, Nebraska, and Wyoming warned that the harsh conditions could lead to zero visibility, and the South Dakota Department of Transportation closed a 200-miles stretch of Interstate 90 over safety concerns.
At the same time, severe thunderstorms hammered Australia, with hail and destructive winds causing damage in Queensland along the Gold Coast. It is just the beginning of a season of thunderstorms, 9 News weather presenter Garry Youngberry said. Temperatures are above average, it's humid, and there is an "unstable atmosphere," he added. "Put all these ingredients together [and] it not only spells thunderstorms but severe thunderstorms, and it will be a very active thunderstorm season I'm forecasting along southeast Queensland."
September saw two hurricanes cause extensive damage in the United States and the Caribbean. First, Hurricane Fiona slammed into Puerto Rico on Sept. 18 as a Category 1 storm, bringing with it winds so strong that they disrupted power lines, causing a blackout across the island. Some areas in Puerto Rico recorded over 30 inches of rain, which led to widespread flooding. In more remote parts, the rain and mudslides cut off access, making it difficult for residents to leave and first responders to come and offer assistance. Officials said at least 13 people were killed on the island because of the storm.
Just 10 days after Fiona hit Puerto Rico, Hurricane Ian slammed into Florida, making landfall Sept. 28 on the southwestern coast. A Category 4 storm, Ian's winds were at 150 mph, and it is now tied for fifth-strongest hurricane ever to make landfall in the United States. The destruction was widespread in several cities, including Fort Myers Beach, where homes and businesses were reduced to piles of debris due to the winds, flooding, and storm surge. In some mobile home parks, dozens of homes were damaged or totally destroyed, and access to Sanibel Island was cut off when part of the Sanibel Causeway fell into the sea below.
In the aftermath of Ian, which made landfall a second time in South Carolina, first responders were able to rescue more than 1,100 people stranded in parts of southwest and central Florida. Ian's death toll in Florida stands at 119, most due to drowning. It is expected to take years to rebuild, with the damage in coastal cities like Fort Myers and Naples shocking officials. "We're flying and we're operating in areas that are unrecognizable," U.S. Coast Guard Rear Adm. Brendan McPherson told CNN at the time. "There's no street signs. They don't look like they used to look. Building[s] that once were benchmarks in the community are no longer there." Early estimates project that insured losses in Florida, excluding National Flood Insurance Program claims, will range from $30 billion to $50 billion — a number that will likely increase.
Just a month later, a rare November hurricane hit Florida, bringing with it heavy rain. Although Hurricane Nicole made landfall Nov. 10 near Vero Beach as a Category 1 storm, it was quickly downgraded to a tropical storm. In Volusia County, where there was already severe beach erosion caused by Ian, the storm surge caused several houses and buildings to collapse into the Atlantic Ocean. Dozens of additional structures were damaged by the storm, and building inspectors tagged them as structurally unsound. In Volusia County alone, damages from Nicole are estimated at more than $481 million.
Before the hurricanes, there were heatwaves, including a brutal one over the summer that left more than 2,000 people dead in Spain and Portugal. In the first six months of the year, there were nine weather and climate disaster events in the United States with losses exceeding $1 billion, including a tornado outbreak in Alabama, Florida, and Mississippi on March 30 and the ongoing drought in the Western United States and Southern Plains.
Many of these extreme weather events, like intense heat waves and long droughts, are linked to human-caused climate change. In July, parts of the United Kingdom saw temperatures soar for the first time ever to 104 degrees Fahrenheit, and it's "extremely unlikely" that this would have happened without climate change, the World Weather Attribution initiative said. (In late December, the Met Office confirmed that based on preliminary figures, 2022 was the warmest year on record for the U.K.). The same goes for the torrential downpours that are becoming increasingly common — the hotter it is, the more moisture and water vapor enters the atmosphere, leading to more droplets and heavier rains. When there is a lot of rain coming down in a short period of time, it can lead to substantial flooding.
Pakistan faced three months of heavy rains, which came after a prolonged period of heat in the spring. Flooding killed more than 1,400 people across the country during the summer and damaged or leveled more than 1 million homes, including many that were swept away by the water. At least 162 bridges were also damaged, Pakistan's National Disaster Management Authority said, with more than 2,000 miles of road washed away. It's not just buildings and infrastructure that were destroyed — it's believed about 800,000 cattle died in the flooding, and much of the country's farmland was underwater, wiping out onion, rice, and corn crops. As soon as the water began to recede, farmers told The New York Times they rushed to their fields to see if there were any crops that managed to survive; oftentimes, nothing could be salvaged.
Sindh province, where half of Pakistan's food is produced, received 466 percent more rain than it usually does in the summer, and flooding destroyed 90 percent of crops. Farmer Ali Baksh told The Guardian that for months, there was no rain and "a severe shortage of water for crops. We prayed for rain. But when it rained, we became homeless and our crops were destroyed. We have nothing left ... just oceans on roads, on farms, and submerging our homes."
Government officials estimate that the flooding has caused more than $30 billion in damages, with Planning Minister Ahsan Iqbal telling CNN in August "the world needs to come to Pakistan's assistance to deal with the effects of climate change."
It isn't out of the ordinary for heat waves to hit before monsoon season begins, but the higher temperatures came earlier than usual and conditions were much dryer, with 62 percent less than normal rainfall reported in Pakistan in March. Scientists with the World Weather Attribution initiative analyzed data and concluded human-caused climate change made this year's early heat in Pakistan and India 30 times more likely.
Flooding in eastern Kentucky in late July started after hours of heavy rain, when the ground became so saturated it was unable to absorb any extra water; in some areas, up to 10 inches of rain fell in just 24 hours. The fast-moving water not only damaged and destroyed houses, roads, and bridges, but also swept away dozens of people, including a 30-year-old man in Perry County who stopped to help an injured driver; at least 38 people were killed in the flooding.
In the wake of the devastation, several cities, including Wayland in Floyd County, are trying to come up with ways to prevent future flooding disasters. Mayor Jerry Fultz told WCHS he is asking the Army Corps of Engineers to do a mitigation study, and also thinks the city can lower the chances of heavy flooding by dredging and cleaning streams. There have been seven major floods in the past decade in Wayland, Fultz said, including three in 2021, and water from this July's flooding entered more buildings than in previous events. "I want to know what we can do to prevent flooding and if we can't prevent it how do we lessen the chances of flooding," Fultz said.
In early June, there was severe flooding at Yellowstone National Park and surrounding communities in Montana and Wyoming. The flooding destroyed bridges, ripped up roads, swept away houses, and pushed a fishing river off course. Several rivers reached levels never seen before by park rangers, and more than 10,000 visitors had to evacuate. While 400 homes were either damaged or leveled, there were no deaths reported. In the wake of the flooding, Bill Berg, a commissioner in Park County, Montana, told CBS News the "landscaping literally and figuratively has changed dramatically in the last 36 hours. A little bit ironic that this spectacular landscape was created by violent geologic and hydrologic events, and it's just not very handy when it happens while we're all here settled on it."
The initial forecast for June 12 showed showers and warmer temperatures, which could lead to faster mountain snow melt and "minor flooding." That night, after several inches of rain fell on the spring snowpack, "torrents of water" started to pour off the mountains, The Associated Press writes, and "swollen rivers carrying boulders and trees smashed through Montana towns over the next several days." In this case, meteorologists found that the hydrologic models used to predict flooding, which are based on long-term historical records, are not reflecting how the climate has changed in the last decade. "These models are going to be inadequate to deal with a new climate," Weather Underground founder Jeff Masters told AP.
Meanwhile, the Western United States is experiencing a megadrought that is now in its 22nd year. In February, researchers published a study that found the region is the driest it has been in at least 1,200 years and estimated 42 percent of the megadrought can be directly linked to human-caused climate change. These states need to have a heavy snowpack in the winter so it can melt in the spring and fill reservoirs like Lake Mead and Lake Powell. In much of the West, there haven't been enough storms in the winter to produce the snowpack needed, and with higher temperatures and dryer conditions, the ground is soaking up the melting snowpack before it can get to the reservoirs.
Lake Mead and Lake Powell have both dropped to record lows, and in June, the seven states that use water from the Colorado River — Arizona, California, Colorado, Nevada, New Mexico, Utah, and Wyoming — were asked by the U.S. Bureau of Reclamation to start talks on ways to reduce water use by 2 million to 4 million acre-feet. Just two months later, without any permanent solutions put forward, the bureau announced emergency water restrictions for Arizona and Nevada, reducing their annual water apportionment for 2023 by 21 percent and 8 percent, respectively.
The Western United States isn't the only part of the world where dryness abounds. A catastrophic drought in Somalia that began in January 2021 has so far displaced 1 million people. After four failed rainy seasons, crops aren't growing and it's estimated that millions of livestock have died. This leaves many people with two problems — they do not have food to eat or crops to sell — and no solution. "Now we have a weather pattern that is increasingly erratic, with less rain in the last decade, and flooding when there is rain," Mohamed Abdi, Somalia country director for the Norwegian Refugee Council, told Time. "And climate change means the situation is only going to get worse." On top of all this, the armed Islamic fundamentalist group Al-Shabab is in control of large areas of south-central Somalia, and they have been taxing local farmers, despite the fact that they have no crops.
Officials say nearly half of Somalia's population is facing extreme hunger, with the famine made worse by the lack of wheat imports coming from Ukraine and Russia due to the war, and if international aid is not increased, even more people will suffer. Already, kids are being hit hard by the lack of food and water, with more than 1.5 million children under 5 malnourished and thousands dead from the condition. Hospital workers said they are experiencing nightmares from the sheer number of deaths they are witnessing, and Dr. Abdullahi Yusef told CBS News that in 2022, it's "not fair" that there are children in Somalia who do not have access to food or basic medical care.
It was a scorcher of a summer across parts of Asia and Europe, with China experiencing an unprecedented heat wave and the United Kingdom seeing record-breaking temperatures. Southern China's extended heat wave stretched from June 13 to August 31, finally breaking thanks to rain storms. In mid-August, Chinese state media reported that more than 260 weather stations in the country had recorded their highest-ever temperatures during this heat wave, which affected more than 100 million people across 530,000 square miles. Simultaneously, there was a drought in China that destroyed crops, like sweet potato, and shrunk the Yangtze River — China's longest — to half its normal width, PBS reports. The Poyang Lake, a flood outlet for the Yangtze, is the country's largest lake, and from June to September its water levels dropped dramatically, from 19.43 meters to 7.1 meters. For the first time, Jiangxi province declared a "red alert" for the lake in September.
On July 19, amid a sweltering heat wave that stretched across much of Western Europe, the United Kingdom recorded its highest-ever temperature: 104.5 degrees Fahrenheit in Coningsby, England. There was a zone of low pressure stalled off the coast of Portugal, which drew hot air from North Africa and moved it into Europe. During this heat wave, there were thousands of heat-related deaths in Spain and Portugal, where temperatures soared to 114 degrees Fahrenheit in some areas. The heat can be especially devastating in Europe because many homes don't have air conditioning; this is especially true in Britain, where historically there haven't been extremely hot temperatures and most buildings are made to retain heat during the cold winters.
After months of little rain and high temperatures, several of Europe's rivers showed signs of peril, with the Rhine, Danube, and Po all "falling to critical levels" that made it unsafe for boats to sail, NBC News reports. The Rhine is a critical route for cargo ships and energy supplies, as well as cruise ships, and closure of the river would have a disruptive effect on global shipping and the tourism industry. In Serbia, the low water levels revealed a historic discovery: dozens of sunken German warships from World War II, which still hold ammunition and explosives.
Continue reading for free
We hope you're enjoying The Week's refreshingly open-minded journalism.
Subscribed to The Week? Register your account with the same email as your subscription.
Sign up to our 10 Things You Need to Know Today newsletter
A free daily digest of the biggest news stories of the day - and the best features from our website
Catherine Garcia is night editor for TheWeek.com. Her writing and reporting has appeared in Entertainment Weekly and EW.com, The New York Times, The Book of Jezebel, and other publications. A Southern California native, Catherine is a graduate of the University of Redlands and the Columbia University Graduate School of Journalism.