The biggest battles of the Russo-Ukrainian War
Kyiv, Mariupol, Kherson, and other Ukrainian cities have become battlegrounds for the nation's survival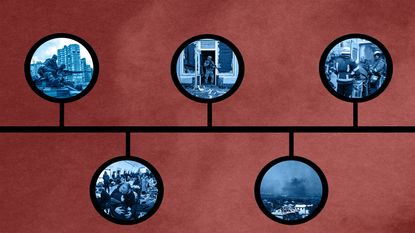 (Image credit: Illustrated | Gettyimages)
Sign up to our 10 Things You Need to Know Today newsletter
A free daily digest of the biggest news stories of the day - and the best features from our website
Thank you for signing up to TheWeek. You will receive a verification email shortly.
There was a problem. Please refresh the page and try again.
The Biden administration said Tuesday that Russia is planning to annex large swaths of Ukrainian territory. Here's everything you need to know:
Is Russia planning to annex Ukrainian territory?
It seems like it. In April, Russian Maj. Gen. Rustam Minnekayev said that Russia plans to take "full control of Donbas and southern Ukraine." The plan, Minnekayev said, was to create "a land corridor to Crimea" — connecting the separatist-controlled areas in eastern Ukraine with the peninsula Russia annexed in 2014 — and "give the Russian army access to Transnistria."
Transnistria is nominally part of Moldova but has been under Russian occupation since the collapse of the Soviet Union. In 2014, a group of Transnistrian politicians and activists asked Russia to annex the region. Russia has already seized a corridor connecting the Donbas to Crimea, but establishing a similar link between Crimea and Transnistria would be an ambitious goal. To connect the two regions, Russian forces would have to capture the port city of Odesa, Ukraine's third-largest city.
Subscribe to The Week
Escape your echo chamber. Get the facts behind the news, plus analysis from multiple perspectives.
SUBSCRIBE & SAVE
Sign up for The Week's Free Newsletters
From our morning news briefing to a weekly Good News Newsletter, get the best of The Week delivered directly to your inbox.
From our morning news briefing to a weekly Good News Newsletter, get the best of The Week delivered directly to your inbox.
Russia appears to be concentrating its energies on the Donbas at the moment, pressing for gains around the eastern city of Slovyansk while defending its southern conquests around Kherson from Ukrainian counterattacks. But if invading forces successfully take the rest of Donetsk Oblast, a southern offensive could be next.
What steps has Russia taken?
National Security Council spokesman John Kirby told reporters on Tuesday that the U.S. has "ample evidence" that Russia plans to annex territory in eastern and southern Ukraine. This annexation, he said, will likely come via rigged referendums in occupied areas, which "will take place later this year, possibly in conjunction with Russia's regional elections" on Sept. 11.
According to The Washington Post, Kirby's evidence that Russia is moving toward annexation included "examples of Moscow installing Russian banks and establishing the ruble as the official currency, forcing residents to apply for Russian citizenship and passports, installing loyalists as regional government officials, and controlling broadcasting towers, the internet, and other telecommunications infrastructure." There have also been reports of occupying forces attempting to impose Russian curricula on Ukrainian schools.
As early as April, Russian forces occupying Kherson — the first major Ukrainian city captured by invading forces — were attempting to transition the local economy from the Ukrainian hryvnia to the Russian ruble. In March, Russian forces abducted the elected mayor of Melitopol, Ivan Federov, and replaced him with a collaborator named Galina Danilchenko. Federov was later freed in a prisoner exchange.
How did Russia annex Crimea?
Kirby said Tuesday that Russia appears to be working from the same "annexation playbook" it used in Crimea in 2014. "First, these proxy officials will arrange sham referenda on joining Russia. Then, Russia will use those sham referenda as a basis to try to claim annexation of sovereign Ukrainian territory," Kirby explained.
On Feb. 27, 2014, less than a week after pro-European protesters forced Ukrainian President Viktor Yanukovych from office, Russian troops entered Crimea to support the pro-Russian protests on the peninsula. They encountered little resistance and were able to quickly capture key objectives and install a pro-Russian government. By March 16, Crimeans were heading to the polls for a referendum that had been announced just 10 days earlier. Official results showed over 95 percent support for joining with Russia, a result most observers dismissed as fraudulent. On March 21, Crimea became part of the Russian federation.
Russian Foreign Minister Sergei Lavrov then cemented Russia's control by pledging that his country would respond to "aggression against Russian territory" — which now included Crimea — according to its "doctrine of national security." Russian military doctrine allows for a nuclear response to any conventional attack that threatens "the existence of the state."
Could Ukraine retake Russian-occupied territory?
Some, maybe. Experts believe there's almost no chance of this war ending with Ukraine in full control of all its claimed territory, including Crimea. President Biden has refused to rule out the possibility that Ukraine might need to buy peace with land, and John Ganz wrote on Substack last month that "no public intellectual of stature still demands a decisive Russian defeat."
Reclaiming all its pre-2014 possessions might not even be the best outcome for Ukraine. The New York Times editorial board wrote that Putin has "invested too much personal prestige in the invasion to back down." Western analysts and Russian sources alike have warned that a threat to Russian-claimed territory — which includes Crimea and could, in the near future, include parts of southern Ukraine and the Donbas — risks triggering a nuclear response.
But Ukraine could still hit back. Washington Post columnist Max Boot argued earlier this month that Western nations should send 60 HIMARS (High Mobility Artillery Rocket Systems) to Ukraine, a move he claimed would enable "a Ukrainian counteroffensive to take back lost land." Ukrainian forces are already making use of the nine HIMARS they've received so far, striking Russian artillery batteries and supply depots from up to 180 miles away.
Russia also might struggle to hold onto captured Ukrainian lands. Partisan forces in occupied territories are employing a variety of tactics — from posting flyers to planting bombs — to "demoralize the occupiers" and "make sure the enemy never feels safe," The New York Times reported. One estimate from last month suggested that almost 200 Russian soldiers had been stabbed or shot to death by resistance fighters. Several Ukrainian collaborators have also been assassinated.
Continue reading for free
We hope you're enjoying The Week's refreshingly open-minded journalism.
Subscribed to The Week? Register your account with the same email as your subscription.
Sign up to our 10 Things You Need to Know Today newsletter
A free daily digest of the biggest news stories of the day - and the best features from our website
Grayson Quay was the weekend editor at TheWeek.com. His writing has also been published in National Review, the Pittsburgh Post-Gazette, Modern Age, The American Conservative, The Spectator World, and other outlets. Grayson earned his M.A. from Georgetown University in 2019.