What 8 former Fox News stars are doing now
What will Tucker Carlson do next? Other Fox News exiles have reinvented themselves with varying degrees of success.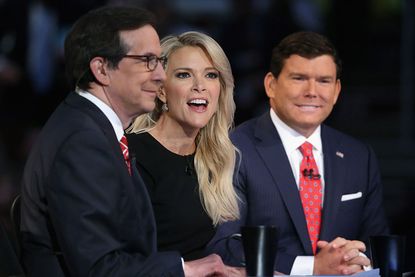 (Image credit: Chip Somodevilla/Getty Images)
What's next for Tucker Carlson after being sacked by Fox News, where he was one of the most-watched and most influential personalities on cable news? He hasn't said — and he doesn't need the money — but there may be clues in what other stars at Fox News did after they left or, in many cases, were forced out. And there are a lot of people in the former-Fox community. Here's what some of the most prominent are doing now.
Bill O'Reilly
O'Reilly — host of the 8 p.m. O'Reilly Factor — was the face of Fox News and its biggest star for the last stretch of his two-decade run, until he was fired in 2017 amid revelations the network had settled $13 million worth of sexual harassment claims against him. O'Reilly denied the sexual harassment allegations, but advertisers started fleeing his show and he was ousted while on "vacation." Fox News immediately named Carlson as O'Reilly's replacement.
"O'Reilly, once the most-watched man in cable news, has never fully recovered since being forced out of Fox," Paul Farhi writes at The Washington Post. "He took the reinvention route, with diminished returns; he now has a website and hosts a podcast." On the other hand, The Wall Street Journal reports, O'Reilly reportedly "makes nearly $30 million a year."
Subscribe to The Week
Escape your echo chamber. Get the facts behind the news, plus analysis from multiple perspectives.
SUBSCRIBE & SAVE
Sign up for The Week's Free Newsletters
From our morning news briefing to a weekly Good News Newsletter, get the best of The Week delivered directly to your inbox.
From our morning news briefing to a weekly Good News Newsletter, get the best of The Week delivered directly to your inbox.
"Tucker will have options, whether they're entrepreneurial as he was before he came to Fox, or more traditional outlets," former CNN president Jonathan Klein tells the Journal. But he "probably won't reach the same size audience and he won't have the same influence that he had."
Megyn Kelly
Kelly ended her 13 years at Fox News in Jan. 2017 as the well-regarded host of her own popular 9 p.m. show. Instead of renewing her contract, she moved to NBC, where she hosted a short-lived Sunday night program and a weekday morning talk show. Megyn Kelly Today notched disappointing ratings and a handful of controversies, including a comment Kelly made about blackface on an Oct. 2018 show, and she left NBC in Jan. 2019 with a reported $69 million payout.
Kelly now has her own podcast and a show on SirusXM radio. Kelly, like O'Reilly, was aided in her shift to digital media by a firm called Red Seat Ventures. "Most of our clients are earning far more than they did in their previous jobs, but also have the freedom to build their own businesses," Red Seat Ventures pasture Chris Balfe told the Journal, which reports that "Kelly makes well into the eight figures" now.
Firing Carlson "is a terrible move by Fox, and it's a great thing for Tucker Carlson," Kelly said on her SiriusXM show. "I predict Tucker goes independent. Tucker launches a podcast or digital show and crushes it. Absolutely crushes it."
Glenn Beck
Beck started his meteoric run at Fox News the day after former President Barack Obama was inaugurated in 2009. He turned the sleepy 5 p.m. hour into a ratings juggernaut, peppered with controversy and intricate conspiracy theories. Beck "sparked an advertising boycott after saying Obama had a 'deep-seated hatred for white people,'" The Associated Press reports, and "there were signs that Beck was fading" when Fox pulled the plug in April 2011, replacing him with the panel show The Five.
"Carlson may want to take notes from Glenn Beck," the Post's Farhi writes. "Since leaving Fox in 2011, Beck has reinvented himself as an internet entrepreneur and hosts a widely syndicated radio program." In fact, Beck has the sixth-most popular radio talk show in the U.S., Talkers magazine publisher Michael Harrison tells AP, but he doesn't have the influence he had at Fox News.
"Beck was hailed as an elder statesman when Carlson brought him on as a guest" back in March, AP reports. "He predicted the U.S. would be at war with Russia, China, and Iraq by 2025."
Gretchen Carlson
Carlson worked her way up from Fox & Friends co-host to anchor of her own program in 2013, but her contract wasn't renewed when it expired in June 2016. Two weeks later, Carlson filed a lawsuit claiming she was fired in retaliation for refusing to sleep with Roger Ailes, the founding chairman of Fox News. Her allegation led to more women — including Kelly — stepping forward, and Ailes stepped down under pressure in July 2016 with a $40 million payout. (He died in May 2017.)
Carlson settled with 21st Century Fox for $20 million and a nondisclosure agreement she asked to be released from in 2019. She co-founded a nonprofit organization called Lift Our Voices and is now an advocate for getting rid of nondisclosure agreements and forced arbitration clauses "that keep toxic workplace issues silent."
Chris Wallace
Wallace was Fox News' most prominent news anchor when he announced unexpectedly in Dec. 2021 that he was leaving to join CNN's new streaming service, CNN+. "I just no longer felt comfortable with the programming at Fox," he told The New York Times in March 2022, a month before CNN+ was scrapped. Wallace was particularly upset with Fox's decision to broadcast Carlson's revisionist whitewashing of the Jan. 6 Capitol siege.
"I'm fine with opinion: conservative opinion, liberal opinion," Wallace told the Times. "But when people start to question the truth — Who won the 2020 election? Was Jan. 6 an insurrection? — I found that unsustainable." He also said he wanted to "get out of politics" and interview a wider variety of people. After CNN pulled the plug on its streaming service, Wallace's Sunday night talk show, Who's Talking to Chris Wallace?, was moved over to CNN and HBO Max. It is now in its third season.
Shepard Smith
Smith, Fox's studiously nonpartisan daytime news anchor, announced his departure from the network in Oct. 2019, after months of ire from Trump fans and clashes with Tucker Carlson. He joined CNBC, which started broadcasting The News with Shepard Smith in 2020. The show was canceled in Nov. 2022 as part of a "strategic realignment" at CNBC away from general interest news and toward business news.
"If Shepard Smith and Megyn Kelly — much more mainstream figures — could not make the transition from [Fox News] to NBC News successfully, there is no chance that a radical like Carlson can," TV news analyst Andrew Tyndall told CBS MoneyWatch. "He has already tried and failed at CNN and MSNBC and PBS . . . and that was in the days when he was a conventional conservative, before he became an unreconstructed white supremacist propagandist"
Eric Bolling
Bolling, whose many on-air roles at Fox culminated in a short-lived afternoon talk show, was suspended in 2017 after reports that he had sent unsolicited lewd photos and texts to three co-workers. He denied the allegations and left the network "amicably" while the investigation was still underway.
Bolling went on to join Newsmax in 2021, where his 8 p.m. show, The Balance, saw its ratings jump fourfold in the week of Carlson's firing while Fox News Tonight — the replacement for Tucker Carlson Tonight — shrank by nearly half. Both shows were trounced by MSNBC's All In With Chris Hayes. "How weird is it that I was on that show giving my take on Tucker's firing and whether anything else will change at Fox," mused Gretchen Carlson.
The viewers will return, conservative commentator Erick Erickson told AP. "Fox will offer another host who speaks into the audience's concerns. There'll be a dip, just like after O'Reilly, but I expect the host will be competent enough to earn the audience's trust quickly."
Ed Henry
Henry, America's Newsroom anchor and former chief White House correspondent, was fired in July 2020 amid an investigation of claims by a Fox News producer that he raped her and asked her to be his "sex slave" in a "coerced" sexual relationship that began when she was 24. Henry denied the charges and (unsuccessfully) sued Fox News for defamation in 2021 — and, briefly, NPR and CNN in 2022. He joined the little-watched far-right Real America's Voice network and anchors a morning show.
"History would show that the talent needs Fox more than Fox needs any particular talent," Klein, the former CNN president, told the Journal. "Every one of the journalists who left re-emerged in diminished positions," and "I expect that will be the same" with Carlson, SiriusXM and CNN host Michael Smerconish told AP. "I think he will have a better shot than the others, but I don't think he will be at the level he was on Friday night."

Continue reading for free
We hope you're enjoying The Week's refreshingly open-minded journalism.
Subscribed to The Week? Register your account with the same email as your subscription.