Kim Jong Nam death: murder trial begins in Malaysia
Two women accused of assassinating Kim Jong Un's half-brother claim they were told it was a TV prank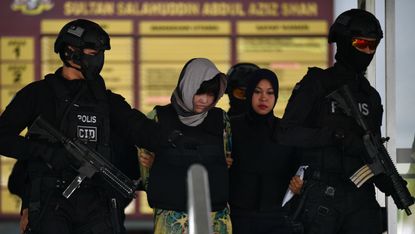 (Image credit: Getty Images)
Kim Jong-un: North Korean leader claims to have hydrogen bomb
11 December 2015
Kim Jong-un claims to have added a hydrogen bomb to his country's arsenal, in what would be a major step forward in the country's nuclear capabilities.
North Korea is "a powerful nuclear weapons state ready to detonate a self-reliant A-bomb and H-bomb to reliably defend its sovereignty and the dignity of the nation", he was quoted by state media as saying.
Subscribe to The Week
Escape your echo chamber. Get the facts behind the news, plus analysis from multiple perspectives.
SUBSCRIBE & SAVE
Sign up for The Week's Free Newsletters
From our morning news briefing to a weekly Good News Newsletter, get the best of The Week delivered directly to your inbox.
From our morning news briefing to a weekly Good News Newsletter, get the best of The Week delivered directly to your inbox.
But the United State was among several countries to dismiss the leader's claim, insisting that there was no evidence to suggest such a weapon had been developed.
White House spokesman Josh Earnest did, however, say that the US takes "very seriously" the threat that is posed by North Korea in its ambitions to develop nuclear weapons, the BBC reports.
The South Korean defence ministry said it was continuing to monitor and track "any and all" of its neighbour's nuclear activities. "So far, we have not noticed any unusual movements or activities," it said.
China – North Korea's sole ally – responded to the claims with caution, NBC reports.
"The situation on the Korean peninsula is very delicate, complex and fragile," Chinese Foreign Ministry spokeswoman Huan Chunying told reporters.
"We hope all sides concerned can make constructive efforts for maintaining peace and stability."
Kim's claim comes as a senior United Nations human rights official urged the Security Council to urgently refer North Korea to the International Criminal Court.
The North Korean leader's announcement is "inextricably linked" to the meeting, Jasper Kim, director of the Center for Conflict Management at Seoul's Ewha University told CNN.
"North Korea wants to achieve a stronger bargaining position."
Kim Jong-un 'executed vice-premier' over forestry criticism
13 August
North Korea's vice-premier Choe Yong-gon has been executed after criticising Kim Jong-un, say reports.
He was killed after he "expressed discomfort against the young leader's forestation policy", according to the South Korean news agency, Yonhap. The 63-year old was reportedly executed by firing squad earlier this year. Choe was last seen in public in December and had been in the job for just under a year.
He had represented North Korea in trade talks in Seoul in the mid-2000s and his promotion to vice-premier was seen by some as a sign Pyongyang was keen to maintain close ties with the South, the BBC reports.
If confirmed, it is the latest in series of high-level executions to take place under Kim's totalitarian rule. At least 70 high-ranking officials are thought to have been killed since Kim came to power in 2011.
In May, it was reported North Korea's defence minister had been executed by anti-aircraft weapons in front of an audience of hundreds.
The most high-profile execution was in 2013, when Kim's uncle and second-in-command Jang Song-Thaek was sentenced to death after a military tribunal found him guilty of treason. He was also condemned for "half-hearted clapping" during a ceremony for his nephew.
Kim Jong-un's latest innovation: an anti-imperialist time zone
7 August
North Korea, largely cut off from the outside world politically, is isolating itself still further by creating its own time zone. State media has announced the nation will commemorate WW2 by turning the clocks back by 30 minutes - permanently.
North Korea is currently in the same zone as Japan and South Korea, nine hours ahead of GMT. From 15 August, however, it will revert to being 8.5 hours ahead – just as the whole Korean peninsula once was.
When the Japanese colonised the peninsula in 1910, says the BBC, they moved the clocks forward 30 minutes to be in synch with their own time zone. Or, as North Korea's state news agency puts it, the "wicked Japanese imperialists … deprived Korea of even its standard time".
Now Pyongyang is to put the clocks back, literally, to reflect "the unshakeable faith and will of the service personnel and people on the 70th anniversary of Korea's liberation [from Japan]".
South Korea responded to its neighbour's unilateral decision by warning it could cause some "short-term inconvenience" at the joint industrial zone the two countries share at Kaesong in North Korea.
Unification Ministry official Jeong Joon-Hee added: "And in the longer term, there may be some fallout for efforts to unify standards and reduce differences between the two sides."
The BBC notes that North Korea is free to do as it pleases: there is no international body which allocates time zones.
In 2011, Samoa skipped over the international dateline for political reasons, facilitating communications with Australia and New Zealand. In doing so, Samoans lost a day: there was no 30 December that year.
Most countries are either hours or half hours ahead of GMT – but two have a time zone in the quarter hours. Nepal is 5 hours 45 minutes ahead of GMT – and 15 minutes ahead of its neighbour, India.
Indians joke that Nepalis are always 15 minutes late for meetings; Nepalis that Indians arrive early.
Kim Jong-un: North Korean leader loses support, but gains weight
4 June
In a country where dissent is punishable by death, there appears to be mounting opposition to the totalitarian regime in North Korea. Officials are increasingly likely to publicly air grievances about the country's leader Kim Jong-un, the Daily NK reports. "Even Party cadres sneer when they see footage broadcast idolising the leader," a source within the country said. "Many just say 'this sucks' and switch off the TV."
Many within the country claim that Kim is "worse than his father" Kim Jong-il and even children have begun making fun of the leader, it has been reported. Students who have their hair cut in a similar way to Kim are mocked for their "gangster" hairstyle, the news site reports.
Last month, North Korean defence minister Hyon Yong-chol was reportedly executed using anti-aircraft weapons in front of hundreds of people. South Korean intelligence believes he was charged with treason for disobeying orders, falling asleep at a military event and being disloyal to Kim Jong-un. It was the latest in a long line of purges carried out by the North Korean regime.
The country's military is said to have since issued a directive banning troops from mentioning Hyon's name, for fear of "inciting chaos", The Guardian reports. "Orders from the top have been handed down, calling for severe punishments to those who 'spread absurd rumours' [about Hyon]," another source claimed.
Kim's popularity among citizens has "rapidly declined" as a result of the executions, a woman from South Pyongyan province said. "People say that considering the fact that Kim had executed dozens of high-ranking officials within the few years since coming to power, 'there's no hope left'."
Meanwhile, new images released by North Korean state media show Kim "straining the seams of a pinstripe suit" as he visits a state farm, the Daily Telegraph reports. The leader appears to have gained a significant amount of weight since he assumed power and many believe it is the source of his recent ill health.
Analysts say Kim's health should be carefully monitored, as his enemies in Pyongyang could quickly take advantage of his weakness. "We know that his health is not so good," said Toshimitsu Shigemura, a professor at Tokyo's Waseda University and an authority on North Korean affairs.
"In the future, if he is taken seriously ill then there is the possibility of instability or even a coup by elements of the military," he warned.

Continue reading for free
We hope you're enjoying The Week's refreshingly open-minded journalism.
Subscribed to The Week? Register your account with the same email as your subscription.