Diane Abbott: will new anti-Semitism row stymie Starmer?
Labour leader facing 'significant dilemma' after 'trailblazer' MP suggests Jewish people do not face racism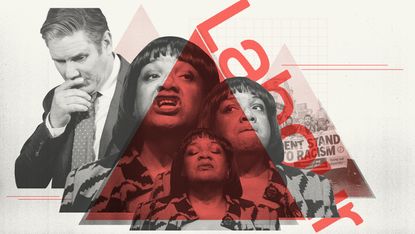 (Image credit: Illustrated/Getty Images)
The Labour leadership has moved swiftly to head off a fresh anti-Semitism row by removing the whip from Diane Abbott after she suggested that Jewish people do not face racism.
Responding to writer Tomiwa Owolade's assertion in The Observer that Jewish, Irish and Traveller people are all subjected to racism, the former shadow home secretary appeared to suggest that these groups had experienced prejudice similar to discrimination against people with red hair. "But they are not all their lives subject to racism," Abbott said in a letter to the newspaper.
Following a massive backlash, Abbott issued an apology, claiming her letter was an early draft that had been sent by mistake.
Subscribe to The Week
Escape your echo chamber. Get the facts behind the news, plus analysis from multiple perspectives.
SUBSCRIBE & SAVE
Sign up for The Week's Free Newsletters
From our morning news briefing to a weekly Good News Newsletter, get the best of The Week delivered directly to your inbox.
From our morning news briefing to a weekly Good News Newsletter, get the best of The Week delivered directly to your inbox.
But despite immediately suspending her from the party pending an investigation, Labour leader Keir Starmer now faces "a significant dilemma", said political correspondent Richard Vaughan on the i news site.
What did the papers say?
Abbott has been dubbed a "political trailblazer" after making history in 1987 by becoming Britain's first black woman MP. But "after decades of speaking out about racism", wrote Sky News political correspondent Joe Pike, "an intervention on that very topic has attracted universal condemnation" and "may mark the beginning of the end of her career in Parliament".
Her London constituency of Hackney North and Stoke Newington includes one of the largest orthodox Jewish communities in Europe. And "views on how Abbott should be dealt with are split and do not necessarily follow party lines", said The New Statesman's Rachel Wearmouth.
Many point to Abbott's senior role in the shadow cabinet of Jeremy Corbyn, whose leadership was fatally crippled by accusations of anti-Semitism and of failing to adequately address a problem that some claimed was systemic within his inner circle and the wider membership. The former Labour leader was recently barred from standing as the party's candidate at the next election, and speculation is rife that Abbott may face a similar fate despite her swift apology.
Tony Blair's former political secretary John McTernan argued in The Spectator that while she made an "especially egregious error" given her a life-long campaign against racism, "it's time to forgive" Abbott for her "crass letter".
According to Wearmouth, however, "there is another school of thought" that Abbott, a "vocal critic" of Starmer, "has been attempting to coax the party into taking action against her for some time".
Whatever lies ahead for Abbott, "the party will need to be seen to act fairly and independently of any such views", Wearmouth warned.
What next?
Starmer may have thought he had "lanced the boil of anti-Semitism within the Labour Party" said Vaughan on the i news site. "But each time he and the rest of the party believes they have turned the corner on ridding the perception of Labour as having an anti-Semitism problem, its ugly face rears up again, plunging the party into crisis mode."
Wearmouth reported that the current mood among Labour MPs "is one of anger but also dismay" that "the issue has once again hit the headlines".
"On the surface", said The Spectator's political editor Katy Balls, this latest row "is of course bad for the Labour Party".
Less than two weeks out from crucial local elections that could set the political weather ahead of the general election next year, Labour's front bench are being "forced to talk about the party's historic anti-Semitism problem rather than its key priorities", Balls continued. The letter controversy also distracts from the resignation of deputy prime minister Dominic Raab on Friday.
"Yet Starmer has also made much out of drawing a clear dividing line between himself and what came before", and some of his supporters may "see such events involving the Left of the party as an opportunity to hammer the point home that Labour is different to how it was under Corbyn".
This is Starmer's dilemma, said i news's Vaughan. "On the one hand, it presents him with an opportunity to further purge the party of another of the Labour Left's old guard, one who – as proven with her letter – is capable of causing highly toxic political problems for the leader."
But removing "one of Labour's true trailblazers" risks "a serious backlash".
"There are no easy answers available to Starmer," concluded Vaughan, "but he can ill-afford to choose the wrong one."

Continue reading for free
We hope you're enjoying The Week's refreshingly open-minded journalism.
Subscribed to The Week? Register your account with the same email as your subscription.