The arguments for and against an EU army
President Macron wants self-determination for the bloc but some fear operational headaches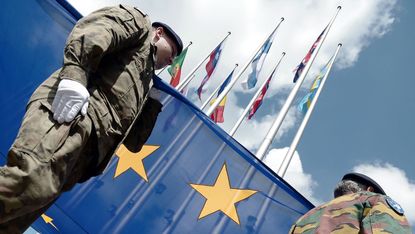 (Image credit: Frederick Florin/AFP/Getty Images)
European leaders have approved the creation of a rapid reaction military force of up to 5,000 soldiers but insist they are not creating an EU army.
French president Emmanuel Macron has been pushing for a separate force so the bloc can act independently of the US and Nato.
Instead, the new security strategy will replace the existing small military units "that the bloc has had since 2007 but never used", establishing a force that can be swiftly deployed in a crisis, reported Reuters.
Subscribe to The Week
Escape your echo chamber. Get the facts behind the news, plus analysis from multiple perspectives.
SUBSCRIBE & SAVE
Sign up for The Week's Free Newsletters
From our morning news briefing to a weekly Good News Newsletter, get the best of The Week delivered directly to your inbox.
From our morning news briefing to a weekly Good News Newsletter, get the best of The Week delivered directly to your inbox.
In a statement, the EU said it needed "to be able to protect its citizens and to contribute to international peace and security", which had become even more important "at a time when war has returned to Europe".
The idea of an EU army has been under discussion for decades, attracting strong support and opposition.
1. Pro: self-determination
Donald Trump's threats to pull the US out of Nato and then the "chaotic" evacuation of Afghanistan under Joe Biden last year convinced senior EU figures that "the time is right for the EU to stand on its own two feet", said The Telegraph's Europe editor James Crisp.
Russia's invasion of Ukraine then gave "a new sense of urgency" to this "more muscular military strategy", written into a document called the Strategic Compass, said Politico.
However, the latest plan for a rapid reaction force stops short of creating a full EU army, something still championed by Emmanuel Macron. Earlier this month, the French president declared: "We cannot depend on others to defend us, whether on land, at sea, under the sea, in the air, in space or in cyberspace."
He has previously called for a "Europe that can defend itself on its own without relying only on the United States".
2. Con: Nato undermined
One of Britain's key concerns about the prospect of an EU army was that it would duplicate or undermine the role of Nato.
Bart M.J. Szewczyk, from the US think tank the German Marshall Fund, agreed that it is "illogical" that a federal EU defence policy would be any better at "raising spending, pooling resources, or improving procurement" than current structures such as the North Atlantic Treaty Organization. "Nato allies and partners working as a team in long-established modes of cooperation – and not an inexperienced EU working at cross-purposes or even actively undermining the alliance – will remain the security provider of first resort for Europe," he wrote in Foreign Policy.
However, EU foreign policy chief Josep Borrell stressed last week that the latest plans for a 5,000-strong force are aimed at making the bloc a "stronger partner" with Nato and "partners around the world", not duplicating capabilities, reported Politico.
3. Pro: authority on world stage
The EU "needs its own Union army for its diplomacy to work", argued Greek scholar Andreas V. Georgiou in The Brussels Times. It "has to be strong" to "foster stability, security, prosperity, democracy, free trade, fundamental freedoms and the rule of law", he wrote in February.
The bloc's fragmented approach to defence means that the military equipment and personnel across member states "do not amount to the military might of the Union, because these resources cannot be brought to bear on most – if any – security situations that may challenge the Union's borders", said Georgiou.
Indeed, European Commission President Ursula von der Leyen said in her annual State of the Union address last September that it was "time for Europe to step up to the next level" and take part in missions to provide stability around the world that did not include Nato and the UN.
4. Con: loss of sovereignty
Britain also argued that an EU army would threaten the sovereignty of individual nation states.
In Foreign Policy, Szewczyk makes a similar point that "the ultimate decision to sacrifice the lives of soldiers in war can only be made by a government responsible to its people". He added that "to think this difficult decision could be handed down by Brussels is folly".
Poland's deputy prime minister has also "championed the nation state as best equipped to stand up to aggression, rather than political blocs", said The Telegraph. Piotr Glinski told the newspaper: "I do not believe in the European army. It's not a good idea."
5. Pro: push for investment
Low defence spending among European countries has been a "major obstacle" to President Macron's desire for "strategic autonomy", said France24. But some believe it would be the impetus needed to boost investment in security.
Nato Secretary General Jens Stoltenberg has previously noted that while more than 90% of people in the EU live in a Nato member country, "only 20% of Nato's defence spending comes from Nato EU members".
Some EU countries "hardly invest in their armed forces" as they are "stuck in the idea that the US will continue to keep us safe through Nato", wrote Belgian MEP Hilde Vautmans for the EUobserver, a few weeks before the Ukraine invasion. This is "naive", argued Vautmans, and "makes Europe vulnerable".
After Russian forces entered Ukraine in February, EU leaders agreed to "resolutely bolster investment" in defence capabilities, with Germany committing €100m to defence spending. However, Szewczyk argued on Foreign Policy that this was "not because the EU has a defense policy, but because there is a hot war in Europe".
6. Con: internal disagreements
History shows there have been numerous failed attempts at forming an EU army, with opposition from outside the union and within. Critics suggest these disagreements would continue even if the idea was signed off.
In a 2018 opinion piece for the Atlantic Council, international security and defence analyst Brooks Tigner wrote that the bloc would face a plethora of "technical, legal, and administrative differences" that would "boil down to the most mundane things such as soldiers' rights". Operational costs and caveats "always pose major headaches", he added.
The Telegraph's James Crisp warned that there were "already grumbles" about French defence companies receiving "preferential and lucrative contracts". "Diplomats joke that Mr Macron is in favour of a European army as long as it is a very French European army," he said.

Continue reading for free
We hope you're enjoying The Week's refreshingly open-minded journalism.
Subscribed to The Week? Register your account with the same email as your subscription.