Ukraine war: who is winning?
Kyiv reports some counter-offensive success but progress remains slow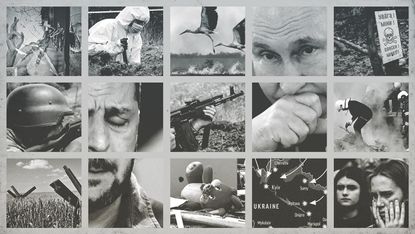 (Image credit: Illustrated / Getty Images / AP Images)
Sign up to our 10 Things You Need to Know Today newsletter
A free daily digest of the biggest news stories of the day - and the best features from our website
Thank you for signing up to TheWeek. You will receive a verification email shortly.
There was a problem. Please refresh the page and try again.
An end to the Ukraine war remains out of sight more than 18 months since Russia launched a full-scale invasion.
Since Ukraine hit back with a counter-offensive in early June, its forces have made breakthroughs near Bakhmut, and claim to have breached Russia's first line of defence in the Zaporizhzhia region. But Kyiv has warned that progress is likely to remain slow in the face of Russia's formidable defences.
As a stalemate looms, few analysts believe that either side can take decisive action to bring the conflict to a close.
Subscribe to The Week
Escape your echo chamber. Get the facts behind the news, plus analysis from multiple perspectives.
SUBSCRIBE & SAVE
Sign up for The Week's Free Newsletters
From our morning news briefing to a weekly Good News Newsletter, get the best of The Week delivered directly to your inbox.
From our morning news briefing to a weekly Good News Newsletter, get the best of The Week delivered directly to your inbox.
What are the latest developments in the war?
Kim Jong Un met Vladimir Putin in Russia this week to discuss the possibility of North Korea supplying arms for the ongoing conflict in Ukraine.
The US warned against any arms trade ahead of the rare summit, held at the Vostochny Cosmodrome space centre in Russia's far-eastern Amur region.
But Kim expressed his commitment to offering his country's "full and unconditional support" for Russia's "sacred fight" to protect its security interests. Pyongyang would always stand with Moscow on the "anti-imperialist" front, the North Korean leader promised.
Putin "needs access to North Korea's military stocks", said Foreign Policy. Pyongyang "has vast reserves of ammunition, much of which is based on Soviet-era models that are compatible with Russian weapons systems".
In another significant development, a Ukrainian general claimed to have breached Russia's first line of defence in the south of the country near Zaporizhzhya. This advancement means Ukraine's counter-offensive may be "poised to gather pace", said the BBC.
Brigadier General Oleksandr Tarnavskiy disclosed that his troops were now positioned between the first and second defensive lines after weeks of meticulous mine clearance. Ukrainian forces were actively expanding their control over recently gained territory on both sides of the breach.
Meanwhile, Ukrainian forces continued their operations in the vicinity of the ruins of Bakhmut, a city that had been under Russian control for several months and witnessed some of the war's most intense fighting.
What does victory look like for Russia?
Before Russia launched its invasion of Kyiv in February 2022, Vladimir Putin outlined the objectives of what he called a "special military operation". His goal, he claimed, was to "denazify" and "demilitarise" Ukraine, and to defend the separatist regions of Donetsk and Luhansk, the two eastern Ukrainian territories occupied by Russian proxy forces since 2014.
Another objective, although never explicitly stated, was to topple the Ukrainian government and remove the country's president, Zelenskyy. "The enemy has designated me as target number one; my family is target number two," said Zelenskyy shortly after the invasion. Russian troops made two attempts to storm the presidential compound.
Russia shifted its objectives, however, about a month into the invasion, after Russian forces were forced to retreat from Kyiv and Chernihiv. According to the Kremlin, its main goal became the "liberation of the Donbas", including the regions of Kherson and Zaporizhzhia – but Russia has made little progress in achieving this aim.
What does victory look like for Ukraine?
Ukraine's main objective is the liberation of its occupied territories. That includes not just those held by Russia since the February 2022 invasion, but a return to its internationally recognised borders, which include Crimea, which was annexed by Russia in 2014.
Can Ukraine win the war?
Putin has failed to achieve his objectives in Ukraine, argued Lawrence Freedman, emeritus professor of war studies at King's College London, in Foreign Affairs. In calling for the "denazification" of Ukraine, Putin presumably meant regime change – yet Zelenskyy's position as president of Ukraine is "as strong as ever". If Putin thought to achieve the demilitarisation of Ukraine, then he has failed on this front too: "Ukraine is on its way to becoming the most militarised country in Europe," said Freedman.
And Putin's problems are mounting; Russian-speaking areas in Donbas have suffered terribly due to the war. Russian forces have not gained complete control of the regions claimed by Putin, and Ukraine's current counter-offensive means that territories it did take are slowly being relinquished.
Ukraine certainly still hopes that its aims – the liberation of all its occupied lands and a return to the borders of 1991 – can be achieved. But if Ukraine's counter-offensive falters, "Russia lacks for now the combat power to seize the advantage and take more territory".
We are now more than a month into Ukraine's counter-offensive, which is "struggling against entrenched Russian forces" and appears to have entered a near-frozen state" with neither side making significant gains, said CBC News. The seemingly stalled state of the conflict has renewed debate about whether it is time for negotiations to take place to bring about an end.
Russia's army is "hardly in great shape", said CBC. Its spring offensive cost tens of thousands of Russian lives and achieved little beyond a "symbolic" win at Bakhmut. Now Russian forces are "exhausted", with senior commanders being replaced for insubordination, following an attempted coup by the head of the Wagner mercenary group.
It would be difficult for Russian forces to launch another counter-offensive this year, according to Western intelligence. But extensive entrenchments on the Russian frontline mean that Ukrainian forces have little chance of breaking through.
The Ukrainian army has also lost "significant equipment and personnel", although the extent of the losses are a closely guarded secret. The war is therefore facing a "stalemate" of the kind seen in the 1950-53 Korean War, which also reached a military impasse.
While an armistice was struck in 1953, the war in Korea has never officially ended. Russia and Ukraine could negotiate a similar uneasy and open-ended ceasefire, a situation which is "far from peace".
Most Western analysts believe it will be extremely difficult for Ukraine to liberate Crimea and the occupied areas of the Donbas, said military analyst Sean Bell for Sky News. That aim is "not impossible" to achieve, "but very, very difficult".
Russia is also unlikely to achieve its aim of subjugating the whole of Ukraine and neither side appears able to deliver "a decisive blow against the other", said Bell. "Battlefield victory and defeat, therefore, have limited meaning in this conflict," he continued.
But from a "grand-strategic perspective" it is clear Putin has failed in achieving any of his aims from the invasion of Ukraine. Finland and Sweden have joined Nato, foiling Putin's attempt to stop the expansion of the military alliance. His vision of restoring Russia's greatness is undermined by a subservient relationship with China's President Xi Jinping. And the Russian economy's growth has been stifled by Western sanctions.
To appease his domestic audience and justify sacrifices made, Putin has strategically portrayed the conflict as a vaguely defined "special military operation". Eventually, he may negotiate for peace and claim victory, although it will be one the world recognises as a "pyrrhic victory", said Bell.
Continue reading for free
We hope you're enjoying The Week's refreshingly open-minded journalism.
Subscribed to The Week? Register your account with the same email as your subscription.
Sign up to our 10 Things You Need to Know Today newsletter
A free daily digest of the biggest news stories of the day - and the best features from our website
Sorcha Bradley is a writer at The Week and a regular on "The Week Unwrapped" podcast. She worked at The Week magazine for a year and a half before taking up her current role with the digital team, where she mostly covers UK current affairs and politics. Before joining The Week, Sorcha worked at slow-news start-up Tortoise Media. She has also written for Sky News, The Sunday Times, the London Evening Standard and Grazia magazine, among other publications. She has a master's in newspaper journalism from City, University of London, where she specialised in political journalism.