North Korea detains another US citizen
Kim Hak-song of Pyongyang University of Science and Technology accused of 'hostile actions' against the state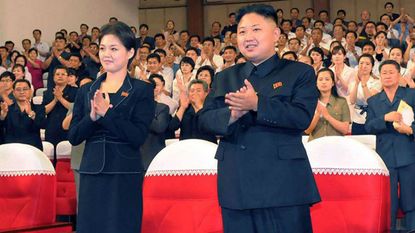 (Image credit: KNS/AFP/GettyImages)
Sign up to our 10 Things You Need to Know Today newsletter
A free daily digest of the biggest news stories of the day - and the best features from our website
Thank you for signing up to TheWeek. You will receive a verification email shortly.
There was a problem. Please refresh the page and try again.
North Korea has arrested a US citizen on suspicion of "hostile actions" against the state, according to the country's KNCA news agency.
Kim Hak-song, who works at the Pyongyang University of Science and Technology (Pust), is the fourth American to be detained in recent months.
According to Reuters, he is "a Christian missionary planning to start an experimental farm at PUST and was trying to help the North Korean people learn to become self-sufficient".
Subscribe to The Week
Escape your echo chamber. Get the facts behind the news, plus analysis from multiple perspectives.
SUBSCRIBE & SAVE
Sign up for The Week's Free Newsletters
From our morning news briefing to a weekly Good News Newsletter, get the best of The Week delivered directly to your inbox.
From our morning news briefing to a weekly Good News Newsletter, get the best of The Week delivered directly to your inbox.
The US State Department says it would liaise with the Swedish embassy in Pyongyang, which provides US consular services in North Korea, over the matter.
"The security of US citizens is one of the department's highest priorities," it added.
The latest detention comes shortly after the arrest of another Pust employee, accounting professor Kim Sang-duck.
Two other Americans are also being detained: Kim Dong-chul, 62, who was sentenced to ten years of hard labour for spying, and student Otto Warmbier, 22, who has been given up to 15 years' hard labour for trying to steal a propaganda banner.
"Washington, Seoul and others often accuse North Korea of using foreign detainees to wrest diplomatic concessions, which in recent years have involved high-profile American missions sent to secure releases," says The Guardian.
However, several analysts believe North Korean leader Kim Jong-un "appears to be using the Americans as human shields rather than a tool to get a seat at the negotiating table", says Slate.
Dr An Chan Il, president of the World Institute for North Korea Studies and a former defector, told NBC News: "Kim Jong-un is using hostage diplomacy as a part of his military and defense strategy with focus on preventing the US from removing him from power, as well as to prevent the US from taking military options against North Korea."
North Korea claims CIA is plotting to assasinate Kim Jong-un
05 May
North Korea claims it has uncovered a CIA plot to assassinate the country's leader Kim Jong-un with a "biochemical substance".
It vowed to "ferret out and mercilessly destroy" the CIA "terrorists" and their allies in South Korea to protect the Supreme Leader from the "vicious plot", which it said was tantamount to a "declaration of war".
In a statement, North Korean state media said the US intelligence agency, working with South Korean agents, had "corrupted and bribed" a North Korean national to help carry out the plan.
The statement claims the CIA's North Korean collaborator, identified only as Kim, was "instructed to provide detailed information about a frequently used event ground and to assess possible methods of attack", the BBC reports.
Possible methods being considered included "biochemical substances including radioactive substance and nano poisonous substance", Pyongyang said.
The reference to an assassination involving "biochemical substances" echoes the death of Kim's estranged half-brother, Kim Jong-nam in a Kuala Lumpur airport in March.
Kim Jong-nam died shortly after two women smeared his face with a substance – later identified as the banned deadly nerve agent VX – as he waited for a flight to his home in Macau. The attack is widely considered to have been orchestrated by North Korea.
The US has not responded to the claims, but the accusation comes amid an increasingly heated war of words between Kim Jong-un's regime and the administration of President Donald Trump.
The rapid escalation has moved the US "closer to nuclear war than at any other time since the Cold War", says the Washington Post's Eric Li, although President Trump's focus on denuclearisation rather than regime change may yet "breathe new life into the possibility of a negotiated settlement".
North Korean state media lashes out at ally China
04 May
North Korean state media has published a rare criticism of China after Beijing news outlets called for tougher sanctions on Pyongyang's nuclear programme.
The Korean Central News Agency (KCNA) said that a "string of absurd and reckless remarks are now heard from China every day only to render the present bad situation tenser".
The news agency referred to commentaries published in China's People's Daily and Global Times newspapers, which it said were "widely known as media speaking for the official stand of the Chinese party and government".
It also published an article warning China to consider the "grave consequences" that could follow if it continued its "act of chopping down the pillar of the DPRK-China relations".
Tensions between North Korea and China have risen with Beijing's attempts to exert more influence over Pyongyang and curb Kim Jong-un's nuclear ambitions.
"China has hinted at the possibility of cutting off its oil supply to North Korea if it carries out another nuclear test in defiance of UN Security Council resolutions," the Japan Times says.
Beijing has also reportedly advised Chinese-Korean citizens to leave North Korea as relations between Pyongyang and Washington sour further.
US Thaad anti-missile system ready to intercept North Korea attack
2 May
The US has announced its controversial Terminal High Altitude Area Defence (Thaad) anti-missile system is now operational in South Korea.
Officials say Thaad has reached an "initial intercept capability" that can stop North Korean missiles, although full operational capability is still a few months away.
The system was installed last week at a former golf course in the central county of Seongju, amid angry protests, the BBC says.
Locals believe Thaad will make them a target, while China has expressed concerns its radar range could upset the balance of security in the region.
Bloomberg says Beijing has "already acted to restrict outbound tourism and has squeezed South Korean companies operating on its shores" in response to the system being deployed.
News of Thaad's operational capability comes amid growing tensions between Washington and Pyongyan - and after US President Donald Trump said he "would be honoured" to meet North Korean leader Kim Jong-un, "if it would be appropriate".
He said: "I would be honoured to do it. If it's under… the right circumstances. But I would do that."
However, White House press secretary Sean Spicer said "a lot of conditions" would need to be met, including Pyongyang showing "signs of good faith" before any summit took place.
North Korea: Donald Trump warns of 'major, major conflict'
28 April
Donald Trump warned that a "major, major conflict" could break out with North Korea, but said the US was working on a diplomatic solution to the worsening crisis.
"We'd love to solve things diplomatically but it's very difficult," the US President said last night.
Trump also praised China's efforts to bring Pyongyang to heel, calling Chinese President Xi Jinping a "good man" who "certainly doesn't want to see turmoil and death".
Earlier yesterday, the White House announced a raft of new economic sanctions against North Korea and said the activation of the Thaad anti-missile defence system in South Korea would happen "within days".
Reuters says Trump wants Seoul to pay the cost of the missile defence system, "which he estimated at $1 billion [£772m]", despite its deep unpopularity among South Koreans, who believe its presence makes them a target.
The Guardian adds that "the deployment has dominated the final days of South Korea's election campaign, pushed Seoul's relations with Beijing to breaking point and cast doubt on the wisdom of Donald Trump's decision to dispense with 'strategic patience' towards Pyongyang".
US Secretary of State Rex Tillerson says China has warned North Korea "that if they did conduct further nuclear tests, China would be taking sanctions actions on their own".
The UN Security Council is due to meet today to discuss the crisis.
US sub arrives in South Korea as tensions grow with North
25 April
A US submarine has arrived in South Korean waters following fears its northern neighbour may carry out another nuclear or missile test.
USS Michigan, a nuclear-powered sub armed with missiles, is a "show of force" to North Korea, Reuters reports.
It will join a small strike group that includes USS Carl Vinson, an aircraft carrier which is en route for the Korean peninsula.
South Korea had been on alert in case the North celebrated the 85th anniversary of its Korean People's Army this week with a major test, either of its nuclear capabilities or of its missile systems.
However, Pyongyang instead marked the event with a large-scale firing drill. According to the South Korean defence ministry, there was no "unusual development".
Tensions in the area have risen in recent weeks, with "the US and North Korea exchanging heated rhetoric", says BBC.
US President Donald Trump has taken the unusual step of summoning the entire Senate to the White House tomorrow for a briefing on the situation by Defence Secretary James Mattis and Secretary of State Rex Tillerson.
He also held a lunch meeting for UN ambassadors from member states on the Security Council yesterday during which he told them North Korea was "a problem we have to finally solve".
On Friday, Tillerson will chair a meeting of foreign ministers in New York and call again for the full implementation of existing sanctions on the militaristic dictatorship.
Stephen Evans of the BBC speculates that Trump has decided to ignore the advice long given to US presidents that attacking North Korea would lead to an unacceptable retaliation on the South.
There could be "tens of thousands of deaths on the first day" in Seoul, says Evans.
He adds: "It may be that President Trump has decided that the cost of North Korea eventually getting nuclear weapons that could strike the US means that the risk of war has to be taken."
US Navy strike group was not 'racing towards North Korea'
19 April
US Navy officials have admitted that the USS Carl Vinson aircraft strike group was not heading towards North Korea despite their assertions earlier this month.
It was announced on 8 April that the ship was heading north towards Pyongyang as a deterrent signal to North Korea.
However, the US Navy has posted images of the USS Carl Vinson sailing south through the Sunda Strait between the Indonesian islands of Java and Sumatra, 3,500 nautical miles south-west of the Korean Peninsula.
In an attempt to clarify the situation, Pentagon spokeswoman Dana White released a statement saying: "The ship is now moving north to the Western Pacific. This should have been communicated more clearly at the time."
BBC Korea correspondent Stephen Evans said it was "not clear" whether this was "a deliberate deception, perhaps designed to frighten North Korea's leader Kim Jong-un, a change of plan or simple miscommunication".
The New York Times says the confusion resulted from a "glitch-ridden sequence of events", including a "partially erroneous explanation" from US Defence Secretary Jim Mattis, which "perpetuated the false narrative that a flotilla was racing toward the waters off North Korea".
North Korea threatens 'weekly' missile tests
18 April
North Korea will continue to conduct missile tests "on a weekly, monthly and yearly basis", a senior official from the country told the BBC.
Vice foreign minister Han Song-ryol warned that a US air strike would be followed by "all-out war", including the use of nuclear weapons.
He said: "If the US is planning a military attack against us, we will react with a nuclear pre-emptive strike by our own style and method."
His comments echo those of North Korea's deputy ambassador to the UN Kim In-ryong who accused Washington of turning the region into "the world's biggest hotspot" and setting up "a dangerous situation in which a thermonuclear war may break out at any moment".
Last night, US Vice President Mike Pence urged Pyongyang not to test the "resolve" of President Donald Trump, citing recent military actions taken in Syria and Afghanistan.
He also repeated Trump's insistence that if China did not "deal with" the North Korean threat, the US would.
Speaking at the White House yesterday, Trump told North Korean leader Kim Jong-un that he has "gotta behave".
He also announced the deployment of a missile defence system in South Korea would be accelerated to deal with the escalating crisis.
North Korea "has long been seen to use provocation and brinkmanship to raise tension for its own strategic advantage", says the BBC's John Sudworth.
"It is then able to win diplomatic and economic concessions through negotiations to defuse the crisis, only later to go on to renege on its disarmament commitments," he adds.
North Korea 'ready for war' after US deploys strike team
11 April
North Korea has reacted angrily to the deployment of a US Navy strike group to waters off the Korean Peninsula, accusing the US of staging "reckless moves for invading".
In a statement broadcast by the state-run Korean Central News Agency, the foreign ministry said Pyongyang is "ready to react to any mode of war desired by the US".
It added: "We will hold the US wholly accountable for the catastrophic consequences to be entailed by its outrageous actions."
North Korea has a history of issuing threats in response to any perceived slight. An editorial published in the Global Times, which usually reflects Chinese government thinking, urged caution from both North Korea and the US.
"In view of Pyongyang's several thousand artillery pieces and a large number of short-range missiles aimed at Seoul, a symbolic strike against North Korea by the US would bring a disaster to the people in Seoul," said the paper.
"New nuclear tests [by North Korea] will meet with unprecedented reactions from the international community, even to a turning point."
South Korean officials believe North Korean leader Kim Jong-un may be planning to hold a sixth nuclear test "to mark the 105th anniversary of the birth of [country] founder Kim Il-sung on 15 April", The Guardian reports.
Wu Dawei, China's envoy for the Korean peninsula, has met South Korea's foreign minister and top nuclear envoy and the two countries agreed to "enact 'strong additional measures' if North Korea conducts further nuclear or missile tests", the BBC reports.
China's foreign ministry has downplayed reports it has deployed 150,000 troops along its border with North Korea.
US Navy strike group heads to North Korea
10 April
A US Navy strike group is being moved to the Korean peninsula as a show of force, following talks between US President Donald Trump and his Chinese counterpart Xi Jinping last week.
The USS Carl Vinson was diverted from planned port visits in Australia as concerns grow over Pyongyang's haul of nuclear weapons.
US Secretary of State Rex Tillerson said China agreed "action has to be taken" after North Korea continued to perform missile tests in defiance of several United Nations resolutions.
He added: "President Xi clearly understands, and I think agrees, that the situation has intensified and has reached a certain level of threat that action has to be taken."
NBC News reported on Friday that the US National Security Council has presented Trump with a range of options for dealing with the escalating tensions between Washington and Pyongyang, including "putting American nukes in South Korea or killing dictator Kim Jong-un".
The US withdrew all of its nuclear weapons from the Korean peninsula in 1992.
North Korea has "vowed to bolster its defences to protect itself against airstrikes like the ones President Donald Trump ordered against an air base in Syria", Sky News reports.
In a statement broadcast on state television, North Korea's foreign ministry called the US missile strikes "absolutely unpardonable" and said the attack provided proof that the country needed nuclear weapons to protect itself from Washington's "ever-more reckless moves for a war".
General HR McMaster, Trump's national security adviser, told Fox News that "North Korea has been engaged in a pattern of provocative behaviour" and that Trump has "asked to be prepared to give him a full range of options to remove that threat to the American people and to our allies and partners in the region".
North Korea threatens 'weekly' missile tests
5 April
North Korea has fired a ballistic missile into the Sea of Japan, sending a clear message to its ally China ahead of the first summit between US President Donald Trump and his Chinese counterpart Xi Jinping in Florida on Friday.
Japan called the test "extremely problematic", while the South Korean foreign ministry said it "threatens the peace and safety of the international community as well as the Korean peninsula".
However, US Secretary of State Rex Tillerson gave a "terse response… unlike the standard diplomatic condemnations that usually follow Pyongyang's missile tests", CNN says.
"The United States has spoken enough about North Korea. We have no further comment," Tillerson said.
The Guardian reports that an unnamed official from the Trump administration, speaking before news of the launch broke, suggested "time was running out for a diplomatic solution".
"We would have loved to see North Korea join the community of nations," the official told the paper.
"They have been given that opportunity over the course in different dialogues and offers over the course of four administrations with some of best diplomats and statesmen doing the best they could to bring about a resolution."
"The clock has now run out and all options are on the table for us."
Friday's meeting is expected to focus heavily on the growing nuclear threat from North Korea.
Trump earlier this week warned that the US is prepared to take unilateral action against the hermit state if China is unwilling to intervene.
North Korea missile test fails as tensions simmer
22 March
North Korea today launched a missile which exploded "within seconds" of taking off, the US and South Korea say.
According to the South Korean defence ministry, a missile was fired from an airbase in Wonsan, on North Korea's east coast, from where several intermediate-range missiles were launched last year.
US military spokesman Dave Benham confirmed the launch and said work was being carried out on a more detailed assessment.
The failed launch is the latest in a series of tests that have raised alarm across the region.
Despite a UN ban on North Korea developing nuclear or missile technology, its tests are coming with "increasing frequency", says the BBC.
It adds that Pyongyang "often" conducts missile tests to coincide with the joint military drills carried out by the US and South Korea each spring.
Earlier this month, North Korea fired four missiles into Japanese waters and it has been claimed a fifth misfired at the same time.
According to Al Jazeera, the missile launch was "apparently timed to coincide" with US Secretary of State Rex Tillerson's first visit to east Asia.
Tillerson met China's President Xi Jinping in Beijing on Sunday and visited South Korea last week.
Professor Robert Kelly of Pusan University told Al Jazeera: "This is how the North Koreans send us a signal of displeasure. That's what we assume of course, since they don't tell us."
The misfire shows North Korea still has "some way to go" before its "blood-curdling threats to turn Seoul and Washington into seas of flame" can be achieved, says the BBC's Stephen Evans.
But while the secretive nation is not yet capable of firing an intercontinental missile, "progress does seem to be being made", he adds.
On Saturday, Tillerson said Washington's "policy of strategic patience" with North Korea had "ended", although China's foreign minister Wang Yi called for the US to remain "cool-headed".
North Korea and US set for 'head-on collision'
9 March
Chinese foreign minister Wang Yi warns Washington against deploying new missile defence system in South Korea.
The US and North Korea are set for a "head-on collision" that could have devastating consequences if neither side is willing to back down, China's top diplomat has warned.
Using "unusually frank language", China's foreign minister Wang Yi cautioned the US against the deployment of a new missile defence system in South Korea, while urging the North to suspend its nuclear weapons programme, CNN reports.
He added: "The two sides are like two accelerating trains coming towards each other. The question is, are the two sides really ready for a head-on collision?"
His stark warning came after a week in which North Korea tested four ballistic missiles and the US deployed the first components of the terminal high altitude area defense missile system (Thaad) in South Korea.
"It's designed to protect against attacks from North Korea," says Quartz, but "China worries the system might defang its own weaponry".
Earlier this week, China's state news agency Xinhua said the deployment of Thaad could kick off an "arms race" in the region, and urged the US and South Korea to suspend joint military exercises that antagonise North Korea.
Wang said China's role was to act as an early warning signal and "apply brakes on both trains" to avoid a potentially catastrophic collision on the Korean peninsula.
Euan Graham, director of the International Security Program at Sydney's Lowy Institute, told CNN he was "very sceptical" of Wang's hopes for brokering a potential deal between North Korea and the US.
"China has lost the initiative in the Korean Peninsula somewhat, not so much due to a proactive US policy to the region, but in the way that North Korea has been throwing its weight around," he said.
North Korea is expected to dominate discussions when US Secretary of State Rex Tillerson visits China, South Korea and Japan next week.
North Korea tests Donald Trump: How will the US respond?
13 February
North Korea yesterday fired its first ballistic missile since Donald Trump took office, in a move interpreted as a test of the new US President's tougher stance towards the country.
The missile, which South Korean sources say landed in the Sea of Japan, was fired as Japanese Prime Minister Shinzo Abe visited Trump in Florida.
Appearing together at a news conference in Palm Beach, the two politicians condemned the test.
Abe called the launch "absolutely intolerable", while Trump told him: "America stands behind Japan, its great ally, 100 per cent."
Yoshihide Suga, Japan's chief cabinet secretary, said the timing of the launch represented "a clear provocation to Japan and the region".
It "marks the first test of Trump's vow to get tough on an isolated North Korean regime that last year tested nuclear devices and ballistic missiles at an unprecedented rate", says Reuters.
The US administration is likely to weigh a series of possible responses, the news agency adds, "including new sanctions to tighten financial controls, an increase in naval and air assets in and around the Korean peninsula and accelerated installation of new missile defence systems in South Korea".
Under UN Security Council resolutions intended to curb the development of nuclear weapons, North Korea is prohibited from carrying out ballistic missile launches. But leader Kim Jong-un said last month that his country was ready to test its first intercontinental ballistic missile, which could threaten the US mainland.
It isn't clear whether Pyongyang has the ability yet to put a nuclear warhead on its intermediate-range missiles, making it a global threat, but "US commanders say they need to be prepared for the possibility", says CNN.
"Combining nuclear warheads with ballistic missile technology in the hands of a volatile leader like Kim Jong Un is a recipe for disaster," said Admiral Harry Harris, the head of the US military's Pacific Command, in December.
Measured provocation
Bong Youngshik, a North Korea expert at Yonsei University in Seoul, said the latest missile launch was a "carefully chosen behaviour by Pyongyang" and not a reckless act.
He said: "By choosing not to fire a long-range missile, North Korea didn't shut the door completely on the Trump administration. Rather, they tried to deliver a message of displeasure and an early warning that Trump would be better off choosing engagement policies."
The launch is also likely to complicate politics on the Korean peninsula. Following a vast corruption scandal last year, Seoul is gearing up for a potential presidential election, with Liberal party candidate Moon Jae-in leading the polls.
However, "Moon has traditionally adopted a more dovish approach to Pyongyang and the latest provocation will be seen as a blow to his prospects", says the Financial Times.
Infographic by www.statista.com for TheWeek.co.uk
US vows 'overwhelming' response if North Korea uses nuclear weapons
3 February
Donald Trump's Defence Secretary has warned North Korea it would face an "effective and overwhelming" response from the US if it used nuclear weapons.
Speaking during a two-day visit to South Korea, James Mattis aimed to reassure Seoul the US will remain a strong military ally under the new President, despite his "tough rhetoric", says the LA Times.
He said: "Any attack on the United States, or our allies, will be defeated, and any use of nuclear weapons would be met with a response that would be effective and overwhelming," said Mattis.
Mattis's comments follow fresh concern that Pyongyang might be preparing to test a new ballistic missile system, in what would be an early challenge for Trump's administration.
North Korea routinely threatens to attack South Korea and the US. It conducted two nuclear tests last year, along with 20 further missile tests, in contravention of a host of UN resolutions and sanctions.
Pyongyang also appears to have also restarted the operation of a nuclear reactor at Yongbyon, in the north of the country. The facility produces plutonium which can be used for its nuclear weapons programme, according to US think-tank 38 North.
Mattis said: "North Korea continues to launch missiles, develop its nuclear weapons programme and engage in threatening rhetoric and behaviour."
The US has a large military presence in South Korea and Japan as part of its defence deal following the end of the World War II.
According to the BBC, there are nearly 28,500 US troops in South Korea, for which Seoul pays about $900m (£710m) annually.
However, Trump has said he wants Japan and South Korea to pay more to maintain the US presence in their countries.
Continue reading for free
We hope you're enjoying The Week's refreshingly open-minded journalism.
Subscribed to The Week? Register your account with the same email as your subscription.
Sign up to our 10 Things You Need to Know Today newsletter
A free daily digest of the biggest news stories of the day - and the best features from our website