North Korea to close nuclear test site
Lofty rhetoric and big promises by Kim Jong Un meet with scepticism in Seoul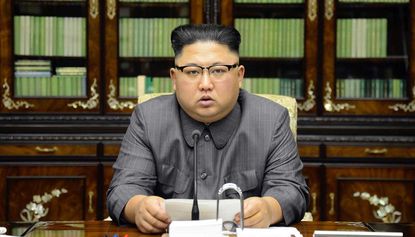 (Image credit: STR/AFP/Getty Images)
Sign up to our 10 Things You Need to Know Today newsletter
A free daily digest of the biggest news stories of the day - and the best features from our website
Thank you for signing up to TheWeek. You will receive a verification email shortly.
There was a problem. Please refresh the page and try again.
South Korean delegation in Pyongyang for 'historic' talks
5 March
A high-ranking South Korean delegation has arrived in Pyongyang for "historic" talks aimed at lessening nuclear tensions on the Korean Peninsula.
It is believed to be the first face-to-face visit between Southern officials and North Korean leader Kim Jong Un since he took power in 2011, and could also "pave the way for US talks", The Guardian reports.
Subscribe to The Week
Escape your echo chamber. Get the facts behind the news, plus analysis from multiple perspectives.
SUBSCRIBE & SAVE
Sign up for The Week's Free Newsletters
From our morning news briefing to a weekly Good News Newsletter, get the best of The Week delivered directly to your inbox.
From our morning news briefing to a weekly Good News Newsletter, get the best of The Week delivered directly to your inbox.
Kim and South Korean President Moon Jae-in have both said they want to use the "opening" created by the North's participation in this year's Winter Olympics to "improve inter-Korean ties", says The New York Times.
South Korea's national security director, Chung Eui-yong, who is leading the ten-person delegation, said the top priority was denuclearisation.
"Most of all, I will deliver President Moon Jae-in's sincere and firm resolution to maintain the dialogue and improvement in relations between the South and the North, which were fostered on the occasion of the Pyeongchang Winter Olympics, to denuclearise the Korean Peninsula," Eui-yong told a press briefing.
The discussions mark a sharp shift following the rising of tensions between the two nations last year, when Kim carried out a series of nuclear tests and launched an intercontinental ballistic missile. President Donald Trump responded to the missiles tests by threatening to "totally destroy" North Korea if the US was forced to defend itself or its allies.
Euan Graham, director of the international security programme at Australian think tank the Lowy Institute, told CNN: "What Moon is trying to do is interpose himself between North Korea and the United States so that there is a kind of defusing role that the South Koreans play, naively or not, in trying to at least sort of forestall any ramping up of tensions."
The delegation is expected to spend Monday night in Pyongyang and to then briefly return to Seoul before travelling to the US to brief the Trump administration.
February 27
North Korea linked to Syrian chemical weapons program
North Korea has been shipping items to the Syrian government that "could be used in the production of chemical weapons," according to a UN report obtained by The New York Times.
The supplies includes "acid-resistant tiles, valves and thermometers". According to the report, North Korean missile technicians have also been seen working at known missile and chemical weapons facilities in Syria.
There have been suspicions that North Korea was supplying the Syrian government with equipment and other assistance for its chemical weapons program ever since the start of the Syrian civil war in 2011.
The trading relationship "could allow Syria to maintain its chemical-weapons arsenal while also providing North Korea with money to advance its nuclear-weapons program," says The Daily Beast.
Although experts who saw the report said the evidence cited did not definitively prove a current and continuing collaboration between the two countries, "it did provide the most detailed account to date of efforts to circumvent sanctions intended to curtail the military advancement of both", the New York Times says.
According to the newspaper, Pyongyang has avoided sanctions using "a complex web of shell companies and sympathetic foreign citizens to gain access to international financing, employs sophisticated cyber operations to steal military secrets and enlists its own diplomats in smuggling operations".
William Newcomb, a former chairman of the UN panel of experts on North Korea from 2011 to 2014, told the New York Times that the report, which is more than 200 pages long, is "an important breakthrough."
9 January
North and South Korea agree to military talks
North and South Korea agreed to hold military talks after a formal meeting on Tuesday, the first face-to-face negotiations since 2015.
North Korea also agreed to attend the 2018 Winter Olympics in Pyeongchang, South Korea.
Pyongyan will send "a high-level delegation" to the Games next month, along with "athletes, supporters, art performers, observers, a taekwondo demonstration team and journalists".
The agreement - made today during a meeting at the Peace House in the Demilitarised Zone between the two countries - represents "a cautious diplomatic breakthrough after months of rising tensions", The Guardian says.
Other items on the agenda reportedly include a resumption of a programme to reunite families separated during the 1950-53 Korean War.
5 January
North Korea and South Korea to hold official talks
North Korea has agreed to hold high-level talks with South Korea to discuss the possibility of North Korean athletes attending the Pyeongchang Winter Olympics in February this year.
The talks are set to be held on 9 January at Panmunjom, the so-called "Peace House" in the demilitarised zone that runs between the two countries, and will be the first high-level contact between Seoul and Pyongyang since December 2015.
South Korean unification ministry spokesman Baek Tae-hyun confirmed the talks and said the agenda would also include "issues concerning improving inter-Korean ties".
NBC News reports that Seoul's "peace overture earlier this week" came after Kim Jong Un raised the idea of sending athletes to the Winter Olympics during his New Year's Day address to the nation. Earlier this week, North Korea re-opened a hotline linking Pyongyang and Seoul.
3 January
North Korea reopens hotline with Seoul in diplomatic breakthrough
North Korea contacted its southern neighbour today on a hotline disabled almost two years ago on the orders of leader Kim Jong Un - a sign that relations with Seoul are thawing despite Donald Trump's taunts and Twitter boast about his big, powerful nuclear button.
In what CNN described as a "major diplomatic breakthrough", North and South spoke for 20 minutes about "technical issues" concerning the "dialogue channel", and further calls are anticipated. The telephone line is located in the shared border village of Panmunjom, in the demilitarised zone (DMZ), Yonhap News Agency reports.
The move "raises hopes of a diplomatic thaw", says The Guardian, after Kim said yesterday that he was open to dialogue and to sending a team to the Winter Olympics in Pyeongchang, South Korea, in February.
Pyongyang says talks will involve a "sincere and faithful" discussion around the proposal to send a North Korean delegation to the Games, the Yonhap agency reports. China welcomed the change in tone, while South Korea's President Moon Jae-in's spokesperson called the restoration of the communications channel "very significant".
However, the Associated Press warns that although the development is a positive sign of improved ties after a year of war threats, "there's no guarantee that tensions will ease". North Korea cut off communications on the line in 2016, following a row over the Kaesong joint industrial complex, the BBC reports.
The reopening of the line came as Trump tweeted that economic sanctions were having a "big impact" on North Korea and boasted that his nuclear button was "much bigger" and "more powerful" than Kim's - a tweet that "would have students of Freudian psychology frothing at the mouth", the HuffPost says.
21 November
North Korea a 'state sponsor of terrorism', says Donald Trump
Donald Trump has further inflamed tensions with North Korea by designating the country a 'state sponsor of terrorism'.
After 9/11, George W. Bush included North Korea in his Axis of Evil, but removed it from the list in 2008 in a bid to rescue a nuclear non-proliferation deal.
Trump has now reversed that decision, claiming the secretive totalitarian state has "repeatedly" sponsored acts of terrorism, including "assassinations on foreign soil", and that efforts at appeasement have only emboldened its leadership.
As a result, the US Treasury Department will today will announce it is increasing sanctions against North Korea to their strictest ever level.
The question of whether Trump would put North Korea back on the list hung over the President's recent Asia trip, even as it became clear his administration viewed the country as a rogue nation that engages in terrorist acts.
15 November 2017
North Korean state newspaper says Donald Trump should face death penalty
North Korea's state newspaper has declared that Donald Trump's recent criticisms of its country and its leader Kim Jong Un are punishable by death.
The editorial condemned Trump's description of North Korea as a "cruel dictatorship" and called him a coward for cancelling his visit to the North Korean border because of bad weather.
The newspaper argues that it wasn't the weather that deterred Trump from visiting but the fact that he "was just too scared to face the glaring eyes of our troops," The Independent reports.
The North Korean paper added: "The worst crime for which he can never be pardoned is that he dared [to] malignantly hurt the dignity of the supreme leadership. He should know that he is just a hideous criminal sentenced to death by the Korean people."
Trump and Kim have frequently launched personal insults and threats against each other, but he gave off mixed signals during his recent tour. Having unexpectedly said he was open to having a discussion with Kim about North Korea's nuclear weapons, he subsequently mocked Kim for his height and weight.
Continue reading for free
We hope you're enjoying The Week's refreshingly open-minded journalism.
Subscribed to The Week? Register your account with the same email as your subscription.
Sign up to our 10 Things You Need to Know Today newsletter
A free daily digest of the biggest news stories of the day - and the best features from our website