Quiz of The Week: 16 - 22 September
Have you been paying attention to The Week's news?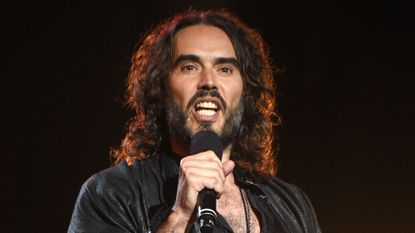 (Image credit: Kevin Mazur/Getty)
British popular culture has been facing a reckoning this week, amid the growing fallout from sexual assault allegations against Russell Brand.
The Essex-born comedian was a mainstay of the country's mainstream media in the 2000s, so the continuing spate of claims about him has prompted a re-examination of the cultural excesses of the era – and the celebrity scene in which Brand played a central role.
The 48-year-old has since reinvented himself as an influencer, "wellness guru" and conspiracy theorist, with millions of followers across multiple platforms. He has denied all of the assault and rape allegations, which he claims are a "coordinated attack" by enemies staging a trial by media.
Subscribe to The Week
Escape your echo chamber. Get the facts behind the news, plus analysis from multiple perspectives.
SUBSCRIBE & SAVE
Sign up for The Week's Free Newsletters
From our morning news briefing to a weekly Good News Newsletter, get the best of The Week delivered directly to your inbox.
From our morning news briefing to a weekly Good News Newsletter, get the best of The Week delivered directly to your inbox.
Rupert Murdoch has also been making headlines about headline makers, by announcing his decision to step down as chair of News Corp and Fox Corporation. The 92-year-old will be succeeded by his son Lachlan, but pledged to continue to be "involved every day" as an "active member" of the media empire.
While Murdoch is refusing to bow out, another ancient creature may be set to make a comeback. Scientists in Stockholm have recovered RNA – genetic material similar to DNA – from a Tasmanian Tiger, in a big step towards resurrecting the species. And another bombshell from the past is winging its way to Earth, with a Nasa spacecraft due to drop a capsule containing samples from a nearby asteroid.
Scientists hope the space dust will help answer questions about where we come from and how life formed on Earth. The samples could also offer insights into another major concern: how can we stop an asteroid from colliding with our planet, making us as extinct as that tiger.
To find out how closely you've been paying attention to the latest news and global events, put your knowledge to the test with our Quiz of The Week.
1. According to a newly published study, British parents increasingly view what as socially acceptable?
Taking schoolchildren on holiday during term time
Children swearing in public
Bringing children to work events
Accompanying children to festivals
2. A priest was accused of desecration after he set up what in a 600-year-old church in Cornwall?
TV display screens
Karaoke machine
Beer pumps
Juke box
3. Who ended Max Verstappen's 10-race winning streak by claiming victory at the Singapore Grand Prix?
Charles Leclerc
Lewis Hamilton
Lando Norris
Carlos Sainz Jr
4. British Vogue editor-in-chief Edward Enninful will be replaced by who after stepping down next year?
Sarah Harris
Mark Holgate
Chioma Nnadi
Mark Guiducci
5. Which national leader claimed the UN was "losing credibility" as the intergovernmental organisation's annual assembly kicked off in New York City?
Recep Tayyip Erdoğan
Michael D. Higgin
Emmanuel Macron
Alexander Lukashenko
6. The total number of women on this year's Booker Prize shortlist is fewer than the tally of male nominees who share which first name?
7. Newly released Metropolitan Police figures show that one in every how many officers in the force are currently suspended or on restricted duties?
1 in 16
1 in 25
1 in 34
1 in 52
8. Latest polling suggests that Labour and the Tories are "neck and neck" in the upcoming by-election in which constituency?
Tamworth
Mid Bedfordshire
Uxbridge
Somerton and Frome
9. Which car company has publicly criticised Rishi Sunak's decision to delay the UK's 2030 ban on new petrol and diesel cars?
Aston Martin
Rolls-Royce
Land Rover
Ford
10. An activist is to be prosecuted for contempt of court for holding up a sign outside the trial of protesters from which climate group?
Just Stop Oil
Insulate Britain
Extinction Rebellion
The Climate Coalition
1. Taking schoolchildren on holiday during term time
Research by Public First found that parental attitudes to school attendance had undergone a "seismic shift" since the pandemic. According to the consultancy firm, term-time holidays are increasingly viewed as "socially acceptable", as price hikes make summer breaks unaffordable for families hit by the cost-of-living crisis.
2. Beer pumps
Rev Dr Nick Widdows defended the decision to install a mini bar in St Ia's Church ahead of the town's annual September festival, saying that "this is just part of our way of welcoming all sorts of people into the church". For more odd new stories, subscribe to our Tall Tales newsletter.
3. Carlos Sainz Jr
The Spanish racing ace claimed victory for Ferrari by narrowly beating his close friend and former McLaren teammate Norris to the finish line in the streets of Singapore on Sunday. Verstappen trailed in fifth position, behind Leclerc and Hamilton.
4. Chioma Nnadi
Following months of speculation, Condé Nast has confirmed that London-born Nnadi, currently editor of the US Vogue website, will take the reins of the UK magazine from next March. The 44-year-old will be the publication's first black female editor.
5. Michael D. Higgin
Ireland's president took aim at the UN as political leaders including his taoiseach, Leo Varadkar, gathered in New York for the organisation's 2023 General Assembly. The annual event got under way on Tuesday with an address from Joe Biden, but the leaders of the other four veto-wielding, permanent members of the UN Security Council – Britain, France, Russia and China – were conspicuously absent.
6. Paul
Paul Harding, Paul Lynch and Paul Murray are among six authors nominated for Britain's top literary prize. Jonathan Escoffery is also a finalist, with only two women on the shortlist, Sarah Bernstein and Chetna Maroo.
7. 1 in 34
The Met has a total of around 34,000 officers, 201 of whom are suspended, while 860 are on restricted duties. The London force said that 450 officers were under investigation for alleged sexual or domestic violence, and that 275 were already awaiting gross misconduct hearings, amid a crackdown on rogue officers.
8. Mid Bedfordshire
The Survation poll, commissioned by the Labour Together group, found that the Labour and Conservative candidates for the previously safe Tory seat were level-pegging on 29% each. But pundits said that with the Lib Dems candidate on 22%, a split "progressive" vote could spell victory for the Tories in the October by-election, which was triggered by the resignation of Nadine Dorries.
9. Ford
The company's UK chair, Lisa Brankin, said the 2030 target had been a "vital catalyst to accelerate Ford into a cleaner future". Pushing back the non-electric car ban to 2035 would "undermine" the government's "ambition, commitment and consistency", Brankin warned.
10. Insulate Britain
Civil liberties campaigners said the decision to prosecute retired social worker Trudi Warner for holding up a sign allegedly directed at jurors was part of the government's crackdown on the right to protest. Find out more with The Week Unwrapped podcast.

Continue reading for free
We hope you're enjoying The Week's refreshingly open-minded journalism.
Subscribed to The Week? Register your account with the same email as your subscription.