Quiz of The Week: 9 - 15 September
Have you been paying attention to The Week's news?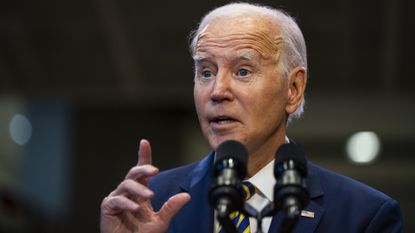 (Image credit: Al Drago/Bloomberg via Getty)
Sign up to our 10 Things You Need to Know Today newsletter
A free daily digest of the biggest news stories of the day - and the best features from our website
Thank you for signing up to TheWeek. You will receive a verification email shortly.
There was a problem. Please refresh the page and try again.
The world's eyes are locked on US politics yet again following the launch of the latest in a string of impeachment inquiries.
Republican House Speaker Kevin McCarthy unilaterally announced an investigation into Joe Biden – with no formal House vote – to establish whether he profited from the alleged improper business dealings of his son Hunter.
Subscribe to The Week
Escape your echo chamber. Get the facts behind the news, plus analysis from multiple perspectives.
SUBSCRIBE & SAVE
Sign up for The Week's Free Newsletters
From our morning news briefing to a weekly Good News Newsletter, get the best of The Week delivered directly to your inbox.
From our morning news briefing to a weekly Good News Newsletter, get the best of The Week delivered directly to your inbox.
But while embarrassing for the US president, the unprecedented move could end up working in the Democrats' favour, say critics, including some Republicans.
The inquiry comes after Biden's son was indicted on federal gun charges – the first time that the US Justice Department has charged the child of a sitting president – following the collapse of an initial plea deal. There's now a chance of a headline-grabbing trial in the middle of his father's bid for re-election next year.
With the UK also gearing up to go to the polls next year, Labour has unveiled its vision for a major new employment bill to strengthen workers' rights.
Keir Starmer has also gone on a "small boats" offensive. The opposition leader has outlined plans to tackle Channel crossings by migrants by seeking a security deal with EU crime agency Europol to counter people-trafficking gangs.
The Tories have accused Starmer of undermining Brexit as his plans, they say, will cede control of the UK's immigration policy to the bloc.
But such criticisms may be too little, too late. According to new YouGov polling, more than half of voters say that nothing would make them consider backing the Conservatives next year.
To find out how closely you've been paying attention to the latest news and global events, put your knowledge to the test with our Quiz of The Week.
1. Teenage tennis star Coco Gauff claimed the US Open women's title by beating who?
Serena Williams
Elena Rybakina
Aryna Sabalenka
Madison Keys
2. Which invention won the public health category at this year's Ig Nobel Prize awards for achievements that "make people laugh, then think"?
Smart toilet
Spit sensor
A-Eye mask
Heartbeat speaker
3. What new venture has ex-chancellor George Osborne launched with his Labour "frenemy" Ed Balls?
Economic think tank
Independent magazine
Political podcast
Dance school
4. Experts are warning that which invasive species sighted in Europe for the first time could "invade" Britain?
Asian long-horned beetle
Giant cane toad
Asian tiger mosquito
Red fire ant
5. Who caused uproar by saying that Taiwan was "an integral part of China"?
Elon Musk
Donald Trump
Jeremy Corbyn
Suella Braverman
6. Conservative MP Nick Fletcher divided opinions by proposing a dedicated UK minister for what?
The Red Wall
Men
Remainers
Pensioners
7. Which popular US talk-show host has been criticised for bringing back her show amid the actors' and writers' strikes?
Oprah Winfrey
Ellen DeGeneres
Barbara Walters
Drew Barrymore
8. What is the name of Theresa May's newly published political memoir?
"The Abuse of Power"
"What a Feminist Looks Like"
"The Hostile Environment"
"Strong and Stable"
9. What feature of Apple's newly unveiled iPhone 15 is a notable departure from previous models?
No front camera
Headphone jack
Waterproof capability
Standard charging port
10. Scientists have discovered what tentative evidence of signs of life on exoplanet K2-18b?
Matter containing DNA
Molecules released through farting
An unidentified object resembling a leg bone
Track marks
1. Aryna Sabalenka
Gauff, 19, battled back from a set down to beat Belarusian second seed Sabalenka 2-6, 6-3, 6-2. She became the third female American teenager to win the US Open after Serena Williams and Tracy Austin.
2. Smart toilet
The cutting-edge loo uses various technologies to monitor human waste for signs of disease and includes an anal-print sensor to identify the user. For more stories about the stranger side of life, sign up to our Tall Tales newsletter.
3. Political podcast
The unlikely duo are teaming up for a weekly series entitled "Political Currency", the latest in a string of podcasts seeking to tap into centrist audiences. To find out more, listen to The Week Unwrapped podcast.
4. Red fire ant
Researchers have found 88 nests of the highly invasive insects in Syracuse, on the Italian island of Sicily. And according to a new study, London is a "prime candidate for colonisation" by the ants, which can deliver painful and even deadly stings and bites.
5. Elon Musk
The billionaire owner of X (formerly Twitter) was widely criticised after telling a business summit audience that Taiwan's relationship to China was like that of Hawaii to the US. Responding to Musk's comments, Taiwan's foreign minister insisted that the self-ruled island was "not part" of China and was "certainly not for sale".
6. Men
In an article for The Telegraph, Fletcher, the MP for Don Valley in South Yorkshire, wrote that the lack of a specific minister for men was "troubling" given that many were "in crisis", and cited high rates of suicide and poor education outcomes. Critics dismissed the idea as "offensive".
7. Drew Barrymore
Announcing that her eponymous daytime show would return to US screens next week, the former "Charlie's Angels" actor said: "I own this choice." A CBS Media Ventures spokesperson said the show would "not be performing any writing work covered by the WGA strike".
8. "The Abuse of Power"
The former PM's memoir covers scandals including the Hillsborough disaster and the Grenfell tragedy, exposing what May claims is an "abuse of power" at the heart of each.
9. Standard charging port
The iPhone 15 will use a standard USB-C charging port, rather than the company's own Lightning charging port on previous iterations. The change is in line with European Union rules introduced in 2022 that require all smartphones to use the same type of charger – but there are concerns over the possible dominance of the global tech market by EU regulators.
10. Molecules released through farting
Nasa's James Webb Space Telescope may have found a molecule called dimethyl sulphide (DMS). "On Earth, at least, this is only produced by life," said the BBC – specifically, according to experts, in the form of farts from marine creatures.
Continue reading for free
We hope you're enjoying The Week's refreshingly open-minded journalism.
Subscribed to The Week? Register your account with the same email as your subscription.
Sign up to our 10 Things You Need to Know Today newsletter
A free daily digest of the biggest news stories of the day - and the best features from our website
Harriet Marsden is a writer for The Week, mostly covering UK and global news and politics. Before joining the site, she was a freelance journalist for seven years, specialising in social affairs, gender equality and culture. She worked for The Guardian, The Times and The Independent, and regularly contributed articles to The Sunday Times, The Telegraph, The New Statesman, Tortoise Media and Metro, as well as appearing on BBC Radio London, Times Radio and "Woman's Hour". She has a master's in international journalism from City University, London, and was awarded the "journalist-at-large" fellowship by the Local Trust charity in 2021.