Syrian civil war: Turkey, Russia and Iran pledge stability as Trump seesaws
Major players urge political solution to conflict amid 'schizophrenic messaging' about withdrawal of US troops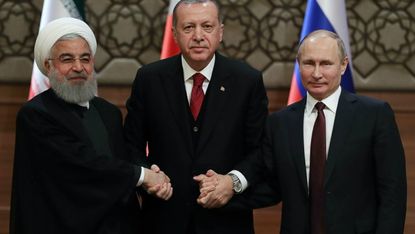 (Image credit: Ardim Alten/Getty)
Turkey, Russia and Iran have pledged to redouble efforts to stabilise Syria amid continuing uncertainty over the role of the US in the country.
A meeting this week in Ankara "brought together together two of Syrian President Bashar al-Assad's strongest supporters - Russian President Vladimir Putin and Iranian President Hassan Rouhani - with President Recep Tayyip Erdogan of Turkey, which backs some rebel forces", says CNN.
At a joint news conference yesterday, Putin, Rouhani and Erdogan reiterated the need to drive "terrorists" out of Syria and to find a political solution to the seven-year-old conflict, but also stressed their respect for Syria's sovereignty.
Subscribe to The Week
Escape your echo chamber. Get the facts behind the news, plus analysis from multiple perspectives.
SUBSCRIBE & SAVE
Sign up for The Week's Free Newsletters
From our morning news briefing to a weekly Good News Newsletter, get the best of The Week delivered directly to your inbox.
From our morning news briefing to a weekly Good News Newsletter, get the best of The Week delivered directly to your inbox.
"We should help the future of Syria. No country has the right to decide the future of Syria. The future of Syria belongs to the Syrian people," said Rouhani.
Despite seemingly supporting opposite sides in the conflict, the three countries have "gradually become closer over the Syrian issue as a result of their will to solve the crisis", says Al Jazeera.
Tewfik Shuman, a Lebanese political analyst, told the broadcaster that the renewed efforts to resolve the Syrian crisis will have to take into account the new realities on the field.
"That is the rebel opposition's recent losses and Turkey's role in northern Syria. This followed a deal that involved exchanging Eastern Ghouta for Turkey entering Afrin," Shuman said.
The Syrian regime is thought to be close to taking full control of Eastern Ghouta, a rebel-held enclave on the outskirts of Damascus where thousands of civilians have been injured or killed in recent months.
'Schizophrenic messaging'
As Rouhani, Erdogan and Putin met on Wednesday, the future of US involvement in Syria - where 2,000 troops are stationed - remained uncertain amid what The Washington Post's Ishaan Tharoor describes as "schizophrenic messaging" from the Trump administration.
In a speech in Ohio last week, Trump heralded the end of the US involvement in the Syrian conflict, saying: "Let the other people take care of it now. Very soon, very soon, we're coming out.
"We're going to get back to our country, where we belong."
The US president was also "reported to have ordered the State Department to freeze more than $200m (£142m) in funds for recovery efforts in Syria pledged by his former secretary of state, Rex Tillerson", says the BBC.
But it appears that US military officials have now persuaded Trump to change his mind, with a senior administration official telling NBC News that the president had agreed at a meeting earlier this week to keep troops in Syria for an undetermined period, but "wasn't thrilled about it, to say the least".
A 'dangerous void'
The Pentagon "fears that a complete withdrawal of US troops would leave a dangerous void", says the BBC's Barbara Plett Usher.
It would "in effect cede US-controlled territory to the regime of Syria's president and its Russian backers, betraying America's Syrian allies and neutralising its efforts to influence a post-war order that takes into account Washington's interests and those of its regional allies", she adds.
A complete withdrawal "would almost certainly allow Iran to gain control of eastern Syria, creating a land bridge from Tehran to Damascus and Beirut that would increase the danger to Israel", says The Washington Post.
Bloomberg's Eli Lake echoes that fear over ceding further ground to Iran, but adds that the "best reason" to stay in Syria is "humanitarian".
"This butcher [Assad] has killed enough," Lake writes. "He should pay, if only to stop him from killing more and as a message to the other butchers watching."
The UN humanitarian adviser for Syria, Jan Egeland, also warned against losing sight of the plight of Syria's civilians.
More than half a million people have been displaced this year alone in and around Eastern Ghouta, Idlib and Afrin - where the fighting has been focused - Egeland told a news conference in Switzerland yesterday.
"This is the very wrong time to turn our back on Syria's civilians," he said.

Continue reading for free
We hope you're enjoying The Week's refreshingly open-minded journalism.
Subscribed to The Week? Register your account with the same email as your subscription.