Does the militarisation of police make us less safe?
In Depth: Trump isn't the only leader wanting military combat gear and tanks for police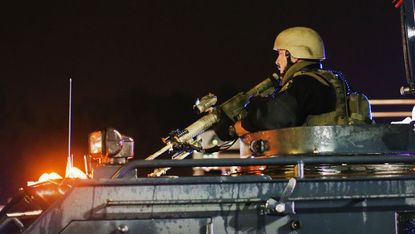 (Image credit: Scott Olson / Staff)
Sign up to our 10 Things You Need to Know Today newsletter
A free daily digest of the biggest news stories of the day - and the best features from our website
Thank you for signing up to TheWeek. You will receive a verification email shortly.
There was a problem. Please refresh the page and try again.
The world was stunned when rifle-toting police officers in masks and body armour rolled up in Ferguson, Missouri, in armoured vehicles, to stop the 2014 street protests over the police shooting of black teenager Michael Brown.
Following the public backlash, then-president Obama signed an executive order in 2015 limiting police access to equipment that belonged "on the battlefield".
Fast forward two years to Donald Trump. This week the US President promised to make it legal again for surplus military equipment, including grenade launchers and tanks, to be passed on to law enforcement agencies.
Subscribe to The Week
Escape your echo chamber. Get the facts behind the news, plus analysis from multiple perspectives.
SUBSCRIBE & SAVE
Sign up for The Week's Free Newsletters
From our morning news briefing to a weekly Good News Newsletter, get the best of The Week delivered directly to your inbox.
From our morning news briefing to a weekly Good News Newsletter, get the best of The Week delivered directly to your inbox.
The US argument, put forward by Attorney General Jeff Sessions this week, is that Obama had made it harder for American police to protect themselves and their neighbourhoods.
Obama's order didn't halt the surplus programme, but it did curtail the distribution of weapons such as grenade launchers and weaponised aircraft.
"Those restrictions went too far. We will not put superficial concerns above public safety," Sessions told an audience in Tennessee. "All you need to do is turn on a TV right now to see that for Houstonians this isn't about appearances, it's about getting the job done and getting everyone to safety."
But a growing body of evidence suggests that a militarised police force is bad for human rights, and has little impact on crime and violence in the long term, says Insight Crime, a foundation that monitors organised crime.
So, how did the US get to this point? And is Trump alone in believing that arming local police with military gear is necessary for public safety?
Rise of the warrior copThanks to the US military surplus policy, introduced in 1997, many jurisdictions now have access to weaponry formerly used in Iraq and Afghanistan – and the phenomenon is widespread.
US police also have access to non-lethal military technologies such as Long Range Acoustic Devices, nicknamed "sound cannons". Able to reach a volume of 143 decibels, well over the 130 decibel safety threshold, LRADs have been used to break up demonstrations (including the Ferguson protests) since 2009.
A global phenomenonConcern over the creeping militarisation of the police has been increasing worldwide.
The decision of several Canadian police forces to issue front-line officers with military grade assault rifles in recent years is "unnerving", says Toronto Sun columnist Supriya Dwivedi: "Why would anyone, least of all top police brass, want their local frontline officers to look like an army occupying foreign, hostile territory?"
The phenomenon is not confined to North America. In the UK, former London mayor Boris Johnson authorised the purchase of water cannons for crowd control by the Metropolitan Police, provoking a furious backlash. The hoses were never issued.
Australia and Germany are also among the nations having conversations about what resources police should have at their disposal and how they should use them. Mexico and Brazil, where militarised approaches are favoured, may provide timely answers.
Mexico's war on drugsFaced with a rising tide of drugs cartel violence in 2006, Mexican President Felipe Calderon authorised the "temporary" deployment of soldiers from the army and marines to supplant the weak and corruption-riddled police force.
More than 10 years on, the deployment continues to play a key role in the fight against drug-related violence, with deadly results. Between 2007 and 2014, "the army killed around eight opponents – or suspected criminals – for each one it wounded", The Conversation reports.
Human right activists warn that soldiers are waging war against suspected cartel members with impunity. In 2014, for example, soldiers acting as law enforcement were ordered to "take out criminals" in a raid in the remote Tlatlaya region. Twenty-two people were shot dead.
The army's report says that the soldiers were ambushed but Mexico's human rights commission (Comision Nacional de los Derechos Humanos) found that at least 12 of the alleged gang members had been shot point blank, execution-style, according to the human rights organisation Wola.
Brazil's experienceFurther south, in Brazil, the line between military and law enforcement is even more blurred. Every state has its own battalion of military police, a hybrid force equipped with armoured vehicles, helicopters, rifles, carbines and shotguns. Although not formally part of the Brazilian armed forces, the military police are organised along military lines, with an army-style uniform and hierarchy.
Their sole purpose is to deter crime, particularly in Brazil's drug- and crime-infested inner cities.
The problem of heavily armed drug-trafficking gangs operating in the slums or favelas has fed the narrative of war and portrayed favelas as spaces to be won back from an enemy army, Amnesty International says.
A 2014 report found that military police in Sao Paulo, Brazil's most populous state, have been responsible for more than 10,000 deaths since 1995, says Insight Crime.
Those in favour of arming the police, point to the increase in safety and security that can be provided by a well-trained, well-armed police force, however.
"The arguments supporting the militarization of the police are well known: a militarized and hierarchical police would be more disciplined, isolated from the population, and have a stronger esprit de corps, all characteristics seen as necessary to avoid corruption and to bring an urban population under control by people of their own class," author Teresa PR Caldeira wrote in her book City of Walls: Crime, Segregation and Citizenship in Sao Paulo.
The terrorist threatThe acceptance of a more heavily armed and regimented police force in the Western world appears to be linked to the increased danger posed by global terror networks.
"This market is worth $1.6bn [£1.24bn] and rising," says Al Jazeera's Yiannis Baboulias.
Militarisation in the US began with the 'War on Drugs', says the New York Times, but the 9/11 attacks "further encouraged police forces to embrace paramilitary tactics" in the name of homeland security.
But while military weaponry might provide an advantage in a terrorist attack, when it comes to everyday policing it could have a detrimental effect.
Body armour and assault rifles could give front-line officers an illusion of increased personal safety, but a militarised appearance alienates the community being policed and increases the risk of escalation, writes policing expert Radley Balko for the Washington Post.
Balko cites the experience of Jerry Wilson, Washington DC's chief of police from 1969 to 1874 and a strong advocate of community policing, who found that "an intimidating police presence didn't prevent confrontation, it invited it".
"When police show up in full riot garb, especially gear that covers their faces, they dehumanize themselves," Balko says.
Continue reading for free
We hope you're enjoying The Week's refreshingly open-minded journalism.
Subscribed to The Week? Register your account with the same email as your subscription.
Sign up to our 10 Things You Need to Know Today newsletter
A free daily digest of the biggest news stories of the day - and the best features from our website