India election: what kind of PM will Narendra Modi be?
Supporters hail India's first 'lower caste' prime minister, but critics warn of Modi's autocratic tendencies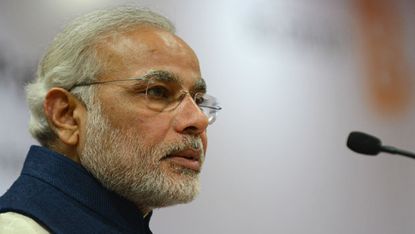 (Image credit: SAM PANTHAKY/AFP/Getty Images)
Sign up to our 10 Things You Need to Know Today newsletter
A free daily digest of the biggest news stories of the day - and the best features from our website
Thank you for signing up to TheWeek. You will receive a verification email shortly.
There was a problem. Please refresh the page and try again.
HINDU nationalist Narendra Modi is on course for a resounding victory in the 2014 Indian election, raising hopes of reform but also fears of division in the world's largest democracy.
Final election results, announced today, are expected to confirm a huge swing away from the ruling Congress party to Modi's Bharatiya Janata Party (BJP). The party has already won more than half the available seats, so will be able to command a parliamentary majority without forming a coalition. It is a "scale of victory not seen since 1980s" The Guardian says.
Over the course of India's rolling five-week election cycle, 537 million votes have been cast. The vote is considered to be the world's largest exercise in democracy. But what do we know of the future prime minister?
Subscribe to The Week
Escape your echo chamber. Get the facts behind the news, plus analysis from multiple perspectives.
SUBSCRIBE & SAVE
Sign up for The Week's Free Newsletters
From our morning news briefing to a weekly Good News Newsletter, get the best of The Week delivered directly to your inbox.
From our morning news briefing to a weekly Good News Newsletter, get the best of The Week delivered directly to your inbox.
Who is Narendra Modi? Born into a humble family, Modi will be the first Indian prime minister to come from the lower rungs of India's caste system. He is the third child in a family of eight, and grew up in a small three-room house built of mud and brick in the Gujarati town of Vadnagar.
He is a man possessed of "unbelievable physical energy", one of his friends tells The Times. He sleeps just six hours a night, and practices yoga first thing every morning. He is strictly vegetarian and "never takes a day off". He is also a "decisive, hard-working autocrat, intolerant of dissent", says the paper. "It's either yes or no — he never says maybe," adds his friend.
Modi's first job in politics involved sweeping floors for a senior official of the BJP-affiliated party, the RSS. He swiftly set about on a political career of his own and rose to become chief minister of Gujarat in 2001. He won three successive elections, largely on the platform of economic reform.
Why is he unpopular with Muslims? The future prime minister's critics accuse him of allowing, or even encouraging, mob violence against Muslims in Gujarat in 2002 which left more than 1,000 people dead. Following the riots, Modi became an international pariah – he was refused a diplomatic visa by the US and came under intense criticism from the UK.
Why has he won this election so decisively? Analysts say many Indians have been crying out for change. The current government has become mired in scandal. Some 30 per cent of MPs in the current parliament have criminal cases registered against them, of which almost half are serious and include murder and abduction, the BBC reports.
The Congress party has also become "increasingly anachronistic" in India, The Guardian notes, with patrician politicians who are out of touch with the electorate.
Political commentator Ashok Malik attributes the landslide victory to two major changes: the movement of rural Indians into towns and the first impacts of "the world's biggest ever youth bulge". Together, these factors are leading to huge societal changes "bringing new values, behaviours and conflicts", the Guardian says.
What kind of Prime Minister will he be? One of Modi's most strident critics in Gujarat, lawyer Mukul Sinha, said that Modi tends to trust only a close group of insiders, and does not tend to rule by consensus.
"Decisions are taken by a close group of confidantes," Sinha told the Times before he succumbed to cancer earlier this week. "His style of governance is that there is no decision-making in the assembly . . . He bypasses all that".
Whichever way he chooses to govern, he will "struggle to meet India's soaring expectations," Reuters predicts. "He has become a purveyor of dreams," said Sanjay Gupta, a former state bureaucrat. "It's hard to see how he can meet all the pent-up aspirations."
The main concern seems to be how Modi will interact with non-Hindus when he takes office. Critics note that Gujarat state has seen significant segregation over the last decade. Ruchir Sharma, head of emerging markets at Morgan Stanley told Reuters: "Modi is set to govern all of India, the 150 million Muslims included, and there is reason to be cautious".
Indian election: Narendra Modi on course for victory
13 May
EXIT polls in India's general election suggest the Bharatiya Janata Party (BJP) candidate Narendra Modi is on course for an emphatic victory that could give him an absolute majority in parliament.
Modi, a divisive Hindu nationalist, has campaigned on a platform of job creation and overhaul to the country's ailing infrastructure. The candidate has also "tapped into growing frustration" with the ruling Congress party, the New York Times reports.
Polls suggest that Modi's party will win between 261 and 283 of the 543 parliament seats in the election. If the BJP receives 272 seats or more, it will be in the unusual position of being able to form a government without having to go into coalition with the notoriously "fractious" regional power brokers.
In spite of the positive predictions, analysts warn that polls have proven inaccurate in the past.
"Exit polls... have a mixed track record, given the diversity of India's electorate, with predictions going awry at times," warns the Hundustan Times. "In 2004, pollsters had wrongly predicted a National Democratic Alliance win."
This year, people have voted in record numbers. At 66.38 per cent, the overall voter turnout is higher than the previous benchmark of 64.1 per cent in the election of 1984-5, which was boosted by an outpouring of public emotion after the assassination of prime minister Indira Gandhi.
The Congress party is expected to suffer a huge defeat at this year's polls. India's News X channel suggests the ruling Congress party could win as few as 78 seats and its coalition just 101.
During the campaign, Modi contrasted the Congress party leader Rahul Gandhi's "privileged upbringing" with his own "relatively impoverished background" in a small-town Gujarat, The Independent reports. Gandhi, meanwhile, characterised his opponent as a Hindu nationalist who would "destroy the secular foundation of India".
Votes will be counted on 16 May.
India election: Rushdie and Kapoor warn against Modi
11 April
SOME of India's most prominent artists and academics including sculptor Anish Kapoor and novelist Salman Rushdie have written an open letter criticising the controversial Hindu nationalist politician many expect to become India's next prime minister.
The letter, sent to The Guardian newspaper, says that if BJP candidate Narendra Modi becomes prime minister it would "bode ill for India's future as a country that cherishes the ideals of inclusion and protection for all its peoples and communities".
The letter has also been signed by lawyer Imran Khan, who represented Stephen Lawrence's family, several British MPs and Havard professor Homi K Bhabha.
Modi currently leads all the country's major opinion polls and most analysts believe he will become prime minister when the massive six-week phased elections come to a close next month.
Supporters of the BJP say that he will be effective in restoring the country's ailing economy, and could help stamp out institutional corruption in India's parliament, where some 30 per cent of MPs currently have criminal cases registered against them.
Opponents claim that Modi is a religious hardliner, who has softened his image to win the election.
"The underlying worry is that Modi will move to a more and more Hindu state and that is a worry many people share and is not particular to those who signed the letter," Kapoor told the Guardian.
The letter's signatories also express concern over "the role played by the Modi government in the horrifying events that took place in [the western state of] Gujarat in 2002."
Critics say that Modi, who was chief minister in Gujarat for 11 years, did very little to stop anti-Muslim riots in the state in 2002, which left more than 1,000 people dead.
The letter to the Guardian says Modi has repeatedly refused to "accept responsibility or render an apology". In spite of such criticisms, Modi enjoys huge popularity in India and looks set for a landslide victory.
India elections: world's biggest democracy goes to the polls
7 March
THE Indian general election began today, with voting taking place in the country's rural north east. In total, 814 million people are eligible to vote and over half a billion are expected to take part in a rolling poll that will go on for more than a month. Voting will close on May 12 and the votes will be counted on May 16.
The poll is the biggest election in the world, and a gargantuan logistical feat. Voters will be able to lodge their ballot in one of more than 930,000 polling stations around the country, overseen by 11 million officials and security personnel. More people are expected to vote at this election than in the last six American elections combined.
So who are the front-runners? And what are the hot issues for voters in the world's most populous democracy?
Who will win?Experts are anticipating a win for the Hindu nationalist opposition, the Bharatiya Janata party (BJP), although it is expected to fall short of an absolute majority in the 545-seat lower house of the national assembly and may need to form a coalition government.
The BJP's prime ministerial candidate, Narendra Modi, is a controversial character, referred to as a demagogue and a "hatemonger" by his opponents. The outgoing prime minister, Manmohan Singh, said Modi would be "disastrous" for the nation.
Modi, chief minister of Gujarat for the past 11 years, has been credited with sound economic policy, but critics say he did very little to stop anti-Muslim riots in Gujarat in 2002, which left more than 1,000 people dead. Following the riots, Modi became an international pariah – he was refused a diplomatic visa by the US and came under intense criticism from the UK.
Who else is in the running?Modi's main rival is the 43-year-old Rahul Gandhi, heir to India's Nehru-Gandhi political dynasty. Gandhi is the leader of the ruling Congress Party, but pre-polling puts his party well behind the BJP, and many senior ministers seem to accept that they will not return to power.
"Being in opposition in democratic politics gives a great opportunity to the party," Mani Shankar Aiyar, a senior Congress official and former government minister, told Reuters. "We need to democratise the party."
And the other candidates?Over the past few decades the number of small parties has increased dramatically. In 1952 there were just 52 parties, today there are 370. The anti-corruption Aam Aadmi (Common Man's) Party, performed spectacularly in a recent local election in Delhi, and will field candidates for all parliamentary seats. Several other smaller regional parties are expected to do well, and could play a major role in the formation of government.
What are the electorate's greatest concerns?Many voters cite rising prices as their biggest concern, with particular worries over the price of consumer goods and petrol. Many people also wish to see the incoming government tackle widespread corruption. Some 30 per cent of MPs currently have criminal cases registered against them, of which almost half are serious, including murder and abduction, the BBC reports.
What challenges await the incoming government?The first order of business will be the country's economy. When the Congress Party came to power in 2009, the economy was "motoring along", with growth at eight per cent. In the years since it stagnated amid high inflation and a growing budget deficit.
Voters hope that economic revival will help lift vast swathes of the country out of poverty. A third of Indian homes still have no light, and half have no toilet. Half of all babies born in India display stunted growth, and malnutrition is only worse in some parts of sub-Saharan Africa. "The electorate need, therefore, to hold Mr Modi to his pledge to be a man who makes their lives better," The Times says.
Continue reading for free
We hope you're enjoying The Week's refreshingly open-minded journalism.
Subscribed to The Week? Register your account with the same email as your subscription.
Sign up to our 10 Things You Need to Know Today newsletter
A free daily digest of the biggest news stories of the day - and the best features from our website