Taliban threat to Afghan poll: was anything accomplished?
Three news books suggest Britain's adventure in Afghanistan was a horrible waste of lives and money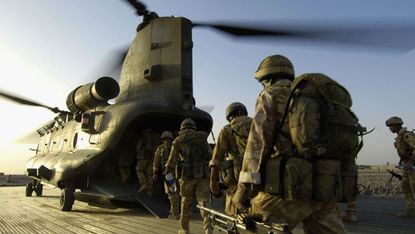 (Image credit: Cpl Ross Tilly/MOD via Getty Images)
Sign up to our 10 Things You Need to Know Today newsletter
A free daily digest of the biggest news stories of the day - and the best features from our website
Thank you for signing up to TheWeek. You will receive a verification email shortly.
There was a problem. Please refresh the page and try again.
ON the eve of Saturday's crucial elections in Afghanistan, and the impending departure of foreign troops from the country, the Ministry of Defence has been offering a limited number of defence journalists the opportunity to be "embedded" with British forces in Helmand as they pack up the huge complex at Camp Bastion, a tented barracks roughly the size of Reading.
The journalists will have to adhere to the rules of the MoD's 'Green Book' – which means war-time censorship of copy, limited access to Afghans, and a raft of new restrictions. The journalists will have military escorts or minders, who now have to report all conversations with reporters, even at mealtimes in the canteen.
One can understand the authorities' defensiveness - but it doesn't warrant our sympathy.
Subscribe to The Week
Escape your echo chamber. Get the facts behind the news, plus analysis from multiple perspectives.
SUBSCRIBE & SAVE
Sign up for The Week's Free Newsletters
From our morning news briefing to a weekly Good News Newsletter, get the best of The Week delivered directly to your inbox.
From our morning news briefing to a weekly Good News Newsletter, get the best of The Week delivered directly to your inbox.
David Cameron sees the withdrawal of troops as "mission accomplished". But with growing Taliban intimidation making the validity of the 5 April elections highly questionable, what, if anything, has been accomplished?
This government, like its Labour predecessor, has continually refused a public inquiry into Britain's 14-year commitment to Afghanistan, at a current price of 448 military killed, more than 2,000 seriously injured and expenditure of around £10 billion.
Yet three remarkable books published this spring suggest that a public inquiry into British policy and operations in Afghanistan is as urgent and necessary as the Chilcot Inquiry into Iraq (publication of which has just been delayed yet again).
Honourable Warriors by Richard Streatfeild is his account of commanding a company of British infantry in the worst of the fighting in Sangin, where more than 100 British troops were killed.
In the winter of 2009-2010, Major Streatfeild broadcast a cheery blog from his base on the edge of the town for Radio 4's Today programme. Having left the Army, he now feels free to tell the truth about the lack of equipment and clear direction his men received.
They had only three mine detectors when they needed 35. Their radios were lethally unreliable – equipment due to be upgraded in 2009 won't be replaced until 2019. Patrols and outposts were shot at several times a day for days on end. More than half of all section commanders were wounded.
His conclusions about the lack of clear direction and policy chime with those of Mike Martin, an Army officer acting as an adviser to a number of commanders, in his history of Helmand province from 1978 to 2012, titled An Intimate War. As a Pashtun speaker, he met many of the principal players in Helmand, which alone grows just under half of the Afghan heroin output. The book is still awaiting publication.
Martin suggests that the British, and later the Americans, did not understand what they were getting into when they decided to send troops to Helmand to bring modern governance to the Afghans and crack down on the drugs business.
Rather than stamping out corruption and tribal rivalries, they effectively bought into them. Aid funding for alternative cropping to opium drifted off to village elders and tribal shakers and movers – and via them to the Taliban.
The book is an indictment of UK aid policy as much as its military strategy. (The overseas aid department, DFID, ran one of the biggest operations in its history to Kabul and Helmand.) One of the biggest follies was to shift, at great expense and risk, a third massive turbine unit to the hydro-electric plant at the Kijaki dam. The turbine lies there rusting and unused, in an area where Iran is now openly influencing local militias.
Martin suggests that there was an almost wilful self-deception by the senior British and American command about what they could achieve in the complex tangle of tribal vendettas and alliance, which would take decades and generations to change. Drug production has if anything gone up in Helmand since the big move south by British and American troops in 2006.
There is the same sense of reluctance to face a bitter truth recounted in The Wrong Enemy by the veteran New York Times correspondent, Carlotta Gall.
She traces how elements of the Pakistan military, especially its intelligence branch the ISI, have supported and even run the Taliban insurgency in southern Afghanistan, largely working with planners and training schools round Quetta, and later Peshawar.
As the Americans quickly learnt, but wouldn't admit, part of the Pakistan military administration was joining them in fighting global terror, while part was protecting and abetting the local Taliban and even their al-Qaeda allies. Among those who knew of, and largely approved, the ambivalent policy towards the Taliban insurgency were President Musharaf and his ISI then army chief, General Ashraf Kayani.
No wonder that when the New York Times ran extracts of the book, the local versions in Pakistan had the pages carrying Gall's article blanked out.
Her most shocking revelation is that the ISI knew where Osama bin Laden was all along, and may even have helped him move to his last home in Abbottabad.
There was one top secret department, run by an ISI officer, devoted exclusively to the welfare of OBL and his family. There are intercepts after his killing by US Navy Seals in May 2011 that suggest a senior Pakistan general had full knowledge of the al-Qaeda leader and his activities all along.
Very little of what these three books discuss has entered the current debate at the time of the Afghan elections and the impending withdrawal of international forces, which is likely to be much faster than expected.
Quite how our nations and armies got involved in such an expensive enterprise as Afghanistan – costing the US Treasury more than a trillion dollars – is well worth examining. Without such scrutiny, risks are already emerging of drawing wrong conclusions.
The politicians will blame the soldiers and their commanders for any shortcomings. They argue that with the interventionism of the Blair-Bush years a thing of the past, we no longer need big armed forces.
This is to let the politicians and diplomats off the hook. In the end it was a political decision to go into Iraq and Afghanistan. It is too simplistic to cut defence, as if none is needed now those campaigns are over, and boost aid - which is what Chancellor Osborne seemed to be hinting at in his recent Budget speech.
The problem, Carlotta Gall concludes, is that the wrong enemy is still out there.
Continue reading for free
We hope you're enjoying The Week's refreshingly open-minded journalism.
Subscribed to The Week? Register your account with the same email as your subscription.
Sign up to our 10 Things You Need to Know Today newsletter
A free daily digest of the biggest news stories of the day - and the best features from our website
is a writer on Western defence issues and Italian current affairs. He has worked for the Corriere della Sera in Milan, covered the Falklands invasion for BBC Radio, and worked as defence correspondent for The Daily Telegraph. His books include The Inner Sea: the Mediterranean and its People.