Shrien Dewani: will inquest resolve unanswered questions?
Shrien Dewani was acquitted of murder but might still face questions over wife's honeymoon murder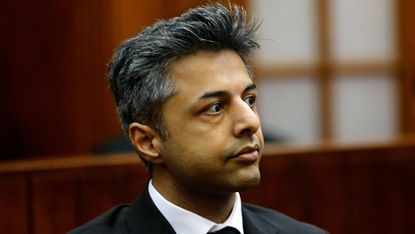 (Image credit: Mike Hutchins)
Shrien Dewani still faces the prospect of public questioning over the murder of his wife Anni on their honeymoon in Cape Town if the UK inquest into her death is re-opened.
North London coroner Andrew Walker has reportedly contacted everyone linked to the case to say he is ready to consider re-opening the inquest, which was adjourned during the investigation.
Anni's family, who have long called for Shrien to explain what happened on the night of the murder, are due to meet the coroner tomorrow, reports The Sun.
Subscribe to The Week
Escape your echo chamber. Get the facts behind the news, plus analysis from multiple perspectives.
SUBSCRIBE & SAVE
Sign up for The Week's Free Newsletters
From our morning news briefing to a weekly Good News Newsletter, get the best of The Week delivered directly to your inbox.
From our morning news briefing to a weekly Good News Newsletter, get the best of The Week delivered directly to your inbox.
If Shrien is called to give evidence, it would mark the first time he has spoken under oath about the murder. He was saved from testifying at his own criminal trial in South Africa after the judge threw out the case in December.
Shrien was accused of hiring a group of South Africans to shoot his wife in a carjacking in November 2010. But he was acquitted when Judge Jeanette Traverso ruled that the prosecution's key evidence was "riddled with contradictions".
What would an inquest determine?
An inquest is held to determine the facts surrounding a death, not to deal with issues of blame, responsibility or criminal liability. It is limited to establishing when and where the individual died, the medical cause of their death and how they came by their death. Coroners have the power to summon witnesses to appear at an inquest. However, a witness can refuse to answer any questions on the grounds that they might incriminate themselves.
Who is the coroner?
Andrew Walker, a former Oxfordshire coroner, developed a reputation for his "unflinching approach" when he heard scores of inquests into the deaths of British servicemen and women in Iraq and Afghanistan, says the Daily Telegraph. Walker was willing to ask "awkward" questions of the Ministry of Defence over scarce equipment for troops and the involvement of key allies in friendly fire incidents, says the newspaper.
What questions are yet to be answered?
When Judge Traverso announced her decision to end Dewani's trial she acknowledged that there were still many "unanswered questions" in the case. Anni's family said the collapsed trial had left them with even more questions than answers and have repeatedly called for Shrien to give his version of events under oath. They believe his story has changed over the years.
In the days after Anni's death, Shrien suggested it was his wife who wanted to see the "real Africa", which is why their taxi driver drove through the Gugulethu township, where the attack happened. This supported the theory that the attack was a random carjacking. But after the couple's taxi driver, Zola Tongo, was charged with helping to plan the murder, Dewani's story appeared to change. In his plea statement to the court last year, he implied it was Tongo who had first suggested going into a township.
Shrien's account of the carjacking also changed. He told a Sun reporter that he was dragged "struggling and screaming out of the window", although he was found without a scratch on him. But the details are much hazier in his plea statement, in which he implies he was forced out of the window at gunpoint by one of the hit men sitting inside the car. "I recall the window opening. I recall hitting the ground and the car speeding away," he says.
Shrien Dewani back in Britain: could he now sue prosecutors?
10 December
Shrien Dewani has arrived back in the UK after being cleared of plotting his wife Anni Dewani's murder on their honeymoon four years ago.
He made his way through a media scrum at Cape Town airport, but made no comment as he headed towards his boarding gate.
Dewani has been in South Africa since April, following a long extradition battle. This week he returns home a free man after Judge Jeanette Traverso ruled that the prosecution had failed to provide enough evidence to convict him of arranging his wife's murder.
While Anni's family are considering launching a civil action against him in the UK, the Daily Mail suggests that Shrien could take legal action against the prosecution lawyers – although Shrien has given no indication that he would.
Peter Jordi, a South African lawyer who specialises in claims against the police, said Shrien could seek damages for "malicious prosecution" if he can show that the state unjustifiably used his sexuality as evidence.
The prosecution had lined up a number of witnesses to testify to Dewani's homosexuality, including the German gay escort Leopold Leisser. But after Shrien admitted to his bisexuality on the first day of the trial, the judge ruled that much of this evidence was "irrelevant".
"Defendants can recover expenses for the harm they have suffered and infringement of rights of personality suffered by being falsely prosecuted," said Jordi.
"They can make a claim where the prosecution brings up material they know is inadmissible to blacken the character of the accused."
However, Mannie Witz, a senior defence barrister who specialises in murder cases, said this would mean Shrien would be forced into the witness box.
"In such a claim, the onus would be on Dewani to prove that the case against him was malicious, meaning he could not avoid giving evidence under oath," he said.
"He simply couldn't do that, judging by the various versions he has given police over time and now to the court in his plea explanation, he is likely to make a shocking witness."
Shrien Dewani cleared: 'we haven't heard the whole story'
9 December
The family of murdered bride Anni Dewani have said they are "deeply disappointed" with the decision to let her husband Shrien Dewani walk free.
The British businessman's trial collapsed yesterday as Judge Jeanette Traverso ruled that the prosecution had not provided enough evidence on which a reasonable court could convict him.
The National Prosecuting Authority has said it will not be launching an appeal.
While Shrien can return to his home in Bristol as a free man, Anni's family are now considering bringing a civil claim against him.
Anni's father, Vinod Hindocha, has asked a lawyer in London to pursue legal action against Shrien for the costs of the couple's £200,000 wedding and for the loss of his daughter.
Anni was shot during an apparent carjacking in a township on the outskirts of Cape Town during her honeymoon in November 2010.
Three South African men have already been convicted of the killing. A fourth man, Monde Mbolombo, was told yesterday that he would no longer be granted immunity from prosecution after he confessed to taking part in the murder plot.
Shrien always denied being the driving force behind the murder, but the Hindocha family urged him to take the witness stand to provide answers to their questions about Anni's death.
That possibility was eliminated yesterday as Judge Traverso ruled that the evidence provided by the prosecution's star witness was "riddled with contradictions".
The family issued a statement following the judgment, saying that neither they nor Anni would have condoned the wedding if they had known that Shrien was having sex with male prostitutes.
"We do not feel we have been presented with the whole story, and the decision to end the trial without [Shrien] offering a defence means we, and the good people of South Africa, the UK and various parts of the world who have followed the case, will always live without ever knowing the complete events that led up to Anni's death."
Shrien Dewani not guilty in honeymoon murder trial
09 December
British businessman Shrien Dewani has been found not guilty of organising his wife's murder on their honeymoon in South Africa.
Judge Jeanette Traverso has thrown the case out of court, arguing that the prosecution failed to put forward enough evidence to prove that he had planned the murder.
Oscar Pistorius appeal live: lawyer says judge 'erred'
Anni was shot during an apparent carjacking as the couple's taxi driver took them through the Gugulethu township on 13 November 2010.
Today her family expressed disappointment that Shrien would not have to set out his case in court.
"Today we feel really, really sad because we never heard the full story of Shrien," Ami Denborg, Anni's sister, said. "We just wish Shrien had been honest with us and especially with Anni."
Vinod Hindocha, Anni's father, said last week that his family would sue Shrien in an attempt to recover the cost of the wedding. He said that Shrien had not been honest about his bisexuality, which was revealed in court on the first day of the trial, and that his daughter would not have agreed to marry him if she had known the truth.
The Times reports that as he left court today Hindocha was asked if he felt he had been let down. "Yes, yes," he shouted from the back of a taxi.
During the trial the court heard from 16 state witnesses. The key witnesses were three men who admitted involvement in the plot to murder Anni. Zola Tongo and Mziwamadoda Qwabe, both jailed for Anni's murder, and middleman Monde Mbolombo, granted immunity for testifying in an earlier trial, all pointed the finger at Shrien. However, the defence argued that their evidence was unreliable and inconsistent.
Shrien is now free to leave Western Cape High Court as an innocent man.
Anni's family had urged Shrien to give his side of the story in court and said it would be a "nightmare" if the trial did not continue.
Here is what we have heard today:
10.45am: Judge Traverso finds Shrien Dewani not guilty and dismisses the case. She says there is no evidence in which a reasonable court can convict the accused.
She refuses to grant Mbolombo indemnity in the case, after saying that he had incriminated himself in his own evidence.
Traverso says that regrettably there are many unanswered questions and she acknowledges Anni's family wants Shrien to take the witness stand. But she says she cannot take this into account.
The judge says she cannot ignore the fact that the three conspirators who gave evidence in court are "three intelligent men" who are capable of "twisting" their story.
10.30am: Judge Traverso says hitman Qwabe "cannot be correct" about his version of events regarding the murder of Anni Dewani. Fingerprint and ballistics evidence and bruises found on Anni's leg, made by fingertips before she died, are "irreconcilable" with Qwabe's claims that his associate Xolile Mngeni shot her from the front of the car, says the judge. Qwabe tried to explain some of these points in court but his "evidence disintegrated into a garbled mess", says Traverso.
The judge notes that the evidence of Monde Mbolombo, who was granted immunity for testifying in an earlier trial, began to "unravel under cross-examination". He is a "self-confessed liar", she says, pointing out several times when he admitted to hiding the truth. As his testimony continued, it "became more and more clear that he was deeply involved in the incident", says Traverso.
10.00am: Judge Traverso sums up why she believes the entire story as told by Tongo is "highly improbable".
The accused simply approached Tongo because he was the first taxi driver he came across. There could have been no indication that Tongo was anything other than a law-abiding taxi driver, she says. Can we accept that Shrien would approach him with a quest that he find somebody to kill his "business partner", she asks.
Traverso suggests that it is "highly improbable" that Tongo would put his livelihood and freedom at risk for such a relatively small amount of money.
She says there are "manifest material contradictions and inconsistencies" in Tongo's evidence, which she says was of a "very poor quality". There might be parts of his evidence that incriminate the accused but "one simply does not know where the lies end and the truth begins", she says.
The judge begins to talk through the evidence of Mziwamadoda Qwabe and Monde Mbolombo, two other men involved in the murder conspiracy.
9.45am: Judge Traverso asks Shrien Dewani to stand. She continues to highlight the holes in Tongo's evidence, describing parts of it as "incomprehensible" and "irreconcilable".
For example, Tongo failed to give a "credible explanation" about why he put the child locks on in the taxi, she says. She points to several examples in which Tongo was "trying to incriminate the accused", speaking in detail about his plans to pay hitmen Qwabe and Mngeni.
9.15am: Judge Traverso is talking about the "startling contradictions" in the evidence of taxi driver Zola Tongo, the only witness who directly linked Shrien to the murder conspiracy.
For example, Tongo, who had no previous criminal record, was adament that Shrien's alleged promise to help make his business grow was more important than the money in his motive to enter into the murder conspiracy. But Traverso says there is no evidence of this in his previous statements. It is indeed "strange" that he did not mention this before, she says.
Tongo's muddled evidence on how much money each hitman might receive from Dewani was "telling", says the judge. He changed his evidence under pressure from cross-examination "without the slightest hesitation", she says.
The other three men involved in the conspiracy – Mziwamadoda Qwabe, Monde Mbolombo and Xolile Mngeni – did not speak to Shrien and so Tongo is the only person with whom Shrien could possibly negotiate, she says. Qwabe and Mbolombo's evidence contradicted Tongo's on "almost every interaction" on the night before the murder, says the judge. Mngeni died in October and has not testified in Shrien's trial.
Judge Traverso points to other parts of Tongo's evidence in which he was forced to admit he had made a mistake or changed his evidence. She refers to "strange" parts of his testimony, such as his confusion about the identities of the two hitmen Qwabe and Mngeni. The court adjourns for a short break.
8.45am: Judge Traverso continues to read through Tongo's evidence in detail, including his alleged actions after the murder. She notes that there was apparently "no discussion as to how, where or when the 'business partner' must be killed" when the hitmen first planned the murder.
During cross-examination Tongo's evidence was "riddled with contradictions", says the judge. But she says it is her job to decide whether it was so poor that the court can ignore it.
She notes that, if Tongo is to be believed, Shrien asked him to carry out a murder within minutes of arriving at his hotel in Cape Town, having met him, at most, only 30 minutes earlier.
8.30am: Traverso runs through the evidence presented so far in court. She repeats that Tongo is the only witness who has linked Shrien to the conspiracy. The CCTV evidence shows little, says the judge. The only issue that Traverso must consider is whether the evidence shows that the accused was part of the conspiracy.
The judge runs through Tongo's evidence, from picking up the Dewanis at the airport to the night of the murder. Tongo claimed that Shrien had offered him business contacts and money to have a female "business partner" killed. The hit was allegedly arranged for a price of R15,000 (around £850).
8.00am: Judge Jeanette Traverso reads out the charges against Shrien Dewani. She explains that there must be evidence on which a reasonable man might convict the accused and says it is crucial for the state to prove conspiracy to murder between Shrien and the conspirators. An accused is entitled to be discharged if there is "no possibility of a conviction" unless he enters the witness box and incriminates himself, she says.
It is common cause that the only witness who could incriminate Shrien is Tongo, the taxi driver who claims Shrien asked him to find a hitman to kill his wife. Citing South African case law, Traverso explains that the credibility of the state's witnesses is taken into account when making a ruling.
Shrien Dewani: Anni's parents to sue over 'false' marriage
2 December
The parents of murdered bride Anni Dewani are planning to sue her husband Shrien Dewani for failing to reveal his bisexuality before their wedding.
Shrien is on trial for allegedly paying a group of South African men to murder his wife while they were on their honeymoon in Cape Town in November 2010.
Rumours of his "secret homosexuality" circulated just after Anni's death, but it was not until the first day of his trial in October that Shrien admitted he was bisexual and had slept with male prostitutes.
Anni's father Vinod Hindocha said it came as a "shock" to the family and neither he nor his daughter would have agreed to the marriage if they had known.
In an interview with the Daily Mail, he revealed that he had asked a lawyer in London to pursue legal action against Shrien for the costs of the wedding and for the loss of his daughter.
Hindocha claims he paid two-thirds of the Dewanis' three-day wedding in Mumbai, which is estimated to have cost £200,000.
"The whole wedding was a drama and was false. I am going to sue him for that. Not for money, but for the loss of my daughter. My daughter left this world just for nothing," said Hindocha.
The legal action will go ahead once the criminal proceedings have concluded, regardless of whether Shrien is found guilty in South Africa, he said.
Anni's parents said they were not homophobic but were shocked at the way Shrien had deceived the family and Anni.
"Which father in the world, including me, would allow their daughter to marry a person who sleeps with men?" asked Hindocha. "Now we have the truth and that he has literally deceived the whole family."
Anni's parents, who live in Sweden, said that every day in court had been "torture" for them. They urged Shrien to "be a man, don't be a coward" and take the witness stand in court.
Judge Jeanette Traverso is currently deciding whether the state has presented enough evidence for the trial to continue. She will announce her decision on 8 December.
More about Shrien Dewani:
Shrien Dewani: why murder trial could collapse in a weekMiddleman said killing was 'Islamic thing'Graphic emails barred by court in blow for stateShrien Dewani reveals he is bisexual on first day of murder trialShrien Dewani described himself as 'perverted' on GaydarShrien Dewani reveals he is bisexual on first day of murder trial Shrien Dewani: what we know about the honeymoon murder caseMurder suspect loses bid to block extradition Shrien Dewani family welcome 'significant' Panorama findings

Continue reading for free
We hope you're enjoying The Week's refreshingly open-minded journalism.
Subscribed to The Week? Register your account with the same email as your subscription.