Should the UK return colonial artefacts?
Six in seven repatriation requests to Oxford institutions approved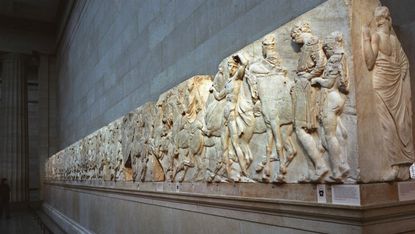 (Image credit: Graham Barclay, BWP Media/Getty Images)
University museums are returning relics to indigenous groups amid pressure from students to redress perceived historical injustices.
According to documents obtained by The Times, six in seven requests made since 2009 to institutions linked to Oxford University have been approved.
Last year, Edinburgh University returned skulls to Sri Lanka last year, and is currently in the process of returning skeletons to New Zealand.
Subscribe to The Week
Escape your echo chamber. Get the facts behind the news, plus analysis from multiple perspectives.
SUBSCRIBE & SAVE
Sign up for The Week's Free Newsletters
From our morning news briefing to a weekly Good News Newsletter, get the best of The Week delivered directly to your inbox.
From our morning news briefing to a weekly Good News Newsletter, get the best of The Week delivered directly to your inbox.
Manchester University returned 43 objects to Aboriginal groups in Australia last November.
State-funded institutions such as the British Museum and the Victoria & Albert Museum are under pressure to return items, but claim they are prohibited by UK legislation.
Here are the key points on either side of the argument over whether museums should return their colonial artefacts.
For
Stealing is wrong
Objects obtained without consent are as good as stolen and should be returned to the countries from which they came.
A restitution report commissioned by Emmanuel Macron in 2018 called for the return of thousands of African artworks housed in French museums.
"I cannot accept that a large part of the cultural heritage of several African countries is in France," said Macron. "There are historical explanations for this but there is no valid, lasting and unconditional justification."
But over a year later, the repatriation of artworks and artefacts in France has not begun, and "is not on the agenda", says The Africa Report. "With 2020 barely under way, it seems that nothing has been accomplished."–––––––––––––––––––––––––––––––For a round-up of the most important stories from around the world - and a concise, refreshing and balanced take on the week's news agenda - try The Week magazine. Start your trial subscription today –––––––––––––––––––––––––––––––
To loan is not to own
Many British and other European museums have attempted to answer critics by allowing lengthy loans of their objects to collections in their origin countries.
But the French restitution report's co-author, Senegalese economist Felwine Sarr, insists this is not a satisfactory solution.
"It's not enough because in a loan the right of the property belongs to you," said Sarr. "You loan something that you own, it's your property. If you restitute, there is a transfer of the property rights and the new holder of those rights can loan you the item."
Boost diplomatic relations
A number of countries harbour resentment towards the UK and other Western nations for failing to return their artefacts.
India's foreign minister spoke this week of his wish to see the repatriation of treasures taken to Britain during colonial rule.
"I have a natural desire to see as many things which rightfully belong to India back in India," he told a press conference in Delhi. He also praised a shift from what he called "utter denial" about how treasures were acquired.
"We have seen globally a return of heritage and artefacts from the colonial era to the original homes," he said. "It's a slow trend... But compared to where it was before where people were in utter denial, I think there is today greater sensitivity about history."
Although some countries do concede to requests to return artefacts, delays in doing so can further stoke tensions. It took ten years of diplomatic pressure from the Mexican government before Germany agreed to repatriate two 3,000-year-old archaeological pieces, notes the UN Educational, Scientific and Cultural Organisation.
Against
Reduced risk of theft or destruction
Artefacts of global significance may be safest in the relatively well-protected environments of major European cities.
Before Isis lost much of its territory, the militant group oversaw the destruction of millennia-old relics in Syria, Iraq and Libya, bombing and bulldozing "false idols".
"The devastation has intensified a bitter debate over whether American museums, Western collectors and others should be returning disputed artefacts to the lands where they originated," reports The New York Times.
Gary Vikan, former director of the Walters Art Museum in Baltimore, told the newspaper that the cultural atrocities committed by Isis "will put an end to the excess piety in favour of the repatriation model".
But The Guardian says "that defence smacks of Western privilege".
Tess Davis, a lawyer with the Washington D.C.-based Antiquities Coalition, told the paper: "Colonialism is alive and well in the art world. So-called leaders in the field still justify retaining plunder in order to fill their 'universal museums' where patrons can view encyclopaedic collections from all over the world.
"A noble idea, in theory, but in practice, a Western luxury. The citizens of New York, London, and Paris may benefit, but those of Phnom Penh? Never."
Better understanding of colonial history
Returning objects from Western collections risks limiting Western visitors' understanding of history, says Tristram Hunt, director of London's Victoria and Albert Museum, in an article for The Guardian.
"To decolonise is to decontextualise: the history of empire is embedded in its meaning and collections, and the question is how that is interpreted," he writes. "Our aim should be to detach the universal, encyclopaedic museum from its colonial preconditions and reimagine it as a new medium for multicultural understanding."
And a Times editorial said institutions such as universities "should make clear, even at the cost of controversy, that their first duty is to promote research".
"Treating them instead as looted goods for which they must apologise and seek atonement is neither morally required nor conducive to learning about the past," it adds.
Keeping collections complete
The current director of the British Museum, Hartwig Fischer, told The New York Times in 2018 that while the institution was open to cooperation with countries seeking to reclaim artefacts, "the collections have to be preserved as whole".
However, it is unusual for everything in a specific collection to be "stolen", so returning objects often does mean breaking up these carefully collated sets.
Museums "do include works such as the Benin Bronzes, some thousands of which were notoriously looted at the time of the sacking of the palace in Benin City… But they are made up, too, of extensive collections made from the late 18th century onward by European explorers," says the FT.
Who is the rightful owner?
Some argue that a vast amount of artefacts are now located in countries other than the one in which they were created, and that the story of how they got there is often unclear, complex or contested.
"It's true that some artefacts were taken in circumstances we now find unpalatable. But history is long and complicated; the situation is always more tangled than 'baddies' versus 'goodies'," says History Extra.
Hartmut Dorgerloh, general director of Berlin's Humboldt Forum museum, asked The New York Times: "How far back will you go? Until Roman times? Because many items in Rome were robbed somewhere in Greece or in Ancient Egypt."
Professor Nigel Biggar, leader of Oxford's Ethics and Empire project, said universities should not deny the "surrender" of objects to legitimate claimants, but the topic was complex.
"Are today's claimants really the heirs of yesterday's victims? What, exactly, do contemporary Greeks have in common with ancient Athenians, such that the former can claim to be the rightful owners of the Elgin Marbles?" said Biggar. "Where these questions can be given satisfactory answers, the restoration of objects makes sense."

Continue reading for free
We hope you're enjoying The Week's refreshingly open-minded journalism.
Subscribed to The Week? Register your account with the same email as your subscription.