South African xenophobia: why is there so much hatred of foreigners?
Xenophobic rioting led to eight deaths last month, but South Africa's problems go back decades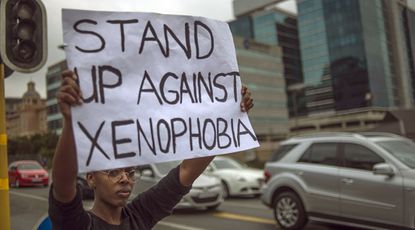 (Image credit: Getty)
The South African government has been accused of fanning xenophobic sentiment after police launched a major crackdown on illegal immigrants.
More than 1,650 foreigners are among thousands arrested in the wake of a wave of xenophobic violence in the country, which left eight people dead and hundreds injured.
But the government has defended Operation Fiela, insisting it had "stabilised the situation and prevented further loss of life," the South African Mail and Guardian reports.
Subscribe to The Week
Escape your echo chamber. Get the facts behind the news, plus analysis from multiple perspectives.
SUBSCRIBE & SAVE
Sign up for The Week's Free Newsletters
From our morning news briefing to a weekly Good News Newsletter, get the best of The Week delivered directly to your inbox.
From our morning news briefing to a weekly Good News Newsletter, get the best of The Week delivered directly to your inbox.
"Security agencies continue to work around the clock to protect both foreign nationals and South African citizens against any attacks," the government said in a statement.
Zwelinzima Vavi, ex-secretary general of the Congress of South African Trade Unions, said the main problem with the operation was its timing, "coming in the wake of the violent attacks targeting in particular people of African origin, feeds into the misconceptions that migrants are to blame for all out social and economic ill," she said.
Zimbabwean activist Elinor Sisulu described the operation as a form of ethnic cleansing. "In Rwanda, there was talk of cleaning out 'cockroaches' and I've actually heard people talking about cleaning out [here]," she told IOL news.
South Africa has a long and bloody history of xenophobia, with the recent violence reminiscent of a wave of attacks on foreigners in 2008 which left more than 60 people dead.
What has happened?
The latest outbreak of violence began last month in the coastal city of Durban and quickly spread to the financial hub of Johannesburg. Locals attacked foreigners, particularly targeting Malawians, Zimbabweans, Ethiopians and Mozambicans, in several townships in and around the city. Some of the victims were reportedly stabbed and one man was burned alive. Police used stun grenades, water cannons and rubber bullets to disperse the angry mob looting foreign-owned businesses, while owners were forced to arm themselves with machetes, axes and sticks.
Thousands of people have been displaced, seeking refuge at police stations, churches and temporary accommodation set up by NGOs. "Please help us. They want to kill us," Ethiopian shop owner Aka Bob Amaha told Times Live reporters. "We can't stay in our shops waiting for them to burn us."
Why?
South Africa has experienced waves of xenophobic attacks in recent years, but the recent flare-up in violence has been linked to comments made by Zulu King Zwelithini. Commentators accused him of inciting racial hatred after he delivered a speech telling foreigners to leave the country last month. They "dirty our streets" and their "unsightly goods [are] hanging all over our shops" he told cheering supporters in Durban. "We ask foreign nationals to pack their belongings and go back to their countries."
But Zwelithini has insisted that he was misquoted, and that the media was to blame for inciting the violence. While condemning the attacks, he said that if he had given an order to kill foreigners "this country would be reduced to ashes," The Guardian reports.
His call to deport foreigners was backed up by President Jacob Zuma's son Edward, who said South Africa was "sitting on a ticking time bomb". Despite a public backlash, Edward Zuma has refused to apologise for his comments. "People think that I am being xenophobic, but I am not, I am just trying to make a point that we have a problem," he told News 24.
Attackers accuse foreign migrants of stealing their jobs, blaming them for high levels of unemployment and crime in the township areas. The attacks have been fuelled by a sense of hatred, but also by jealousy and resentment.
But attitudes go even deeper than that. The current situation is a "hangover from the past, fuelled by the present," argues Sibusiso Tshabalala in Quartz. The high levels of xenophobia reflect the country's history of isolation from the rest of Africa, a by-product of Apartheid which continues to reinforce a dangerous "us and them" attitude.
The "ghettoisation" of different ethnic groups under Apartheid contributed to the tensions witnessed today, argues South African journalist William Gumede in The Guardian. "[This] left a legacy of not only interracial group and colour prejudice, but also prejudice against Africans from outside the country."
What has the response been?
The Malawian government has announced it would repatriate its citizens from South Africa as the violence intensified, while neighbouring Mozambique set up border camps to cope with the "exodus of its citizens", the BBC reports.
The South African government and police have been criticised for their reluctance to describe the attacks as xenophobic, instead suggesting that they were based on "ideological differences" and insisting that the situation is under control.
"We need to realise that we are dealing with an urgent crisis," said Trish Erasmus, head of the Lawyers for Human Rights refugee and migrant rights programme. "We need a more coherent and decisive response from the government."
Thousands of people have taken part in a "peace march" through the streets of Durban, standing in solidarity with foreigners and calling for an immediate end to the attacks and discrimination.
"[The increase in xenophobia] is something to be worried about," said Ingrid Palmary, an associate professor at the Wits African Centre for Migration and Society. "We must ask: if it's so easy for the fundamental rights of one group to be trampled, who is next?"

Continue reading for free
We hope you're enjoying The Week's refreshingly open-minded journalism.
Subscribed to The Week? Register your account with the same email as your subscription.