Aung San Suu Kyi: 'Asia's Mandela' falls from grace
Condemnation of Myanmar's leader builds, as critics slam her silence over Rohingya crisis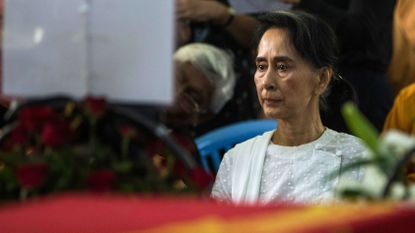 (Image credit: AFP/Getty Images)
After a lifetime spent campaigning for democracy in Myanmar, and a total of 15 years under house arrest, Aung San Suu Kyi is at risk of losing her reputation as an international icon of peace.
The leader of the ruling National League for Democracy (NLD) party, Suu Kyi is the de facto leader of Myanmar, formerly known as Burma.
Although she is constitutionally barred from presidency - because she has children who are foreign nationals - Suu Kyi sits "above" President Htin Kyaw, a party colleague and close confidante, effectively ruling by proxy, reports the BBC. Her newly created role of state counsellor has also been compared to that of a prime minister.
Subscribe to The Week
Escape your echo chamber. Get the facts behind the news, plus analysis from multiple perspectives.
SUBSCRIBE & SAVE
Sign up for The Week's Free Newsletters
From our morning news briefing to a weekly Good News Newsletter, get the best of The Week delivered directly to your inbox.
From our morning news briefing to a weekly Good News Newsletter, get the best of The Week delivered directly to your inbox.
Despite wielding such power, and her resolute commitment to peace in the face of oppression, Nobel laureate Suu Kyi has failed to thwart the violence sweeping Myanmar's Rakhine state, where the Rohingya Muslim minority are reportedly being murdered, raped and tortured by state security forces.
Once the moral face of her country, Suu Kyi's silence on the conflict has been criticised by Muslim communities and by human rights campaigners worldwide, who accuse the leader of hypocrisy and of betraying her values in order to maintain her grasp on power.
A lifetime of struggle
Aung San Suu Kyi was born on 19 June 1945 in Rangoon (now Yangon). Her father was a high-ranking army officer who was assassinated by political rivals in 1947 on the eve of Burma's independence from Britain. Suu Kyi's mother, Khin Kyi, took up her late husband's seat in the first independent government, later becoming the nation's minister for social welfare.
Suu Kyi, who was brought up as a Buddhist, grew up in Yangon and attended the city's prestigious Methodist English High School. While studying for a PPE degree at St Hugh's College, Oxford, she met her future husband, Tibetan studies scholar Michael Aris, with whom she had two children.
The next 20 years were spent travelling around the world, combining further study with bringing up her sons. In 1988, her mother's illness brought her back to Yangon, where she was appalled by the violent military suppression of protests.
Suu Kyi quickly became a leading voice calling for democracy. Despite a harsh government crackdown on opposition, she formed the National League for Democracy and made speeches around the country demanding change. "As my father's daughter, I could not remain indifferent to all that was going on," she said at the time.
The following summer, Suu Kyi was placed under house arrest, where she was to remain on and off for 21 years. The NLD went on to win more than 80% of parliamentary seats in the 1990 election, but the ruling military junta refused to recognise the result. Keen to get rid of Suu Kyi, the government offered to let her leave the country and rejoin her husband and sons, but she refused, in the knowledge that she would not be allowed to re-enter - a sacrifice that came at a heavy personal price.
Her peaceful resistance to the Burmese regime rapidly made her an international icon for political freedom, and in 1991, she was awarded the Nobel Peace Prize.
With Suu Kyi once again under house arrest, the NLD boycotted the 2010 general election, citing government failure to implement reforms aimed at ensuring a fair and free election.
However, following her release in November 2010, the NLD fielded candidates in the 2012 by-election, winning all but one of the 44 seats they contested and propelling Suu Kyi into parliament as leader of the opposition.
Momentum for reform was building, and in 2015, the country held its first free and fair elections since 1990. The NLD secured a parliamentary majority, as the nation pinned its hopes on the leadership of "Mother Suu" and her ability to bring about progressive change.
Rohingya controversy
Since taking power, however, Suu Kyi has come in for increasing criticism from human rights advocates for her perceived reluctance to defend the country's Rohingya minority.
The Rohingyas, described by the United Nations as "the world's most persecuted minority", are subject to oppressive and humiliating restrictions, including forced labour, denial of Burmese citizenship and exclusion from Myanmar's mainstream, predominantly Buddhist, society.
Their plight was brought to international attention last month following a military counteroffensive against enraged Rohingya insurgents - a smokescreen to purge the entire community, say human rights groups.
Amid a reported growing chorus of outrage from leaders of several Muslim-majority countries, protesters have taken to torching effigies of Suu Kyi, who has blamed insurgent attacks for the latest bout of violence and repeatedly rejected accusations that the military are engaging in ethnic cleansing.
Even before this development, she "displayed a disconcerting sensibility regarding Muslims in Myanmar", argues CNN, preserving the laws that deny Rohingya essential rights.
Suu Kyi's supporters, however, emphasise her lack of control over the military and its ongoing threat to democracy - the army can unilaterally seize power at any time by declaring a state of emergency. A quarter of all parliamentary seats are also set aside for military appointees, which means the NLD can't afford to alienate the nation's Buddhist majority.
Until now, this has tempered criticism of Suu Kyi in the West, where people "are torn between their affection with [her] cause and the very gory reality [of this]", says CNN. In a sign that the tide may be turning, however, several news outlets have lambasted Suu Kyi recently for her inaction.
"She might want to reread her Nobel text," said The Washington Post, while fellow Nobel laureate Malala Yousafzai said that "the world is waiting" for her condemnation.

Continue reading for free
We hope you're enjoying The Week's refreshingly open-minded journalism.
Subscribed to The Week? Register your account with the same email as your subscription.