Pound plunges after Bank of England's dovish rates signal
Central bank revises its growth forecast for UK economy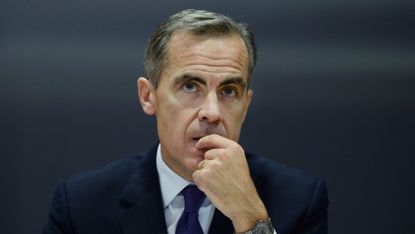 (Image credit: Getty)
Carney 'forced MPC's hand' on interest rate cut
13 July
Mark Carney has left members of his monetary policy committee (MPC) with no choice but to cut interest rates when they vote on base borrowing costs later today, a panel of ex-officials claims.
Giving their monthly alternative rate, the Times's "shadow MPC" panel, which includes nine former policymakers, say they feel the Bank of England governor has "forced" his colleagues into the decision.
Subscribe to The Week
Escape your echo chamber. Get the facts behind the news, plus analysis from multiple perspectives.
SUBSCRIBE & SAVE
Sign up for The Week's Free Newsletters
From our morning news briefing to a weekly Good News Newsletter, get the best of The Week delivered directly to your inbox.
From our morning news briefing to a weekly Good News Newsletter, get the best of The Week delivered directly to your inbox.
They cited Carney's comments in the wake of the vote for Brexit that "further policy easing" was likely to be required "this summer". Carney later appeared to hint that the change could come as soon as this week's July meeting.
In addition, he indicated this once again to MPs on the Treasury select committee yesterday, adding that there "is a value to making judgments as quickly as possible".
The shadow MPC said it would opt to cut the base rate to a new record low of 0.25 per cent – but would do so only "reluctantly".
Former rate-setter Charles Goodhart said: "It would just add further confusion if the MPC refused to follow [Carney's] lead. I would feel that my hand would be forced to agree to a cut by 0.25 percentage points."
Sir John Gieve, a former deputy governor, agreed: "He has encouraged expectations of a cut this month of at least 0.25 percentage points and of the restarting of the QE programme. I think it would be damaging for him to reverse engines immediately."
Bronwyn Curtis, the governor of the London School of Economics, added: "Now, we cannot afford to have the bank adding to volatility by surprising the markets. So, very reluctantly, I am voting for a rate cut of 0.25 per cent."
He added that the fall in sterling, which boosts exporters and UK firms with overseas earnings, should stimulate the economy in the short term and that rates would ideally be left on hold for now.
Former MPC member Andrew Sentence compared the governor's intervention with his previous "forward guidance" on rates expectations.
Carney had "already bullied the MPC badly", he said, adding that in "these uncertain times… monetary policy should play a stabilising role".
This, he continued, "means just that, keeping policy settings unchanged".
UK interest rates: Bank of England prepares to slash interest rates
11 July
The Bank of England is poised to cut interest rates for the first time in seven years, as one of a series of measures designed to reassure markets and contain the economic fallout of the Brexit vote.
The nine-member monetary policy committee (MPC) will announce its decision on Thursday, with some City economists predicting that "with consumer confidence battered and businesses nervous about spending and hiring, the Bank will want to shore up sentiment by reducing interest rates further from a record low of 0.5 per cent", according to The Guardian.
Economists speaking to the Daily Telegraph believe the MPC will cut rates to just 0.25 per cent, while Bank of America Merrill Lynch has predicted rates will be cut to as low as 0.1 per cent, as markets price-in a 75 per cent chance of more quantitative easing.
"Policymakers already know there's a car crash ahead. It's better to put the brakes on now than wait until you're about to hit the wreckage," a former Bank insider told the paper.
The Bank's governor, Mark Carney, has dropped several hints of a rate cut over the past week, and has "laid the groundwork in a carefully orchestrated market intervention after the Brexit vote wrong-footed investors", says the Guardian.
The move would follow the Bank of Japan and Bank of Canada which are expected to unleash further stimulus in the next year, while US Federal Reserve plans for a rate rise have been all but abandoned.
UK interest rates expected to hit record low next week
06 July 2016
Prepare for cheaper mortgages and even smaller returns on your savings because analysts are expecting lower interest rates to come as early as next week.
Having remained at a record low of 0.5 per cent for more than seven years, the consensus was that the Bank of England's (BoE) next move for rates would be higher. However, this was shattered by the shock vote for Brexit last month.
Observers now expect rates to be cut even further in order to boost the flagging economy.
Governor Mark Carney seemed to endorse this view in the immediate wake of the referendum result last week, hinting at further stimulus measures "over the summer". But after sharply negative economic data over the last few days, action could be taken at the next rate-setting meeting on 14 July.
Societe Generale is among the banks predicting a cut in the base rate to 0.25 per cent. Its chief UK economist, Brian Hilliard, told the Daily Telegraph the BoE might also restart its "quantitative easing" bond-buying programme to pump liquidity into the financial system.
"We did not expect that to occur [after a Brexit vote] until 2017," said Hilliard. "But things are moving more rapidly than we expected."
The BoE has already sought to boost liquidity in the banking system – and in the process, lending to businesses and homebuyers - and yesterday triggered the so-called "counter-cyclical buffer" banking groups had been told to put in place for use during times of financial stress.
City AM says the major banks will have to hold £5.7bn less in capital reserves. By leveraging this at typical rates using interbank credit facilities, this could free up as much as £150bn in new lending.
The moves come as signs of increasing economic strain are emerging. Construction activity in June is said to have fallen at its fastest pace for seven years as a result of the fear prompted by the potential for a Brexit win at the referendum
Yesterday, a Markit survey showed that activity in the powerful services sector fell further than expected last month. Again most responses to the survey were taken before the result of the vote was announced, so the slowdown may intensify over the months to come.
UK interest rates set for summer cut to record low
01 July
"In my view… the economic outlook has deteriorated and some monetary policy easing will likely be required over the summer."
With these words yesterday afternoon, Bank of England governor Mark Carney prompted a fresh wave of volatility on UK markets: the pound slumped back towards its recent 31-year nadir; the FTSE 100 share index soared to a ten-month high, and UK gilt yields fell to new record lows.
Giving his first policy speech since the EU referendum result last week, Carney said the UK's economic prospects had been dealt a blow and hinted the response would be swift.
This means, most likely, an interest rate cut to a new record low of 0.25 per cent as soon as July. Mitul Patel, the head of interest rates at Henderson Global Investors, told The Guardian an eventual cut to near zero or even into negative territory cannot now be "taken off the table".
A cut would be good news for mortgage borrowers – although there is a chance existing homeowners may find their property value falls. It would be bad news for savers and pensioners.
Carney also indicated that the bank would examine "the range of instruments at our disposal", which could indicate further direct injection of money, known as quantitative easing, to prop up the economy.
When rates are low, it becomes less lucrative to hold the pound, so sterling dived back to around $1.32 against the dollar. It recovered only moderately to $1.33 this morning.
On the other hand, stimulus tends to boost stock market sentiment and the FTSE 100 surged to a new ten-month high above 6,500. Things are more mixed this morning, however, as the reality of the comments on the economy post-Brexit acts as a counterweight.
Finally, the overall uncertainty has driven a renewed rush into safe-haven government bonds. This has driven up prices on UK gilts, pushing yields – the effective rate of return from the fixed interest income – to record lows, notes the Financial Times.
There was even one bond maturing in March 2018 trading in negative territory, a first for UK debt. If nothing else, this shows investors remain confident in the UK government's solvency.
Carney was tight-lipped on the scale of the impact on the economy and said new forecasts would be outlined at its next meeting on 14 July. Significantly, he did not back away from comments that the UK could go through a technical recession, meaning two quarters of negative growth.
"The Bank of England has a plan to achieve our objectives and by doing so support growth, jobs and wages during a time of considerable uncertainty," he said. "Part of that plan is ruthless truth telling. And one uncomfortable truth is that there are limits to what the Bank of England can do."

Continue reading for free
We hope you're enjoying The Week's refreshingly open-minded journalism.
Subscribed to The Week? Register your account with the same email as your subscription.