What are the blasphemy laws and punishments around the world?
As Ireland votes on whether to remove blasphemy from the constitution, The Week looks at where it is still an offence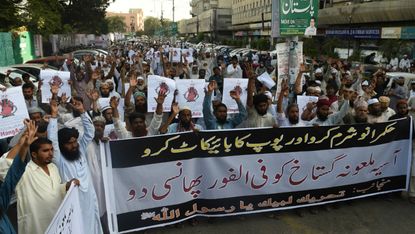 (Image credit: Asif Hassan / Stringer)
Sign up to our 10 Things You Need to Know Today newsletter
A free daily digest of the biggest news stories of the day - and the best features from our website
Thank you for signing up to TheWeek. You will receive a verification email shortly.
There was a problem. Please refresh the page and try again.
Irish voters head to the polls on Friday to decide whether or not to remove the offence of blasphemy from their constitution.
Although "the publication or utterance of blasphemous, seditious, or indecent matter" as a crime was enshrined in the constitution in 1937, "no one has ever been prosecuted under it", says CNN.
In 2017 Irish police opened an investigation into Stephen Fry after the British comedian called God "stupid" and a "maniac" on an Irish TV show in 2015. But the case was quickly dropped.
Subscribe to The Week
Escape your echo chamber. Get the facts behind the news, plus analysis from multiple perspectives.
SUBSCRIBE & SAVE
Sign up for The Week's Free Newsletters
From our morning news briefing to a weekly Good News Newsletter, get the best of The Week delivered directly to your inbox.
From our morning news briefing to a weekly Good News Newsletter, get the best of The Week delivered directly to your inbox.
Blasphemy is generally defined as the act of insulting or speaking sacrilegiously about God or other sacred things, and "in an era where religious freedom and freedom of speech often find themselves coming into conflict, it's no surprise that blasphemy is back as a point of debate", says The Independent.
A 2017 report by the US Commission on International Religious Freedom (CIRF) identified 71 countries that criminalise views deemed to be blasphemous.
The punishments for these transgressions vary from fines to the death penalty, but the vast majority of countries (86%) that enforce blasphemy laws prescribe imprisonment for convicted offenders.
Middle East and North Africa
Blasphemy bans are the norm rather than the exception in the Middle East and North Africa, with 18 of the region's 20 nations treating insults to Islam as a criminal offence, according to the Pew Research Centre. Fourteen countries in the region also criminalise apostasy, the act of formally renouncing a religion.
Iran and Pakistan are the only two countries in the region that explicitly enshrine the death penalty in law, although it is also carried out in Afghanistan, Iran and Saudi Arabia, according to a 2016 study by the International Humanist and Ethical Union (IHEU).
Saudi Arabia, where floggings and amputations have been reported for alleged blasphemy, does not define punishment for the crime in law itself.
"They don't have a written penal law, but rely on judges' interpretation of the Sharia," Joelle Fiss, the Swiss-based lead author of the CIRF report, told Reuters. "If a law is very vague, it means prosecutors and judges have a lot of discretion to interpret."
In 2013, human rights activist Raif Badawi was found guilty of insulting Islam in blog posts that criticised the country's religious police and hardline Wahhabi ideology. He was sentenced to 1,000 lashes.
The first 50 lashes were administered in 2015, amid international outcry. Badawi's poor health has delayed any further beatings, but he still faces more sessions of public flogging and remains in jail.
Citing Pakistan and Egypt, The Independent says blasphemy laws can also be "misused by authorities to repress minorities, and can serve as a pretext for religious extremists to foment hate".
In August, Pakistan's new prime minister Imran Khan pledged to revive a campaign to impose global blasphemy laws at the UN. A previous attempt, spearheaded by the Organisation of Islamic Cooperation, ended in failure in 2011.
Americas and Asia-Pacific
According to the most recent Pew Research report, one-third of the Americas still have anti-blasphemy laws, as do almost a quarter of countries in the Asia-Pacific region.
In May last year, the Christian governor of the Indonesian state of Jakarta was sentenced to two years in prison after allegedly insulting Islam during a campaign speech.
Africa
Sub-Saharan Africa has the fewest restrictions on sacrilege. Only four of the region's 48 nations – Sudan, Somalia, Nigeria and Senegal – outlaw blasphemy, although this does not account for informal sharia law operating at a local level in many Muslim regions.
However, the IHEU report found blasphemy can still technically carry the death penalty in Nigeria and Somalia.
Europe
Even in Europe, arguably the most secular region of the world, several countries still have laws on their books dealing with blasphemy.
Blasphemy was abolished as an offence in England and Wales in 2008, but it remains in Scotland and Northern Ireland, says The Independent.
In Ireland, Poland, Greece, Italy and Russia, it is still possible to face criminal charges for blasphemy, although in practice such prosecutions are rare and in most cases impossible due to constitutional guarantees on freedom of expression.
Urging Irish citizens to vote Yes and repeal the country's antiquated blasphemy laws, Ronan McCrea in The Irish Times says: "Even an unenforced blasphemy law may exercise what courts have called a 'chilling effect' where people may think twice before speaking in case they then have to undergo the inconvenience and expense of taking legal advice or explaining themselves to the Garda."
In September 2012, Greek police arrested the blogger Philippos Loizos for creating a Facebook page that depicted a revered Greek-Orthodox monk with his face replaced by a baked pasta dish, a pun on the monk's surname.
Convicted of "malicious blasphemy" Loizos was given a ten-month suspended prison sentence, later overturned on appeal, according to the End Blasphemy Laws campaign.
Last year, Danish prosecutors used an 1866 prohibition against "religious scorn" to charge a man accused of burning a Koran and uploading the footage to the internet – the first time the law had been used since 1971.
In June, Danish lawmakers finally repealed the 334-year-old blasphemy law that forbids public insults of a religion, despite a 2012 survey that found 66% of Danes wanted to keep the ban on the books.
Continue reading for free
We hope you're enjoying The Week's refreshingly open-minded journalism.
Subscribed to The Week? Register your account with the same email as your subscription.
Sign up to our 10 Things You Need to Know Today newsletter
A free daily digest of the biggest news stories of the day - and the best features from our website