Psychology of a dictator: the problem with Aung San Suu Kyi
In Depth: West's idolisation of Myanmar leader played large part in her fall from grace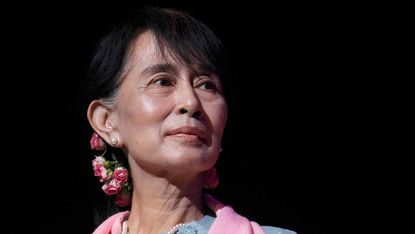 (Image credit: Suzanne Plunkett - WPA Pool/Getty Images)
Aung San Suu Kyi was once feted by a host of world leaders including former US president Barack Obama. David Cameron called her "inspirational", while US Senate Majority Leader Mitch McConnell compared her to Gandhi.
But the de facto ruler of Myanmar is now the subject of worldwide criticism for her inaction during a campaign of murder and torture against Rohingya Muslims in her country.
Suu Kyi's fall from grace has been swift and drastic. Critics compare her behaviour to that of a dictator in an article in The New York Times this week. Sheffield Council stripped her of the Freedom of the City honour yesterday, noting that she had shown "wilful ignorance" of the Rohingya crisis. Oxford Council has voted to do likewise in Oxford, where she studied as an undergraduate.
Subscribe to The Week
Escape your echo chamber. Get the facts behind the news, plus analysis from multiple perspectives.
SUBSCRIBE & SAVE
Sign up for The Week's Free Newsletters
From our morning news briefing to a weekly Good News Newsletter, get the best of The Week delivered directly to your inbox.
From our morning news briefing to a weekly Good News Newsletter, get the best of The Week delivered directly to your inbox.
Bowing to months of intense, international pressure, Suu Kyi finally visited the devasted Rakhine State, home to most of Myanmar's Rohingya minority group yesterday, but some viewed the move as too little, too late.
"Her leadership style since 2016 has puzzled even many of her supporters," says the Asia Times. She has become a recluse in the capital, Naypyitaw, removed from the people who voted for her - and for political change - in 2015. "Her international reputation has been severely damaged from her policy of outsourcing the emotive Rohingya issue to the callous military."
But did the West play a part in her demise - and, crucially, were the clues already there about her leadership style before she took power?
Angels or demons?
"We keep ending up in this situation where we either idolise or demonise foreign leaders," says Danielle Lupton, a political scientist at Colgate University, in New York State, who studies how leaders' behaviour affects foreign policy, reports The New York Times.
"Some of that is simply politics," says the newspaper, but Lupton believes that those simplistic judgments are rooted in a quirk of psychology that makes them hard to avoid - and harder still to alter once they take hold.
"In political psychology there's this notion of confirmation bias: that you have a predetermined belief about either an outcome or, in this case, whether a person is good or bad," she says. That bias leads people to subconsciously select information that reinforces those beliefs - and to ignore facts that are inconsistent with it.
That helps explain how Suu Kyi's champions in the West seemed to overlook signs that she might not be a paragon of liberal democratic values after all.
Five years ago, during a campaign that displaced more than 100,000 Rohingya, Suu Kyi also kept quiet. It is this absence of intervention, even rhetorical intervention, that disturbs many of her critics.
However, the BBC's Fergal Keane insists the problem is more complex. "It goes further than silence," he says. "Her diplomats are working with Russia and the UN to prevent criticism of the government at Security Council level, and she herself has characterised the latest violence as a problem of terrorism."
Narcissism: the telltale sign
Suu Kyi may not be a dictator in the tradition of leaders such as Zimbabwe's Robert Mugabe, "but after less than 20 months in office, she is showing hints of the traits that define such leaders", says The New York Times, noting that upon winning power, she sidelined many of the activists and civil society groups that had aided her rise.
Narcissism is common among dictators, say psychology professors Seth Davin Norrholm and Samuel Hunley in a study on the psychological traits of dictators. Narcissistic individuals have a greatly exaggerated sense of their own importance and are preoccupied with their own achievements and abilities. They see themselves as very special people, deserving of admiration.
Suu Kyi's disenfranchisement of the Rohingya and disregard for the rule of law "demonstrates the very narcissistic dictatorial traits she has long accused the ruling establishment of", says the Global Research group's Tony Cartalucci.
Suu Kyi and her supporters were keen to position themselves as the champion of democracy, with Suu Kyi's image as the focus of her National League for Democracy party's propaganda. But in the wake of her election victory, she declared herself above Myanmar's constitution, vowing to make all decisions regardless of who was actually made president under the law.
"Though they claim themselves as an icon of democracy, they want to centralise and control everything," Kyaw Thu, who leads the prominent civil society group Paung-Ku, says of the elected government, reports The New York Times. He adds: "Anyone not supporting their agenda is the enemy."
Protection racket
Dictators also exploit a well-known instinct in most people to seek protection from a strong leader, according to Alice LoCicero, a Massachusetts-based clinical psychologist and researcher on leadership and terrorism.
"Our behaviour is still affected by what went on thousands of years ago," says LoCicero in quotes reported by NBC News. "It's easier to understand why it's adaptive and common for people to bond to powerful leaders. In Darwinian evolution, the people who bonded with the leader survived. That instinct got passed along."
This helps to explain the reaction to Suu Kyi among the Burmese population.
Part of the problem, says Al Jazeera English, is that many Burmese lived through almost 60 years of violence under a military government before Suu Kyi's party came to power.
"They are content to reap the fruits of an economic and social revival that has afforded them the chance to live out their lives in relative peace," says the website's Philip Heijmans, even at the expense of hundreds of thousands of homeless Rohingyas.
Anointing a saviour
"It is worth asking how much of the Western anger now directed at Suu Kyi, including calls to revoke her Nobel Peace Prize, is partly buyers' remorse from supporters who regret their own role in transforming her into such a powerful symbol," says The New York Times.
Andrew Selth, a professor at the Griffith Asia Institute, in Brisbane, wrote in a recent article: "If Suu Kyi had so far to fall, it is because the international community raised her so high."
It is by no means the first time that the West has anointed a saviour only to be proved wrong.
In Rwanda, for example, President Paul Kagame was "hailed as his country's saviour when he took office, with Western support, after the 1994 genocide", notes the BBC. But despite successes in reducing poverty, he has proved to be an authoritarian leader.
It remains to be seen whether Suu Kyi will live up to her Nobel Peace Prize.

Continue reading for free
We hope you're enjoying The Week's refreshingly open-minded journalism.
Subscribed to The Week? Register your account with the same email as your subscription.