Tiangong-1: Chinese satellite set to crash on Easter Sunday – will it hit me?
Abandoned space station will burn up and spread large chunks of debris as it re-enters the atmosphere, experts warn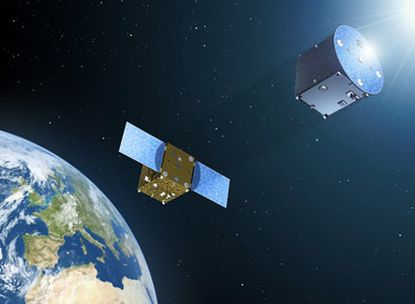 (Image credit: European Space Agency)
China's first prototype space station is on course to come crashing down to Earth over the weekend, according to experts.
The US-based Aerospace Corporation believes the Tiangong-1 craft, meaning 'heavenly palace' in Chinese, will re-enter Earth's atmosphere on Easter Sunday (1 April).
According to Sky News, the "bus-sized" satellite will be travelling at around seven kilometres per second once it enters the atmosphere. This is likely to cause the craft to "burn up".
Subscribe to The Week
Escape your echo chamber. Get the facts behind the news, plus analysis from multiple perspectives.
SUBSCRIBE & SAVE
Sign up for The Week's Free Newsletters
From our morning news briefing to a weekly Good News Newsletter, get the best of The Week delivered directly to your inbox.
From our morning news briefing to a weekly Good News Newsletter, get the best of The Week delivered directly to your inbox.
But the news site says that a number of the satellite's parts, such as its "dense rocket engines", could remain intact upon re-entry. This means large "chunks" of debris could land in regions up to 43 degrees above or below the equator.
The exact location of the satellite's eventual crash site is unknown, says Business Insider, but the good news is that most of the debris is expected to land in the ocean.
Thankfully, the site says it's highly unlikely anyone will get hit by parts of the spacecraft over the Easter weekend. In fact, you are a million times more likely to win the lottery than get struck by pieces of Tiangong-1.
The 20-tonne space station prototype has spent the past seven years in orbit and was tipped to become a permanent base for China's space agency in 2022, says CNN.
But the craft stopped functioning for unknown reasons two years ago. According to the US-based news site, it has been on an "out-of-control" collision course with Earth ever since
6 March
Where and when will Chinese satellite Tiangong-1 crash - and could it hit me?
China's first space station is expected to come crashing down to Earth within weeks, but experts remain unable to predict exactly where the 8.5-tonne module will hit.
The US-funded Aerospace Corporation estimates Tiangong-1 will re-enter the atmosphere during the first week of April, give or take a week, while the European Space Agency (ESA) says its best guess is the module will come down between 24 March and 19 April.
"Re-entry will take place anywhere between 43 degrees north and 43 degrees south (e.g. Spain, France, Portugal, Greece,) latitude," officials with the Space Debris Office at ESA's European Space Operations Center in Darmstadt, Germany, wrote in an update last week. "Areas outside of these latitudes can be excluded. At no time will a precise time/location prediction from ESA be possible."
The statement from Aerospace, a research organisation that advises the US government and private enterprise on space flight, said there was "a chance that a small amount of debris" from the module will survive re-entry and hit the Earth.
"If this should happen, any surviving debris would fall within a region that is a few hundred kilometres in size," they said.
The organisation did offer some good news though, saying "the chance of debris hitting anyone living in these nations was tiny," reports The Guardian.
"When considering the worst-case location... the probability that a specific person (ie, you) will be struck by Tiangong-1 debris is about one million times smaller than the odds of winning the Powerball jackpot.
"In the history of spaceflight no known person has ever been harmed by re-entering space debris. Only one person has ever been recorded as being hit by a piece of space debris and, fortunately, she was not injured."
But Jonathan McDowell, an astrophysicist from Harvard University and space industry enthusiast, did sound a note of caution. He said fragments from a similar-sized rocket re-entered the atmosphere and landed in Peru in January.
"Every couple of years something like this happens, but Tiangong-1 is big and dense so we need to keep an eye on it," he told The Guardian.
China's Tiangong-1 space lab "was billed as a potent symbol of the country's rise when it launched in 2011," says CNN.
Along with its successor - the Tiangong-2, which launched in 2016 - it was a prototype for China's ultimate space goal: a permanent, 20-ton space station that is expected to launch around 2022.
Although the uncontrolled descent of Tiangong-1 is something of a PR embarrassment, it has not deterred the Chinese government.
"While the Chinese would have, of course, preferred this event not to happen, this does not present a threat to their long-term human spaceflight plans," Joan Johnson-Freese, a professor of national security affairs at the US Naval War College in Rhode Island told CNN.

Continue reading for free
We hope you're enjoying The Week's refreshingly open-minded journalism.
Subscribed to The Week? Register your account with the same email as your subscription.