Fact Check: The truth about the body mass index
Can BMI be trusted to measure obesity and overall health?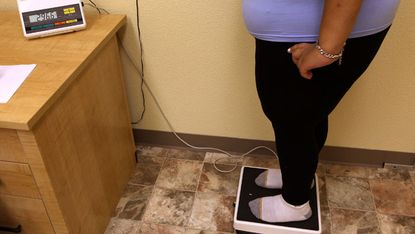 Sign up to our 10 Things You Need to Know Today newsletter
A free daily digest of the biggest news stories of the day - and the best features from our website
Thank you for signing up to TheWeek. You will receive a verification email shortly.
There was a problem. Please refresh the page and try again.
The body mass index has become the international standard for determining healthy weight, but some in the scientific community argue that it is an outdated and flawed measure of obesity.
With the majority of adults in the UK now considered overweight or obese, The Week investigates whether BMI really is the best diagnostic tool we have.
What is it and how is it measured?
Subscribe to The Week
Escape your echo chamber. Get the facts behind the news, plus analysis from multiple perspectives.
SUBSCRIBE & SAVE
Sign up for The Week's Free Newsletters
From our morning news briefing to a weekly Good News Newsletter, get the best of The Week delivered directly to your inbox.
From our morning news briefing to a weekly Good News Newsletter, get the best of The Week delivered directly to your inbox.
BMI, first devised by a Belgian mathematician in the early 19th Century, was adopted by the World Health Organisation and the NHS as a way to measure obesity in the 1980s.
The weight-to-height ratio is now used by health care providers around the world to define obesity and help provide insight into a patient's risk of developing obesity-related diseases.
It is calculated by dividing a person's weight in kilograms by the square of their height in metres.
A BMI below 18.5 is considered underweight, between 18.5 to 24.9 is considered normal, a BMI of 25 to 29.9 is overweight, and a BMI greater than 30 is classed as obese.
The NHS warns that a BMI above the healthy range or too much fat around the waist can increase the risk of serious health problems, like heart disease, type 2 diabetes, stroke and certain cancers.
Why is it helpful?
According to the Harvard School of Public Health, BMI is favoured by most physicians because it is easy to measure, has a long history of use and "does an excellent job of predicting disease risk".
Most doctors say it is the best method they currently have, the BBC reports. BMI is "pretty accurate, can be measured simply in clinic and is acceptable to patients," it says.
Professor Naveed Sattar, from the University of Glasgow, told the broadcaster that the index "works in the vast majority of people, the vast majority of time."
What about its limitations?
Nick Trefethen, professor of numerical analysis at Oxford University, has long questioned the usefulness of the current BMI formula, calling it a "bizarre measure."
The "extreme reliance of today's medical and insurance establishments on a simple formula worries me a great deal," he said in a letter to The Economist in 2013.
"Obesity will be one of the biggest health issues worldwide of the 21st century," Trefethen added. "If great reliance is going to be placed on a single formula for assessing it, the justification of that formula deserves careful discussion."
NHS Choices acknowledges that "criticisms of the BMI system are not unfounded". The index does not take into account the increased weight of muscle compared with fat, with some athletes classed as overweight or obese, despite being very fit and healthy, it says.
However, as the BBC notes, this is thought to apply to fewer than 1% of the population.
"You don't see many bodybuilders around but you do see lots of people with large waists. Many people get exercised about that wrongly," Tim Cole, professor of medical statistics, at University College London Great Ormond Street Institute of Child Health told the broadcaster.
BMI also fails to provide physicians with information about the distribution of body fat, which is an important indicator of future health problems, and ignores a person's age, sex and ethnicity.
Some researchers say BMI's inaccuracies in individual measurements "result in little actual harm, since an attentive doctor can spot outliers and adjust her diagnosis accordingly," Slate reports.
"But this begs the question: If a doctor's eye is better than BMI at determining a patient's healthy weight, then why use BMI for individuals at all?"
What are the alternatives?
There are several "excellent alternative measurements" currently available, says Dr David Edelson, obesity specialist and assistant clinical professor of medicine at Albert Einstein College of Medicine.
They include measuring a person's body fat percentage - which Edelson argues should be the "gold standard" for judging obesity.
"There are many methods to determine body fat percentage, from simple skin fold calipers costing a few dollars to more advanced machines costing thousands," he says.
Calculating waist-to-height ratio is another option, with research from 2012 indicating that the method it is far more effective at measuring obesity and predicting the risk of heart disease and diabetes than BMI.
What is the consensus?
Most experts appear to agree that BMI has some value and should continue to be used as a screening tool. However, its numerous limitations mean that other methods of determining obesity - which are equally simple and cost-effective - should be employed as well.
Continue reading for free
We hope you're enjoying The Week's refreshingly open-minded journalism.
Subscribed to The Week? Register your account with the same email as your subscription.
Sign up to our 10 Things You Need to Know Today newsletter
A free daily digest of the biggest news stories of the day - and the best features from our website