The myth of Shinzo Abe's failure
Why the prime minister is the best thing to happen to Japan in a long time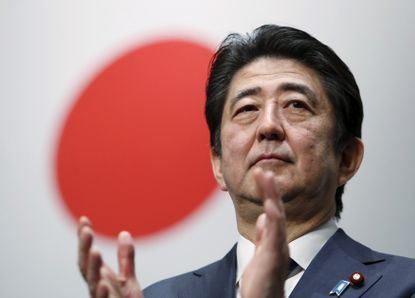 (Image credit: REUTERS/Yuya Shino)
Sign up to our 10 Things You Need to Know Today newsletter
A free daily digest of the biggest news stories of the day - and the best features from our website
Thank you for signing up to TheWeek. You will receive a verification email shortly.
There was a problem. Please refresh the page and try again.
Japan's most consequential prime minister since at least the telegenic Junichiro Koizumi earned another decisive political victory Monday, winning a landslide in upper house elections and gaining a parliamentary supermajority. It's a good time to appreciate Shinzo Abe, a man who just might be the best thing to happen to Japan in a long time.
Let's start with the policy Abe is most famous for: Abenomics.
Since the 2008 financial crisis, there have been many questions about how to deal with the slowing growth of advanced economies. In many ways, Japan is ground zero, since the country has long suffered from many of the trends now emerging across the rich world: an aging population, low growth, low investment, low inflation, low interest rates.
Subscribe to The Week
Escape your echo chamber. Get the facts behind the news, plus analysis from multiple perspectives.
SUBSCRIBE & SAVE
Sign up for The Week's Free Newsletters
From our morning news briefing to a weekly Good News Newsletter, get the best of The Week delivered directly to your inbox.
From our morning news briefing to a weekly Good News Newsletter, get the best of The Week delivered directly to your inbox.
The conventional wisdom, which holds sway in places such as Western Europe and the United States, is that once central banks have lowered interest rates down to zero, there isn't much they can do. Quantitative Easing helps only with some difficulty. Instead what we need to boost the economy is higher government spending and maybe regulatory reforms to boost investment.
Abenomics took the opposite approach. Since Japan suffers from perpetual deflation (meaning there isn't enough money circulating in the economy) and the central bank is in charge of circulating money, why not just make it circulate more?
Since coming in, Shinzo Abe has directed Japan's central bank to do its utmost to boost the economy, and especially end deflation, by buying up as many assets as possible. The Bank of Japan started buying government bonds but, in an unprecedented move, it's now buying all sorts of assets into the open market, furiously pumping money into the economy.
How has Abenomics done?
When you type "Abenomics" into Google, the first suggestion is "Abenomics failure." This gives you an idea of how most commentators view it. The fact that Shinzo Abe just won yet another smashing election victory might give you a hint that there's something different going on.
It's true that Japan's growth and inflation haven't taken off like a rocket. There's actually been a short recession, when Shinzo Abe raised the consumption tax from 5 percent to 8 percent — actually going against the stimulus that Abenomics promised. But it's silly to expect meteoric growth overnight, especially in a fast aging country.
Instead, as the economist Peter Tasker points out in a funny post, if we look at countless figures across the Japanese economy, it's mostly doing better than ever. While inflation isn't high enough, it has still picked up to a point where it's no longer in deflation. Japan is in full employment, with the ratio of job openings to applicants higher than at any point since the go-go 1980s. That's not nothing. Whether in stock or real estate, asset prices are also up across the board. And corporate profits are at record highs and corporate investment is up, showing a virtuous cycle where companies plow profits back into investment to take advantage of growth. This is especially important when compared to the European and American landscape, where efficient companies are also profitable, but simply pay out those profits to shareholders instead of reinvesting them because growth prospects are poor.
What's more, Abenomics' core goal of raising prices and wages is looking good. Particularly encouraging is that wages are rising higher than prices, so the end of deflation should translate to better well-being for the average person in the economy. This is what sets off a positive cycle: Monetary expansion puts more money in people's pockets, which means they buy more stuff, which means companies sell more and invest more, which means more jobs and higher wages, and so on.
This is what economic policy success looks like. The sad thing is that our economic commentators and policymakers are so wedded to the myth of central bank incompetence that they can't see what is staring them in the face. Would that U.S. and European policymakers were such "failures."
Abe has also tried to give a different spin to Japanese foreign policy, pushing for a more aggressive stance vis-à-vis Chinese expansionism.
This is, again, a policy that is perceived negatively, for obvious reasons. Japan's Constitution, which Abe wants to change, is officially pacifist. Japan doesn't technically have an army, only "self-defense forces," and it has officially, constitutionally forsaken war. This is something Abe wants to change, and it's not a good look.
But at the same time, Japan is one of the world's biggest economies, and it's the case that an ascendant China needs counterweights. China is entering a nationalist phase. With his growing cult of personality, Xi Jinping has concentrated more power than any Chinese leader since the end of the Cold War. The country's expansion into the South China Sea threatens every other country in Asia.
Thus far, countries in Asia have relied on the United States' role as guarantor of the region's stability to protect themselves from China, a role that America should definitely continue. But, as with NATO in Europe, the United States' job is not to let countries within its alliances free-ride on its military might. Japan is no longer the imperial power of the 19th and early 20th century, and it can't be within an alliance with America. But what it can be is the only country besides China in East Asia with a significant military and the means to use it. This would help balance the region out.
In other words, on both the domestic and foreign front, it's time for all of us to appreciate what Shinzo Abe has done.
Continue reading for free
We hope you're enjoying The Week's refreshingly open-minded journalism.
Subscribed to The Week? Register your account with the same email as your subscription.
Sign up to our 10 Things You Need to Know Today newsletter
A free daily digest of the biggest news stories of the day - and the best features from our website
Pascal-Emmanuel Gobry is a writer and fellow at the Ethics and Public Policy Center. His writing has appeared at Forbes, The Atlantic, First Things, Commentary Magazine, The Daily Beast, The Federalist, Quartz, and other places. He lives in Paris with his beloved wife and daughter.