How Trump echoed George W. Bush in Saudi Arabia
In his much-anticipated speech on Islam, Trump sounded moderate, principled, realistic — and almost presidential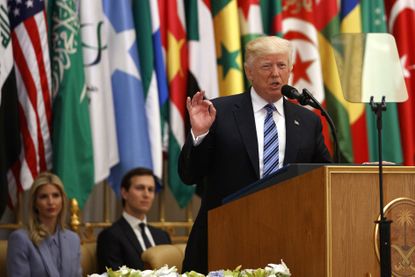 (Image credit: AP Photo/Evan Vucci)
Sign up to our 10 Things You Need to Know Today newsletter
A free daily digest of the biggest news stories of the day - and the best features from our website
Thank you for signing up to TheWeek. You will receive a verification email shortly.
There was a problem. Please refresh the page and try again.
On Sunday in Saudi Arabia, President Trump surprised the world.
Though press reports in the days leading up to Trump's big speech on Islam identified senior adviser and travel-ban architect Stephen Miller as the primary author of the remarks, the president did not speak as an American nationalist, provoking an international uproar by stating or implying that Islam as such poses a mortal threat to the Western world. And though the American people have just endured two weeks of stupefying behavior on the part of the president, Trump managed to deliver the speech competently and without diverging from the text in ways that highlight his stunning intellectual and temperamental lack of fitness for the job he holds.
Which is to say that Trump surprised us by not making a complete mess of the event.
Subscribe to The Week
Escape your echo chamber. Get the facts behind the news, plus analysis from multiple perspectives.
SUBSCRIBE & SAVE
Sign up for The Week's Free Newsletters
From our morning news briefing to a weekly Good News Newsletter, get the best of The Week delivered directly to your inbox.
From our morning news briefing to a weekly Good News Newsletter, get the best of The Week delivered directly to your inbox.
Given those absurdly low expectations, it's no wonder that at least CBS News' Bob Schieffer thought Trump finally "sounded like a president."
I agree. Trump did sound like a president — though not in the sense Schieffer intended.
With his talk of a foreign policy of "principled realism," his many words of praise for the Muslim religion, and his defense of a cross-cultural alliance against Islamic terrorism, Trump didn't sound broadly presidential so much as he sounded like one president in particular: George W. Bush. Not the Bush who launched the Iraq War, but the one who just nine days after the September 11 attacks addressed a joint session of Congress and the American people, announcing that the country was about to embark on a quest to defeat a totalitarian ideology that perverts Islam and deploys terrorism against peaceful people everywhere. This wasn't a clash between civilizations, as Trump and some of his advisers have often described it. It was a fight between civilization and its enemies.
It makes a sort of sense that an administration marked by complete chaos and pulled in dramatically different foreign policy directions would turn back to the September 20, 2001 speech as a safe model. Like Trump, W ran for president as a critic of nation-building and an opponent of fighting wars for the sake of upholding liberal internationalist ideals. By the 2002 State of the Union address, when Bush first spoke of an Axis of Evil and implied a war to overthrow Saddam Hussein might lurk on the horizon, he had been persuaded by the very different (and far more ambitious) arguments of his neoconservative advisers.
But in the days immediately following the attacks on the World Trade Center and Pentagon, Bush was more restrained. He indicated that a war to depose the Taliban government in Afghanistan was looming if it refused to turn over Osama bin Laden and give the U.S. access to al Qaeda's training camps within the country. He assured Muslims the world over that America respected their faith — and that the terrorists who launched the deadly assault on the United States were "traitors to their own faith — trying, in effect, to hijack Islam itself." He also declared that America's only enemies were those countries that harbor terrorists or sponsor terrorism. With its resolute focus on America's national interests combined with the determination to uphold and champion universal civilizational ideals, Bush's speech sounded an awful lot like an example of … principled realism.
In that sense, it's a very good thing that Trump and his advisers took the relatively moderate and nuanced September 20 speech as a model. But it raises big questions about the Trump administration's stance toward the world.
The first four months of Trump's presidency have been marked not so much by an absence of a foreign policy vision as an incoherent muddle of conflicting impulses pulling and pushing in contrary directions. Rex Tillerson, the secretary of state, often sounds like a realist, coolly emphasizing American interests. At the other extreme, Nikki Haley, the U.N. ambassador, tends to talk like a neocon, speaking in grand moral terms of committing the U.S. to a policy oriented toward universal standards of right and wrong. James Mattis, secretary of defense, comes down somewhere in the middle.
And then there's the president himself, who regularly railed on the campaign trail against the Obama administration's restraint in its public statements about Islamic terrorism. A Trump presidency would be marked by tough talk and tougher actions to protect the nation against the existential threat of militant Islam. That made Trump sound like a "to-hell-with-'em hawk" who wouldn't hesitate to initiate unilateral military actions to wipe out the Islamic State and other terrorist groups. Yet the biggest show of force so far by the administration has been the 59 Tomahawk cruise missiles it fired at a Syrian air base in retaliation for Bashar al Assad's use of chemical weapons against his own people in his country's civil war — an act that drew its loudest cheers from liberal internationalists.
How this jumbled mess fits together with Trump's sober talk in Riyadh of realism, peace, prosperity, and friends making deals and working together for common goals is anyone's guess.
I certainly have no idea — and you can be quite sure that our hapless president doesn't either.
Continue reading for free
We hope you're enjoying The Week's refreshingly open-minded journalism.
Subscribed to The Week? Register your account with the same email as your subscription.
Sign up to our 10 Things You Need to Know Today newsletter
A free daily digest of the biggest news stories of the day - and the best features from our website
Damon Linker is a senior correspondent at TheWeek.com. He is also a former contributing editor at The New Republic and the author of The Theocons and The Religious Test.