The Trump era's illusion of stability
What happens when the world stops holding its breath?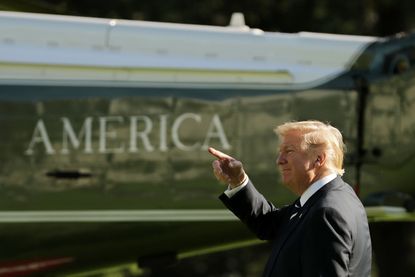 (Image credit: Chip Somodevilla/Getty Images)
Do you ever get the feeling the world is holding its breath?
When Barack Obama left office, the United States was embroiled in a number of ongoing conflicts. From the wars in Afghanistan and against ISIS and other Islamist terror groups, to the mostly frozen Korean conflict to the larger-scale geopolitical struggles with China, Russia, and Iran, the United States has numerous military and diplomatic commitments in a variety of theaters that could erupt into crisis and demand an American response. And of course the world is full of conflicts to which America is not a party, but which would inevitably draw America in, diplomatically if not militarily, if they were to escalate to full-scale war.
The Trump era has already featured a number of crises, from Saudi Arabia's blockade of neighboring Qatar to North Korea's nuclear and missile tests. But none have escalated to the point where America and the world has to reckon fully with the fact of President Trump's leadership. Trump tweets inflammatory threats that complicate American diplomacy and alarm allies and opponents alike, but so far no foreign power has backed America into the kind of corner that could produce catastrophe.
Subscribe to The Week
Escape your echo chamber. Get the facts behind the news, plus analysis from multiple perspectives.
SUBSCRIBE & SAVE
Sign up for The Week's Free Newsletters
From our morning news briefing to a weekly Good News Newsletter, get the best of The Week delivered directly to your inbox.
From our morning news briefing to a weekly Good News Newsletter, get the best of The Week delivered directly to your inbox.
That's probably not an accident.
It has been widely reported that key members of Trump's team — Defense Secretary James Mattis, Secretary of State Rex Tillerson, National Security Adviser H. R. McMaster, and Chief of Staff John Kelly most prominently — have coordinated between themselves both to prevent the president from doing anything too disastrous, and to walk back or ameliorate the diplomatic damage he does do. Other powers may wonder whether the president is playing a "good cop / bad cop" game, as Sen. Bob Corker (R-Tenn.) suggested they might, or whether America is evolving at least temporarily into a mixed regime in which the military and permanent bureaucracy consciously usurp the prerogatives of the elected government. Either way, they have every reason to tread as cautiously as they can.
For a while, this could produce the illusion of stability, as foreign opponents press their opportunities less aggressively than they otherwise might, and allies decline to make concomitant demands, for fear of upsetting a shaky apple cart or provoking a possibly irrational administration. They might even over-read the tea leaves to justify this as something more than caution, but as patience that may be amply rewarded, as China may be doing with respect to the Korean situation.
But eventually one of two things will happen. Either the world won't be able to hold its breath any longer, and the pent-up tensions will explode — and we'll find out just what that looks like with Donald Trump as president. Or Trump will, whether in 2020 or on some other date, leave office, and the world will breathe a sigh of relief.
And what happens then?
That's the question that is probably getting too little attention given the understandable focus on the acute anxiety that Trump's presidency itself continually provokes. But it's worth asking. If those pent-up tensions don't explode, neither will they simply evaporate with the end of the Trump presidency. On the contrary, Trump's successor, whatever party he or she hails from, is likely to reap a whirlwind, particularly from allies who may feel they bent over backwards to accommodate and ignore an especially obnoxious and inconsiderate American leader, and will expect due compensation after his departure.
When President George W. Bush left office, the world's expectations of President Obama were almost astronomically high, and consequently were substantially disappointed. But the first post-Trump president will face not relief but resentment, and from day one will be negotiating from a position of weakness on matters from trade and immigration to basing arrangements, burden-sharing, and intelligence cooperation.
And this weakness will be exacerbated, domestically, by the likely reaction of the pro-Trump faction — and the GOP as a whole, if Trump's successor is a Democrat — to this likely series of reversals. If Trump manages to get through four years without catastrophe, and the dam starts to break shortly after he leaves office, he'll be the first one to tweet about how everything has gone to hell in a hand basket as soon as he left. And there will be millions of voters who will see it exactly that way.
Of course, that's a much better problem to have than for the dam to break while Trump is still president. But it's probably worthwhile for Mattis, Tillerson, and the rest of the "grownups" taking a little time out of managing the day-to-day trauma of the Trump presidency to prepare our diplomats and military leaders — and our allies — for the post-traumatic stresses that will follow.

Continue reading for free
We hope you're enjoying The Week's refreshingly open-minded journalism.
Subscribed to The Week? Register your account with the same email as your subscription.