Why North Korea's next nuclear test could lead to war
Testing a nuke above ground could be catastrophic. Here's why.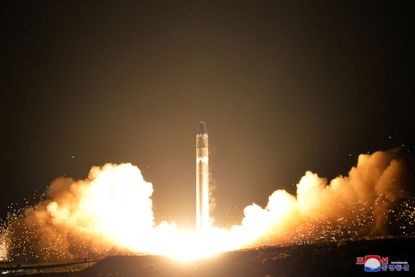 (Image credit: Korean Central News Agency/Korea News Service via AP)
Sign up to our 10 Things You Need to Know Today newsletter
A free daily digest of the biggest news stories of the day - and the best features from our website
Thank you for signing up to TheWeek. You will receive a verification email shortly.
There was a problem. Please refresh the page and try again.
I don't sleep well these days. My mind is consumed with thoughts of what could happen if my greatest fear comes true: that North Korea makes the tragic mistake of conducting the first atmospheric nuclear weapons test since 1980, spreading radioactive fallout throughout the Pacific Ocean and eventually around the world.
But it isn't the test that scares me — it's what happens afterwards that gives me cold sweats.
Such a test would likely garner a military response from the Trump administration, a response that could very well take us down a path to war. And I have no illusions of what such a war would look like: nuclear, chemical, and biological weapons used; millions of people dead; trillions of dollars in damage; North Korea somehow needing to be rejoined with South Korea; and the possibility of a great power showdown between China and America. A Third World War is not even out of the question.
Subscribe to The Week
Escape your echo chamber. Get the facts behind the news, plus analysis from multiple perspectives.
SUBSCRIBE & SAVE
Sign up for The Week's Free Newsletters
From our morning news briefing to a weekly Good News Newsletter, get the best of The Week delivered directly to your inbox.
From our morning news briefing to a weekly Good News Newsletter, get the best of The Week delivered directly to your inbox.
A threat that very well could become reality
One thing about North Korea is that they make many, many threats — almost on a daily basis. And most, to be brutally honest, don't pan out (thank god). However, when Pyongyang makes very specific threats about realistic actions, like testing new weapons platforms, they have made good on their word. A good example is North Korea's three recent ICBM tests, which they had been threatening in statements for some time.
Much to my horror, Kim Jong Un seems to be following a similar playbook when it comes to an atmospheric nuclear test. It was once only a terrifying theory by national security experts of how North Korea could prove the potency of its atomic arsenal, but now North Korean government officials have been stating in various formats that an above-ground nuclear test is possible.
Such comments were made again to CNN just recently, sadly buried among countless reports featuring North Korea's latest long-range missile test. A North Korean official explained that there would be no diplomacy until the hermit kingdom proved its nuclear capabilities in a two-step process. Step one would be to test a long-range ICBM, which has now been conducted successfully on three separate occasions going back to the summer. Step two would be to detonate a nuclear weapon above ground. You would presume such a test would involve an advanced ICBM firing deep into the South Pacific, away from any major population centers, proving to the world once and for all that North Korea is indeed a nuclear power.
Trump would be under intense pressure to respond
Assuming the missile successfully detonated in the remote waters of the South Pacific — an accidental crash landing and subsequent nuclear detonation over South Korea or Japan would almost certainly start a war — the Trump administration would be in a bind. Not responding in some sort of military manner would be perceived by many in the GOP as soft. Also, North Korea might even become more emboldened to commit even more provocative acts. So President Trump would almost certainly authorize some sort of kinetic response, which would likely involve an attack on Kim's nuclear and missile stockpiles, research, and development facilities or launch facilities — a target could basically be anything that involves hitting the U.S. homeland with an atomic payload.
Millions could die
This is where things get rough. North Korea, depending on the severity and length of what would likely be an air campaign, could very well consider the Trump administration's response a full-throated first step towards the destruction of its nuclear program or perhaps the realization of Kim's worst fear: a move towards regime change. If that is the case, Pyongyang would feel it had nothing to lose, and would likely fire whatever nuclear, chemical, or biological weapons it has at any target in its sites. If America did not destroy all of Kim's nuclear tipped missiles, and North Korea has indeed perfected all of the technological milestones needed to attack a U.S. city, which is possible, Pyongyang would certainly fire any and all remaining missiles towards America. Even just one nuclear detonation on a major U.S. city like Los Angeles could result in over a million casualties. You could easily assume there would be millions more casualties if North Korea successfully launched nuclear attacks on Seoul or Tokyo, with metro populations totaling 60 million.
Time to step back from the brink
Thankfully, the above scenario doesn't need to be our future. The Trump administration needs to make the point clear to its North Korean contacts — and in private, avoiding any leaks to the media — that any attempt towards an atmospheric nuclear test could constitute the potential crossing of a red line. While not spelling out what action the administration would take in order to ensure maximum flexibility, Team Trump would need to be crystal clear that such a test would be unacceptable.
The administration could also offer a sweetener. If the North Koreans did hold back and did not test any missiles or nuclear weapons above or underground for an agreed timeframe, the administration would agree to unconditional talks. Any and all topics would be on the table. And most important of all, there would be no upfront demand that the goal of the talks would be North Korean denuclearization, as has been the case in the past. This would be a truly open dialogue.
Such a plan could give the administration some needed leverage. If the North Koreans did end up conducting an atmospheric test, the administration could leak the back-channel negotiations to the press, proving that it did all it could. That might create the political cover needed to avoid war, perhaps getting China and Russia to go along with the complete abolishment of North Korea's exportation of its own citizens as slave labor or even tougher sanctions like a bigger cut to North Korea's oil supplies.
But I have been in Washington for too long and know how this could all very well play out — indeed, how it most likely would play out. The optics of an above-ground test, a mushroom cloud spreading radioactivity all over the globe being amplified over and over by social media, would very likely be the straw that broke the nuclear camel's back. A second Korean War would be almost unavoidable.
I guess I know now why I am terrified most of all: It seems the choice for war or peace in Northeast Asia is in North Korea's hands. I just hope they realize it.
Continue reading for free
We hope you're enjoying The Week's refreshingly open-minded journalism.
Subscribed to The Week? Register your account with the same email as your subscription.
Sign up to our 10 Things You Need to Know Today newsletter
A free daily digest of the biggest news stories of the day - and the best features from our website
Harry J. Kazianis is director of defense studies at the Center for the National Interest, founded by former U.S. President Richard M. Nixon.